SALT LAKE CITY — This week the Utah Department of Health said up to 50% of Utahns could get COVID-19 if no one practiced social distancing.
Dr. Denitza Blagev, a pulmonologist with Intermountain Healthcare, said social distancing is critical to the health of all Utahns. She said it's especially important for people with autoimmune diseases who are on immunosuppressant medications, in addition to the elderly and people with other chronic illnesses.
But she said it will demand the compliance of everyone in order for it to be effective, which is why one West Valley family is speaking out about why it's so important for everyone to take the novel coronavirus that causes COVID-19 seriously.
KSL news specialist Aley Davis video-chatted 28-year-old Cody Langford and his wife Dani Langford in their living room from her living room — in an effort to practice social distancing.
A couple years ago Cody was diagnosed with rheumatoid arthritis, an autoimmune disease which attacks his joints, causing severe pain and limited mobility. "My joints get really stiff and swollen," he described. "It affects the way I can move my joints."
As a diesel truck technician, he relies on his hands to work every day, but sometimes even performing simple tasks can be difficult.
"It's a quite a challenge sometimes, even putting on my shoes," he explained. "It's hard to use tools. It's hard to open up my toolbox."
His wife Dani stays at home with their 2-year-old son, so the thought of Cody getting COVID-19 is absolutely frightening for their family.
"He's our main source of income. So, essentially, I don't know how we would pay our bills, or how we would do anything," she explained. "Literally our whole livelihood would be affected."
Cody relies on immunosuppressant medication to control his illness, which puts him at high risk since it weakens his immune system's ability to fight off viruses or infections.
---
It's a quite a challenge sometimes, even putting on my shoes...It's hard to use tools. It's hard to open up my toolbox.
–Cody Langford
---
Intermountain Healthcare's Dr. Denitza Blagev said this why social distancing is critical. She tells people to consider: "How are you going to feel if you are their contact they got sick from?"
Blagev warns those who think they're immune to the virus. "The 20-, 30-, 40-year-olds who think that they're not a high risk and are out and about — we now know (are) carriers for this spreading it around,"she said.
Blagev encourages people to reconsider social events and even routine outings like trips to the grocery store or playground."Was that gathering worth it? Is there something I could do as an alternative?" she suggested.
Rather than focusing on a concrete number of people in a social gathering, Blagev asks people to think more broadly about the risk they pose to those around them.
She believes we have the benefit of learning from other countries who have been hit harder. "We hope not to get to the stages of what people are seeing in Italy and what's starting to happen in Seattle," she said. "There are plenty of 20-, 30- and 40-year-olds on ventilators in Europe."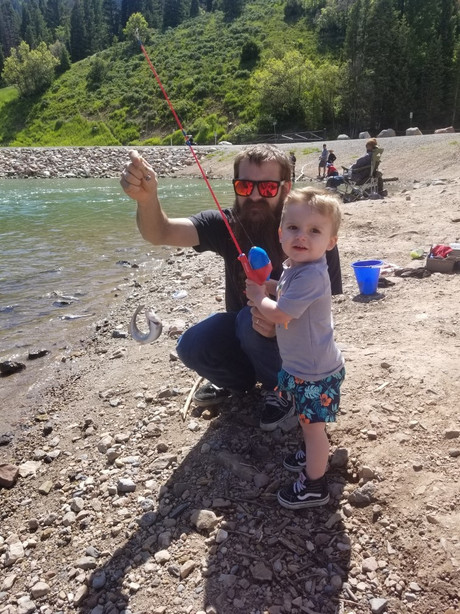 She encourages people at high risk to explain the importance of social distancing to their family and friends. "Help them understand that by staying home, they're helping you," Blagev explained.
She said it's for the greater good and for people who may not even appear high risk, like Cody.
"I don't think people realize how many people do have a chronic condition," Dani said.
Even though they have an active 2-year-old who wants to get outside, the Langfords are taking social distancing seriously and ask everyone else to also. "This entire week we've literally just stayed home, and then when we have had to go out we get to where we need to go, get the essentials, hurry and come back," Dani said. They let their son ride his bike on the sidewalk and play in the backyard.
It's all in an effort to help Cody support their family. "It allows me to do my job normally. It allows me to play with my son… to wrestle with him," he said.
Blagev tells people with autoimmune illnesses to not stop or make any changes to your medication without first consulting their doctor. "It's certainly something to discuss with your healthcare provider and make those decisions, but I would be very hesitant to just unilaterally stop your medications," she said.
×
Photos