Estimated read time: 11-12 minutes
This archived news story is available only for your personal, non-commercial use. Information in the story may be outdated or superseded by additional information. Reading or replaying the story in its archived form does not constitute a republication of the story.
MAGNA — Already frazzled by the coronavirus epidemic that has upended day-to-day routines, Utahns woke up to a startling 5.7 magnitude earthquake that rattled homes from southern Idaho to Millard County, causing serious damage to multiple buildings and displacing some residents, possibly for days.
Then came the aftershocks — dozens of them.
Emergency officials called it the largest earthquake in Utah since a 5.9 magnitude quake hit St. George in 1992. And they estimated that about 2.8 million people felt the shaking on Wednesday.
The "best news of the day" for Salt Lake County Mayor Jenny Wilson is that there were no reports of injuries or fatalities. And many expressed relief that the damage wasn't worse.
"I'm shocked at how minimal it was. A lot of facades have fallen and there's a lot of brick damage. But the insides appear, so far, to be OK," said Trish Hull, Magna's mayor pro tem.
The quake forced the Salt Lake City International Airport to shut down operations for several hours, streets were closed, hazardous materials crews considered evacuating all of Magna due to a chemical leak at Kennecott, and damage was reported to structures in Magna, Kearns, West Valley City and downtown Salt Lake City.
Magna
The quake happened at 7:09 a.m. with the epicenter just north of Magna, between the city and Antelope Island near the edge of the Great Salt Lake, according to the U.S. Geological Survey.
Azur Timmerman, 24, was getting ready for work when the quake began rattling her home in the western part of West Valley City, near the estimated epicenter of the earthquake.
"The first one was insane," she said. "The shaking didn't stop for maybe 45 seconds."
Magna was one of the hardest hit areas, and by Wednesday afternoon, officials declared a state of emergency.
Magna authorities said about 100 people were displaced after crews surveyed damage and coordinated with the Red Cross. Residents who live along Main Street, the hardest hit area of Magna, are expected to be out of their homes for several days, according to Hull.
Most displaced residents were staying with other family members, Hull said. Only three went to Taylorsville High School were the Red Cross set up an emergency shelter.
Unified police said they will be watching over the area 24 hours a day to prevent looting until the structures can reopen.
Construction worker Dave Smith was helping on a remodel in the basement of downtown's Caffe Molise, 404 S. West Temple, when he heard what he thought was a truck crashing into the building.
"At the same moment, the power went off," he said. "So I thought, 'That's a power explosion, and I'm standing next to the transformer.'"
He went upstairs to see stones falling outside, then got in his truck for cover, swaying back and forth as the road shook beneath him.
Timmerman said she grabbed her wife, Tara, and they stood in a doorway until the shaking stopped.
"We thought, 'Is this an earthquake and is the world ending?'" she said, laughing.
"Things were falling off the walls," she said. "Our family photos and porcelain statues on shelves all got knocked off the walls and broke on the tile floor."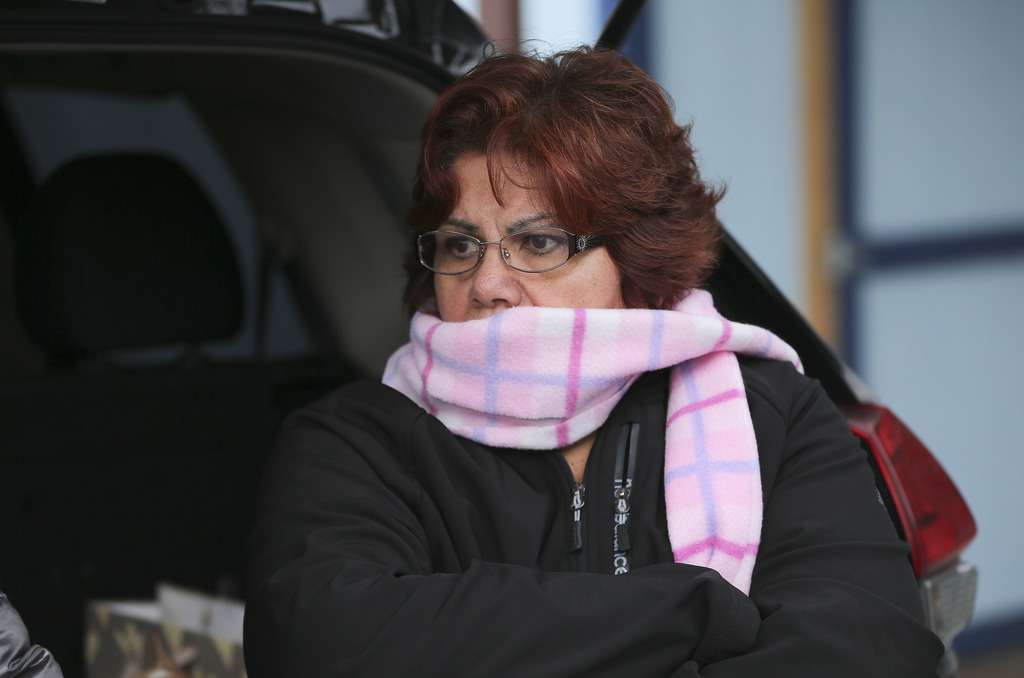 States of emergency
USGS reported more than four dozen aftershocks ranging from 2.5 to 4.6 magnitude. A 4.5 magnitude aftershock was reported about 8:02 a.m. among a series of smaller aftershocks. Twenty aftershocks were felt over the first hour, and 26 after the first two hours.
The largest aftershock occurred at 1:12 pm. and registered as a 4.6 magnitude quake, according to the USGS. The quake was located near the same spot as the 4.5 aftershock.
By Wednesday afternoon, Wilson declared her second state of emergency for the county in as many weeks. The first was for COVID-19. She said the new state of emergency for the earthquake will free up more funds.
Salt Lake City Mayor Erin Mendenhall issued the city's third state of emergency on Wednesday for the earthquake. The first two were issued to combat the coronvirus.
By about 1:30 p.m., a security sweep was finished at the Salt Lake City International Airport and passengers were allowed back into the terminals. The first flight took off from the airport just before 3 p.m.
Julia Busche and two friends were walking to the escalator in the Delta Airlines terminal that descends to the baggage claim area when "the ground just started shaking violently, up and down and side to side. It was hard to say for how long, maybe 5 to 10 seconds. Then the lights went out and that was terrifying."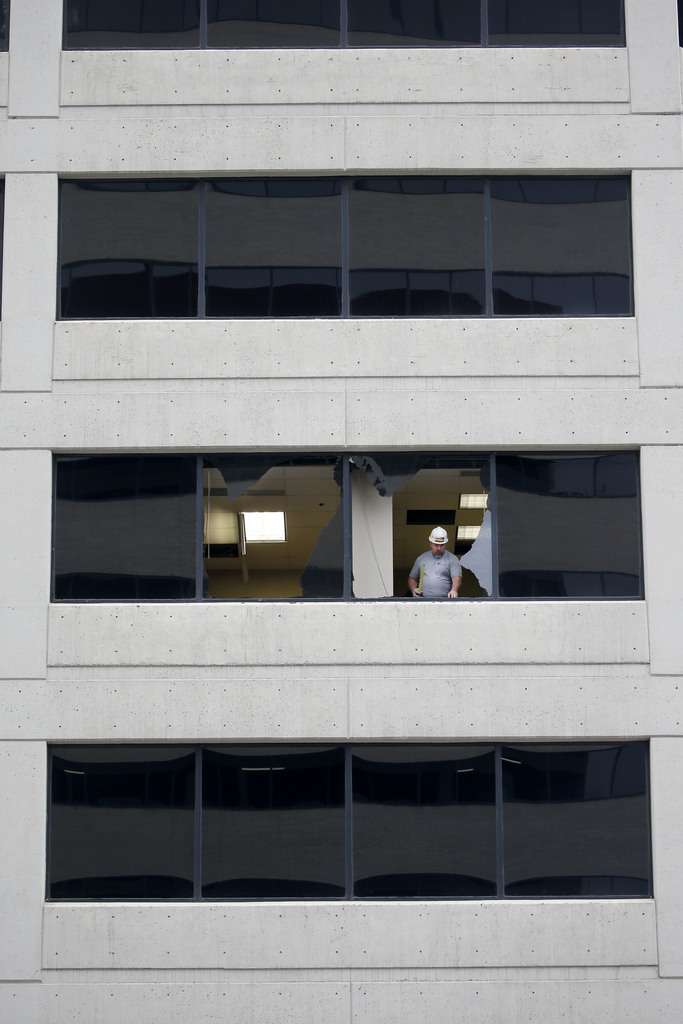 When the lights came back on, Busche could see dust falling from the ceiling and she and her friends headed to the stairway to get outside.
"Initially, I thought there was a bomb since we had just seen a dog and its trainer sniffing around the terminal area. Another thought that came to mind was that perhaps a plane might have crashed into the side of the building because what else would cause the airport to shake so violently?" Busche said.
While the experience was terrifying and she heard a few screams and gasps as the earth shook and the lights went out, Busche said there was no panic or pandemonium among the thousands of travelers leaving or standing in the security line at the airport.
Live Updates
Power was affected in some areas of the airport, forcing those sections to utilize generators for electricity. Some workers, including construction crews, were sent home for the day.
Executive director Bill Wyatt said the air traffic control tower was evacuated, along with the concourses in terminals of the existing airport and all passengers.
"We had a fairly substantial water line break in Concourse D and that is in the process of being repaired (and) a few ceiling tiles were out of shape," Wyatt said.
At its peak, an estimated 49,000 customers were without power in Salt Lake County. TRAX and FrontRunner service was also disrupted and portions of roads, including part of state Route 201, were closed.
The Utah Department of Transportation announced that the westbound on-ramp at Union Park Avenue to westbound I-215 will be closed for up to a week due to structural damage.
In other areas of Salt Lake City, bricks from the facade of a building under reconstruction next to the Salt Lake Rescue Mission on the corner of 500 South and 400 West fell during the shaking and covered the sidewalk. Windows were broken out of the Maverik Base Camp, 185 S. State. Zions Bank, at 310 S. Main, had large cracks in the brick exterior on the front of the building.
The manager at Caffe Molise, 404 S. West Temple, reported a partial roof collapse that damaged the third floor and a patio area. Large chunks of debris also fell onto the sidewalk at the corner of 300 West and 300 South.
And the trumpet was shaken off the iconic Angel Moroni atop the Salt Lake Temple of The Church of Jesus Christ of Latter-day Saints.
"The Salt Lake Temple, which is undergoing a seismic upgrade, sustained some minor damage during Wednesday morning's earthquake," church spokesman Daniel Woodruff said in a statement.
"The trumpet on the Angel Moroni statue fell off, and there is minor displacement of some of the temple's smaller spire stones. No workers were injured. Crews on the job site have been sent home for the day, and a full assessment is underway to determine needs going forward. This event emphasizes why this project is so necessary to preserve this historic building and create a safer environment for all our patrons and visitors."
Salt Lake Fire Capt. Anthony Burton said crews assessed the damage throughout the city, but there were no reports of major infrastructure damage. Burton said crews had responded to people being stuck in elevators and people trapped in apartments because their front doors were damaged.
Salt Lake Fire Chief Karl Lieb said the department had responded to about 150 calls by midday.
"I just want to reassure everyone that all our fire stations are up and running, our apparatus are in good condition and most importantly, all our firefighters are in position and have reported for duty," he said.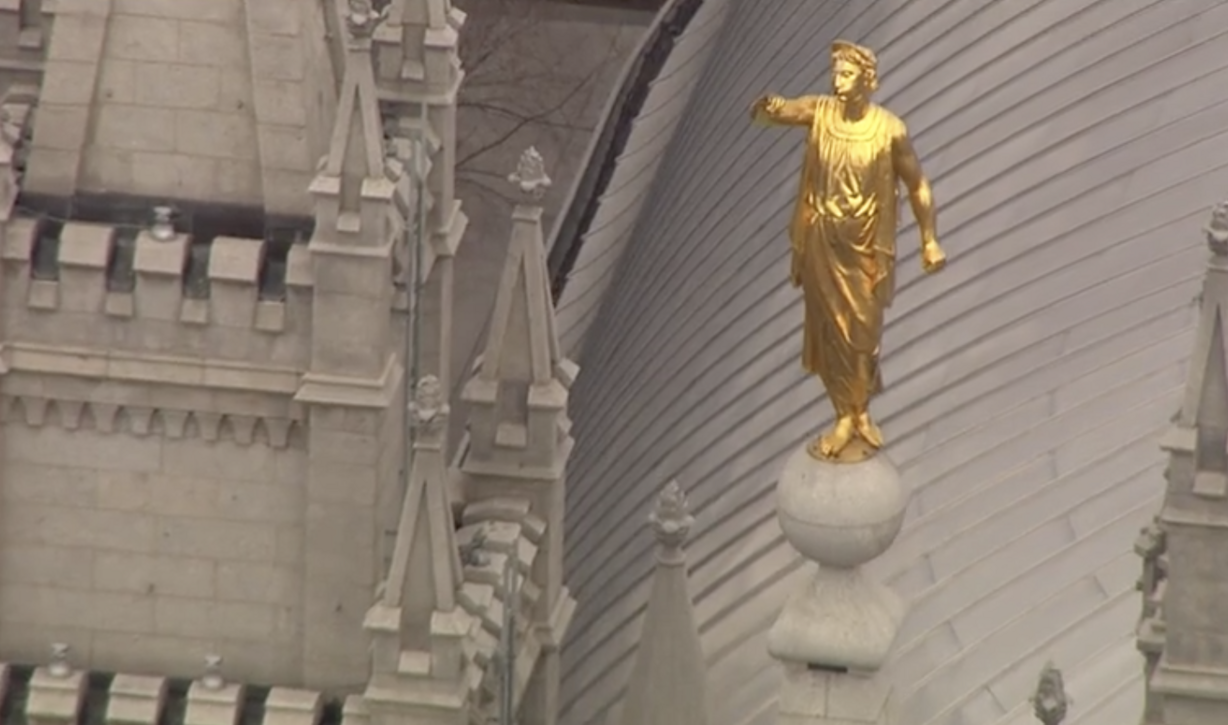 In Herriman, bricks fell from the facade at the entrance of Silver Crest Elementary School, 12937 S. Elementary Drive. The school is closed, as are all schools in the state, and no one was injured.
"This is extremely bad timing, because we already have the coronavirus issue that's going on right now which is causing a lot of anxiety," Gov. Gary Herbert said during a news conference, telling reporters his staff talked with the business community and wants to reassure Utahns that grocery stores will stay open and people will still be able to buy food.
"I know the last thing we need right now is an earthquake, but here we are," Mendenhall tweeted.
"The good news for all of us is we've been preparing for this for a long time," Herbert said.
"We're as prepared as any community can be," Wilson added.
All nonessential Salt Lake County facilities were closed Wednesday, including the Salt Lake County Government Center and the Salt Lake County Jail.
Sheriff Rosie Rivera said the jail sustained "minimal" damage. However, in order to keep inmates safe, she said the jail was placed on lockdown and no inmates would be transported to court hearings Wednesday. The jail was still accepting new bookings, however, so police officers would not have to let someone go after making an arrest.
The Unified Police Department's main headquarters near 3300 South and 900 West was closed until further notice. Precinct offices remained open. At the Unified Police Department and the jail next door, mobile command units were set up in front and officers blocked off all entrances with patrol cars for the day.
Hazmat at Kennecott
More than 50 firefighters from several agencies, including the Utah National Guard, responded to a hazardous materials spill in a warehouse on Kennecott's property Wednesday morning. Unified Fire Chief Dan Petersen said a container with an unknown substance may have fallen during the quake and leaked.
By Wednesday afternoon, it was determined that 8,200 gallons of hydrochloric acid had leaked from a 12,000 gallon barrel. Most of that went into a catch basin, but it did create a plume that went out of the building, Petersen said. Before crews could identify the chemical, there were preparing to evacuate Magna in anticipation of a shift in the wind direction.
But once it was determined that it was hydrochloric acid, that it had not mixed with any other chemical, and that it had dissipated, the evacuation was called off.
Downtown Salt Lake City
In downtown Salt Lake City, people lingered in the streets Wednesday morning swapping stories of what they felt during the shaking. They spoke of elevators and building lock systems malfunctioning, and trouble entering and exiting buildings. City Creek Center was closed for the day.
"It didn't feel like a small earthquake at all. I heard things in my kitchen falling," said Michael McCarlie, who lives in an apartment at City Creek Landing.
Violent shaking was felt at the downtown Walgreens store on Main Street, where workers said it sounded like a TRAX train was coming through the store. The business closed after the quake and later reopened.
Clint Mecham, chief of the Salt Lake County Emergency Management Division, said it's possible to have 120 aftershocks a day after such an event. Both he, Wilson and Rivera urged residents to simply stay home, stay calm, be patient and not get in the way of emergency personnel and building inspectors.
"If you're out on the street and trying to look at the damage, we don't need that right now," the sheriff said.
"We are asking that people stay in their homes, relax, and allow the first responders and assessment teams to do the job they need to do," Mecham added.
County officials also tried to dispel several rumors Wednesday. One of those was that a quake larger than the original event would happen within two hours. Mecham said earthquakes are nearly impossible to predict.
Another rumor sparked a rush at gas stations, and by Wednesday afternoon there were long lines of people fearful of a gasoline shortage. County officials said that rumor was also false. Salt Lake refineries reported no structural damage from the earthquake and planned to continue production.
Utah County Sheriff's Sgt. Spencer Cannon said there were a few gas leaks reported and some elevators at BYU stopped working, but no other problems were reported in Utah County.
Contributing: Kyle Dunphey, Katie McKellar, Matthew Brown, Lois Collins, Jeff Parrott, Kristin Murphy, Sahalie Donaldson, Jasen Lee, Doug Wilks, Marjorie Cortez
×
Photos
Most recent Utah stories