PROVO — The first home inning of BYU baseball's 2020 season couldn't have gone much worse.
The other eight innings couldn't have gone much better, though.
Austin Deming had two RBI and a run scored on two hits, and BYU allowed just one hit in the final eight innings to rally past crosstown rival Utah Valley, 6-5 in front of 1,640 fans in Tuesday night's home opener at Larry H. Miller Park.
In many ways, it was a microcosm of the Cougars' .500 start to the season that espouses youth and inexperience, a roster that carries just three seniors — and only one of them in the field, catcher Abraham Valdez, who went 1-for-2 with a run scored.
"Before we came into this season, we knew there were going to be ups and downs because of how young we are," BYU coach Mike Littlewood said. "You throw in all the freshmen, and it's one of those things we have to persevere, rely on our pitching and defense, and find a way to score runs until we settle in."
Paced by that strong pitching staff, the Cougars (7-6) allowed four runs on five hits in the first inning before shutting out the Wolverines on just one hit through the final eight.
Utah Valley (3-10) struck first with its four-run first, including a two-run smack by Kade Poulsen that led to a 4-1 lead early.
But Deming stroked a two-out, two-run single up the middle to tie the game at 4-4 in the bottom of the second. After allowing four runs in the first, BYU turned to Bryce Robison to begin a run of six relievers on the mound to allow just one hit over the next four innings.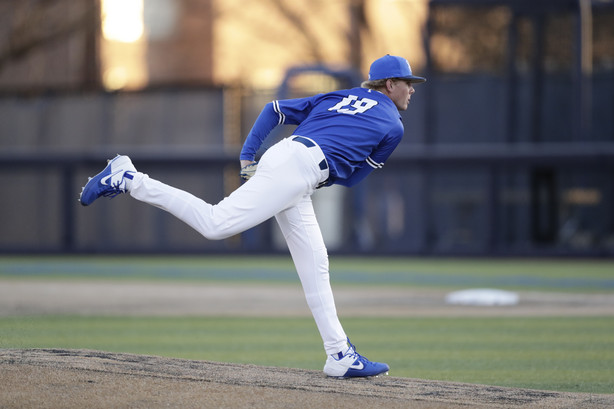 "I liked the attitude in our dugout. There was no panic, almost like we felt like we were going to win the game," Littlewood said. "It was just how are we going to do it."
Robison, Drew Zimmerman, Cooper McKeehan and Mikade Johnson got a little help from the Cougar defense, too – including a 6-4-3 double play in the top of the fifth that kept Utah Valley at bay. That led to Easton Walker's two-inning gem late, when the junior from Pleasant Grove fanned five of the six batters he faced in the seventh and eighth innings. He also induced a ground ball out in his only other attempt.
"He was awesome," Littlewood said of Walker, who had just been pulled from the starting rotation a day prior. "He took it really professionally, and showed no carry over.
"The other option he could've done was pout, but he wasn't doing that. It wasn't like that. He was a bulldog out there tonight; two innings, 25 pitches, and he was just really dominant. I'm really proud of him."
Reid McLaughlin had one strikeout in the final inning to record the save.
The Cougars took their first lead of the game on a bases-loaded walk in the bottom of the fifth, fitting for a club that drew nine free passes. The pitching and defense did the rest.
Both teams employed 12 total pitchers for the midweek contest, the first of two in the crosstown rivalry series. The second game will be played April 22 at UCCU Ballpark in Orem.
Mitch Moralez went 2-for-4 with a run scored to lead Utah Valley, which travels to Seattle for a four-game series beginning Friday with Washington, including a Saturday doubleheader.
BYU travels to Stillwater, Oklahoma to face Oklahoma State. First pitch is scheduled for Thursday at 3 p.m. MT on ESPN+.
×
Related Stories