LAS VEGAS — One and done.
BYU clinched the No. 2 seed in the West Coast Conference Tournament, meaning the Cougars' postseason started three days later than the rest of the league.
And the Cougars will be going home after one.
Jordan Ford scored 12 of his 18 points in the second half, including the game-winner with less than 2 seconds remaining to lift Saint Mary's to a 51-50 win over No. 14 BYU in Monday night's semifinal of the West Coast Conference Tournament at Orleans Arena.
Dan Fotu added 10 points for the Gaels (26-7), and Malik Fitts supplied nine points and eight rebounds for Saint Mary's, who likely secured their spot in the NCAA Tournament with the win in front of a sold-out arena.
Yoeli Childs had 23 points and 10 rebounds to lead the Cougars (24-8), and Jake Toolson added 11 points and eight rebounds. TJ Haws and Gavin Baxter each had five points and three rebounds for BYU.
Childs became BYU's all-time leading rebounder in the loss, surpassing former Cougar star Kyle Collinsworth's previous mark of 1,047 boards set from 2010-11 and 2013-16.
"They earned it," BYU coach Mark Pope said of the Gaels. "They hung in there and battled tough all night long; I'm proud of them. But I'm proud of my guys. On the defensive end, we really competed.
"Saint Mary's did a great job on the defensive end, and they turned it up on the physical end to where we couldn't really respond. I'm excited about the future that is ahead for us."
And yet what will be most remembered is Ford.
First ya read it, now ya see it! @jordan_ford_ hits a game winner, AGAIN, to advance @SaintMarysHoops to the #WCChoops tournament finals for the second year in a row! pic.twitter.com/e2MHR2NjOk

— WCC Basketball (@WCChoops) March 10, 2020
Ford, who scored just 6 points prior to halftime, made one shot in the first 10 minutes of the second half. But the Gaels star hit back-to-back buckets, then drained a pair of technical free throws to cap a 9-0 run that gave Saint Mary's a 43-42 edge with 7:33 on the clock.
That was part of a 12-3 run when BYU couldn't make a shot, save from the free-throw line. The Cougars didn't make a field goal for 8:47 in the second half, allowing the Gaels to turn a 42-34 deficit into a 46-45 advantage with 5:38 left.
And yet, the Gaels only led by one, allowing Zac Seljaas to retake the lead at 48-46 with a 3-point play off an offensive board with 3:31 to go.
After Childs' miss in the final minute, Saint Mary's had one final shot at a game-winner with 23 seconds left. Head coach Randy Bennett called timeout. The time read 7.2 seconds on the video board at Orleans Arena.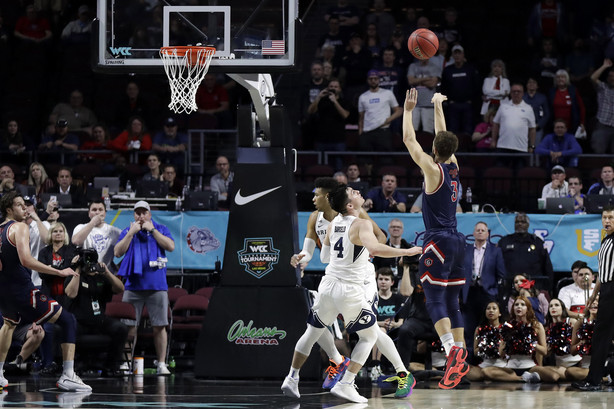 Not a single Gael sat down in the huddle.
Arms draped around one another, the players watched as coach drew up the play. Everyone knew where it was going. Ford dribbled down hill, almost got to the rim, then pulled up at the last second for a 17-footer.
Nobody could stop him.
"In my head, I was thinking that I kind of wanted to shoot a jumper," said Ford, who had 42 points in a double-overtime win Saturday over Pepperdine. "Get them downhill, then stop on a dime and shoot it. That's what happened."
Don't blame Alex Barcello, who was guarding Ford, for the look. That's the type of play Pope will give up on most days, even to a player like Ford. Barcello's clingy defense was forcing Ford to the baseline. The Saint Mary's shooter would have to take an acute angle to make a shot.
But this one just worked.
"It was good defense, but better offense," Pope said. "In hindsight, schematically I could've made some changes to approach that better. But it's a big-time playmaker and a big-time game-winning shot."
The Gaels will face top-seeded Gonzaga, which advanced to its 23rd-straight WCC Tournament final by holding off San Francisco 81-77. Killian Tillie had 19 points and 10 rebounds to lead No. 2-ranked Zags.
Ford made a tough shot. Saint Mary's will play rival Gonzaga in the WCC Tournament final. It's a common story, but not the end to an uncommon season for BYU, who will await their postseason fate six days until Sunday afternoon.
"They were very physical," Childs said. "I think at the end of the day, this is going to help us and make us better. Postseason basketball plays a lot more physical, and I guess we weren't ready for that tonight on the offensive end. We're going to take that, learn from it, and prepare for the next step."
It may be one of the few areas the Gaels won — in addition to the only one that matters, the story. Saint Mary's shot just 36.5% from the field, assisted on just 7 of 19 made baskets, and pulled down 34 rebounds to BYU's 33.
But the Gaels also forced 15 turnovers, including 10 steals. They didn't hold the Cougars to 24 second-half points; they held them to 25 second-half shots, making six of them.
Childs erupted for 23 and 10, the 45th double-double of his prolific career. But in between makes, Kyle Bowen made him make the tough shots. Childs was just 8-of-20 from the field, including 4-of-13 in the second half.
Sure, he made some tough shots. But he missed plenty of them, too.
"Clearly our offense wasn't there, but a lot of guys stepped up," Fitts said. "Kyle Bowen did a really good job of guarding Childs. Tommy Kuhse did a really good job of keeping Haws in front. A lot of guys stepped up.
"It was just about toughness. That's what our coaches preach about, that's what our guys are made of, and that's the reason why we won tonight."
×
Related Stories