LAS VEGAS — Two BYU basketball standouts have been named to the shortlist for national honors this week, but neither one of them took home awards in their own conference.
Mark Pope
BYU first-year head coach Mark Pope was selected as one of 10 semifinalists for the Werner Ladder Naismith Men's College Coach of the Year, as announced by The Atlanta Tipoff Club on Friday. Pope is the second-straight BYU basketball coach to receive such an honor; his predecessor, Dave Rose, was a semifinalist and finalist for the award during the 2010-11 season.
Of the 10 finalists for 2020, only two conferences have multiple semifinalists: the Southeastern Conference, in Kentucky's John Calipari and Auburn's Bruce Pearl; and the West Coast Conference, in Pope and Gonzaga's Mark Few, who is in the running for his second award in four years.
Curiously, neither one of those coaches was named WCC Coach of the Year. That honor went to Pacific's Damon Stoudamire.
The former NBA star nicknamed "Mighty Mouse" has plenty of merit of his own. In his fourth season with the Tigers, Stoudamire pivoted a program coming off academic sanctions with a sub-.500 record in each of his first three seasons to the No. 4 seed in the conference tournament and a 23-9 record, including an 11-5 mark in WCC play.
Pope, certainly, won't publicly decry the snub; he's happy for his coaching colleague. Those awards barely matter for the coach of a team ranked No. 15 nationally, that is all-but guaranteed a spot in the NCAA Tournament.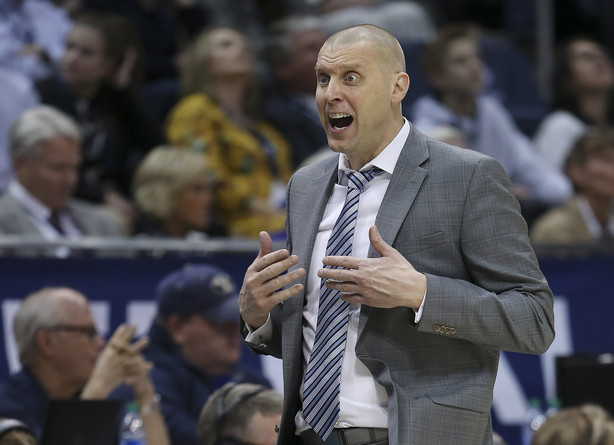 "I don't think it was a complicated vote. I'm really happy for all of them; they clearly earned it and deserved it," Pope said earlier this week before his team departed from Southern Nevada. "I was really blessed to receive a lot of individual awards as a player. You know where those awards are? Neither do I.
"They just don't matter. They might matter for a day; but if you ask me what my teams were about, I can tell you about those … I think every athlete can relate to that, and every person can relate to that."
Pope took a program that missed the postseason a year ago to its first national ranking since the 2010-11 season. The No. 15 Cougars are 24-7 overall, and open the WCC Tournament as the No. 2 seed next Monday, March 9, at Orleans Arena in Las Vegas (9:30 p.m. MT, ESPN2).
Likely guaranteed an NCAA Tournament berth, BYU ranks No. 9 in the NCAA's NET rankings, 10th nationally in KenPom, and No. 14 in the ESPN College Basketball Power Index.
It's why Pope is on a shortlist of coaches that also includes Penn State's Patrick Chambers, Baylor's Scott Drew, San Diego State's Brian Dutcher, Dayton's Anthony Grant, Florida State's Leonard Hamilton and Creighton's Greg McDermott.
Yoeli Childs
A day earlier — and just two days after Jake Toolson was named WCC Newcomer of the Year — BYU star Yoeli Childs was named one of five national finalists for the Karl Malone Power Forward of the Year Award. Named for the 2010 NBA Hall of Fame inductee and former Utah Jazz star, the award recognizes the top power forward in NCAA Division I annually.
Childs's merits as a finalist are bona fide. The first-team all-West Coast Conference player averages 22.2 points, 8.9 rebounds and 2.1 assists per game while shooting 58.6% from the field and 48.8% from beyond the arc. He's on track to unseat Kyle Collinsworth as BYU's all-time leading rebounder as soon as Monday, and his 44 career double-doubles stand an outside chance at surpassing Kresimir Cosic for the program's all-time record, with just four more.
It's why he's on the same list as Dayton's Obi Toppin, Gonzaga's Killian Tillie, Maryland's Jalen Smith and Mississippi State's Reggie Perry.
Yet, like his coach, Childs tried to deflect any praise for the nomination. In fact, Childs, who grew up in South Jordan and attended Bingham High, just thought it was cool to be named in the same sentence as Malone.
"He's one of the greatest players to play the game — probably one of the most underrated players of all time," Childs said. "Having my name next to his is really cool. But we're super focused on the team stuff, and we all understand that our individual goals will be accomplished if our team accomplishes theirs."
×
Related Stories