LAS VEGAS — The BYU basketball team keeps climbing.
The Cougars ascended to No. 14 in the latest Associated Press Top 25, one stop up from last week despite not playing a game during the first week of conference championships.
BYU (24-7) will open the West Coast Conference Tournament in a semifinal Monday against Saint Mary's. The Gaels survived Pepperdine in double-overtime late Saturday night.
Gonzaga remained at No. 2 nationally, a spot behind top-ranked Kansas. The Zags (29-2) will play San Francisco in the other semifinal.
Dayton, Florida State and Baylor round out the top five.
Utah State received 40 votes in the latest poll, unofficially six spots outside the top 25, after the Aggies topped San Diego State with a 59-56 win in the Mountain West tournament championship. The Aztecs dropped from No. 5 to No. 6 Sam Merrill was named tournament MVP for the second-straight year.
Now the focus in Las Vegas shifts to Orleans Arena, where the Cougars and Gaels will tip off the late WCC semifinal at 8:30 p.m. local time on ESPN2.
"Saint Mary's is an incredible offensive team and a really tough defensive team. I expect Jordan Ford to come out and play really hard. Fitts is another all-league guy, and Tanner Krebs didn't play against us the second time, so he'll be ready to go."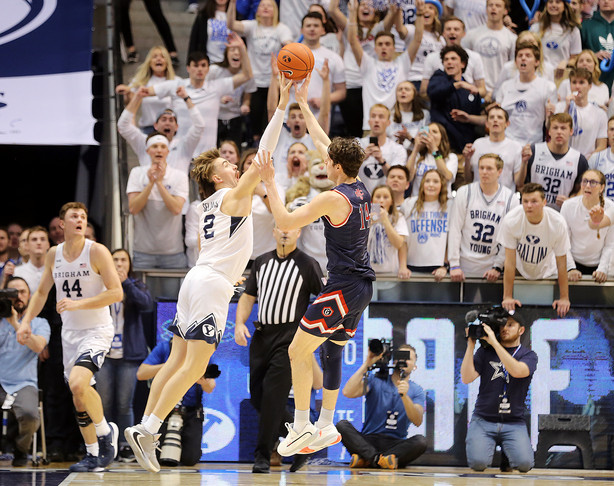 Fueger compared Ford to Steph Curry for the way he "hit every shot" en route to 43 points Saturday night, the second-most in WCC Tournament history.
But it was Tanner Krebs, the Gaels' fifth-year senior who did not play in the teams' second meeting in Provo, that will take the notice on the scouting report.
Krebs had seven points and three rebounds in 44 minutes against the Waves, and the 6-foot-6, 205-pound guard from Hobart, Australia is a matchup nightmare for a lot of teams — including the Cougars.
"He's one of their senior leaders, can really shoot the ball from three, and he's a tough defender," Fueger said. "He just plays really hard. They've got a freshman who comes in and plays for him is really good, also. But he changes their team by adding another senior leader that knows how to play.
"Our guys will be ready. Our guys know him."
×
Related Stories