This archived news story is available only for your personal, non-commercial use. Information in the story may be outdated or superseded by additional information. Reading or replaying the story in its archived form does not constitute a republication of the story.
LAS VEGAS — Fresh off his Mountain West player of the year honor, Sam Merrill gave an emphatic speech before Utah State's Mountain West tournament opener in Las Vegas.
"I didn't come to college to try to be Player of the Year. I came in to play in the NCAA Tournament," he said to a small group of reporters Wednesday afternoon.
On Saturday afternoon, Merrill and Utah State accomplished their goal.
Merrill poured in 24 points, and Utah State used a 13-0 run to start the second half to overpower San Diego State, 64-57 for the Aggies' first conference tournament title in seven years Saturday afternoon at the Thomas & Mack Center.
"For those of us who have been here for the last few years, it hasn't been easy," Merrill said after receiving the silver trophy for Tournament MVP with a 69-points-over a three-game spurt. "Eleven months ago, Coach Smith was hired, and we felt right away that we were going to have an opportunity to be pretty good.
"As someone who grew up a Utah State fan and watching Utah State go to the tournament and win conference championships, it means the world to me. It means the world to us as a team. We've come so far as a team. From where we were, I still can't believe this. It's an incredible feeling."
Neemias Queta added 17 points, eight rebounds and two blocks, and teammate Abel Porter supplied 10 points and three assists for Utah State (28-6), the Mountain West regular-season co-champions that locked up an automatic bid to the NCAA Tournament in Craig Smith's first year as head coach in Logan.
Devin Watson led San Diego State with 18 points, including a 3-pointer that pulled the Aztecs (21-13) as close as 57-49 with 3:45 remaining.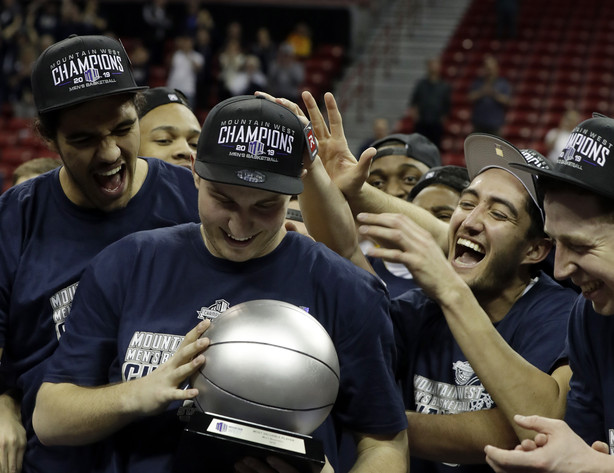 Matt Mitchell capped an 8-0 spurt for the Aztecs with 2:38 left to play. San Diego State forced four turnovers in the final five minutes, but missed the front end of a pair of one-and-one free throws with about two minutes left as Utah State held on for the win.
After struggling to a 2-point halftime edge, the Aggies opened the second half on a 13-0 run. Utah State held the Aztecs without a field goal until Nolan Narain's drive-by lay-in with 14:34 on the clock.
By then, the Aggies had a game-high 47-34 lead. Utah State was simply unconscious, shooting better than 60 percent from the field to open the second half, looking for their first conference tournament title since a win over Boise State in Western Athletic Conference tournament final in 2011.
"We felt pretty similar to the New Mexico game in the quarterfinals," Merrill said. "We didn't feel like we played all that well in the first half, and yet we were still up by two.
"So we were pretty confident coming out of the half. Coach gave us a couple of adjustments we needed to make that were obviously very helpful, and stressed the importance of those first five minutes of the second half. And that's when we went on that big run."
Utah State clinched the automatic bid in the NCAA Tournament and will learn its opening weekend selection Sunday evening in the nationally televised broadcast on CBS. After its run to the final that included a stunning win over a Nevada team ranked in the AP Top 25 all season, the Aztecs will likely be headed to the NIT, according to most projections.
The Aggies could've been in the same position, too. Despite a 27-6 record and a regular-season co-championship with the Wolf Pack on Saturday morning, Utah State lived on the bubble — a precarious position in March as "bid thieves" and fellow bubble stealers punch tickets by the hour.
There was only one way to truly get off the bubble.
"We were here to win a conference tournament championship," Smith said. "And obviously like people have asked, do you think you're in, do you think you're in? Not worried about it.
"That stuff doesn't matter. Like, we can't control any of that stuff. All we can control is the schedules that's in front of us, and let's go play our best."
The Aggies have certainly done that down the stretch. They ended the regular season with a seven-game winning streak — the second time they've done that all season — and won 14 of their last 15 games. They nearly swept the Mountain West postseason honors, garnering Player of the Year (Merrill), Defensive Player of the Year and Freshman of the Year (Queta) and Coach of the Year (Smith).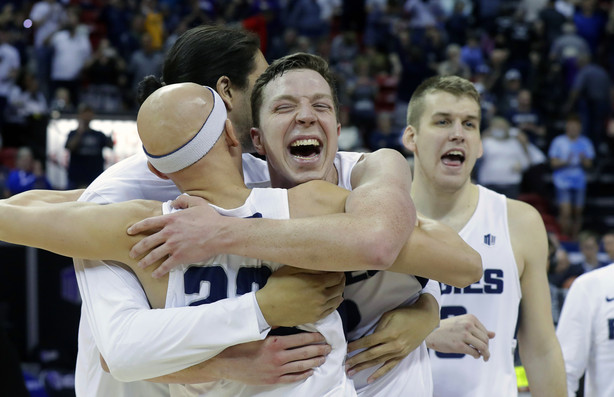 Then they upped the ante, winning three games in three days at the Thomas & Mack Center to leave no doubt about whether they should be included in the NCAA's final field of 68.
The Aggies won the first Mountain West title since they joined the league, and their first conference tournament title since 2011 (when Utah State was in the old WAC). It's the first Mountain West tournament title since 2009 when Luke Nevill and Utah beat out San Diego State 52-50. It's also the first time an in-state team had advanced to the Mountain West tournament final since BYU in 2011, when the Jimmer Fredette-led Cougars fell to the Aztecs, 72-54.
Now, the Aggies want to do more.
"Before I came here, I didn't know what I was getting into," said Queta, a native of Portugal. "But as soon as I practiced, I knew we were going to be this good. We just kept on working the whole year, and it felt awesome just to get win after win after win.
"That doesn't happen just like that. You have to work for it, and we did. I'm pretty sure we did, and it shows."
×
Related Stories