SALT LAKE CITY — As I left my bedroom and turned the corner into the laundry room, there it was. Lying right in the middle of the floor between the shoe rack and dryer, was something that had no business being there: a spoon.
At first, the tired, frustrated mom in me wanted to yell at the top of my lungs to the masses who were still sound asleep: "Why is there a spoon in the laundry room?" Realizing how ridiculous I would sound if those words actually escaped my mouth, I let out a childish giggle.
I then began imagining what had to transpire for that spoon to enter a place set aside for clothing to be washed and sorted.
All the possibilities
Visions of a toddler sitting in the middle of the floor enjoying a yogurt or bowl of cereal in noisy solace, far away from all the hoopla of the rest of the house began floating through my mind. But where was the bowl? Where were the crumbs or sticky yogurt residue? There was no evidence of any toddler meal that I've ever witnessed.
Maybe a child decided to do a load of laundry and figured a spoon would serve as a perfect ladle for the soapy suds. … Nah, probably not.
Perhaps, instead, the spoon was used as a musical instrument to accompany the lulling sounds of the laundry being washed? While I didn't rule that option out entirely, my mind began going to dark places.
Was it a weapon used to pelt a brother in a mad chase through the house? With seven boys, I have seen weapons in all forms including seemingly benign kitchenware like the spoon in question. But I didn't recall anyone coming to me with the (tattle) tale that a spoon had been used in a fight. As the main mediator in the home, I am always the first to know these things.
Was my house enchanted? Did that spoon walk there on its own?
As I stared at that spoon, totally perplexed, I realized that I may never know who left the spoon in my laundry room, nor the harrowing tale that accompanies it.
Other strange discoveries
What I do know is that I am not alone in my plight of finding odd things strewn across my home, likely left there by kids. The following parents have found curious items and have been gracious enough to share their discoveries:
Brandon Comstock: I found a spoon in the backyard after I hit it with the lawnmower. Rather than toss it out, we occasionally challenge our kids to eat cereal with it.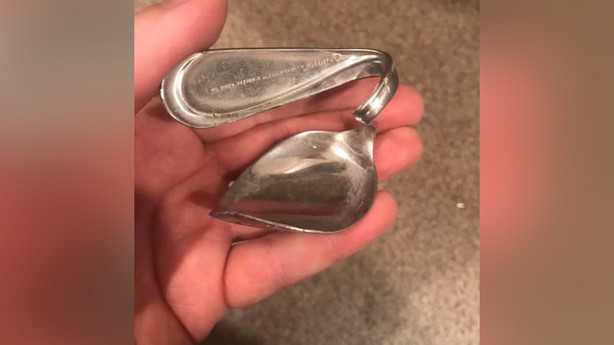 Kari Holker: Just this morning I found a box of macaroni and cheese in the drawer where I keep baby bottles, bibs and other baby paraphernalia.
Kristal Atwater: I've found a bag of potatoes in my couch and an ear of corn in the filing cabinet.
Patty Buchmiller: I just found a zebra finger puppet in the silverware drawer. Everyday things make their way to strange places. I didn't appreciate the peanut-buttered roll in the window sill.
Christina Bartholomew: I once found a Darth Vader action figure hiding out in our nativity.
Pamela Wiggins: I've found my son's shoes behind the toilet, a whole package of Oreos (minus the cream) under the printer in the computer room, and rubber gloves for dish washing in the fridge.
What are the strangest things you've found in your home? Let us know in the comments.
More from Arianne Brown:
---
×
Photos
Related Stories