SALT LAKE CITY — The Church of Jesus Christ of Latter-day Saints' humanitarian organization, Latter-day Saint Charities, provided about $100 million in assistance over the last year, according to reports from the church.
The organization's 2018 report states that Latter-day Saint Charities spent about $2.2 billion on assistance since its inception in 1985. The 2019 report says the organization has now spent about $2.3 billion in 197 countries over the last 35 years.
During 2019, the organization worked in 142 countries on 3,221 projects with over 2,000 partners to serve millions of people, the report shows. The organization's projects spanned from emergency and refugee response to maternal and newborn care, immunizations, wheelchairs, vision care and more.
The church also responded to cyclones in Mozambique, Malawi and Zimbabwe during 2019, and provided shelter and food during the cyclones' aftermath and are still working to refurnish schools before the rainy season.
"The core principle is to get on the ground and find out what people need right now and what they will need later on. And then we can work to fill in those gaps," Latter-day Saint Charities president Sister Sharon Eubank said in a news release from the church. "The annual report reflects some of the more intensive work we've done on the ground, finding out what's the real need."
The organization's expenditures increased dramatically between 1995 and 2009, then decreased slightly from 2005 to 2014. The charity's expenditures then jumped again to the highest they've ever been between 2014 and 2019.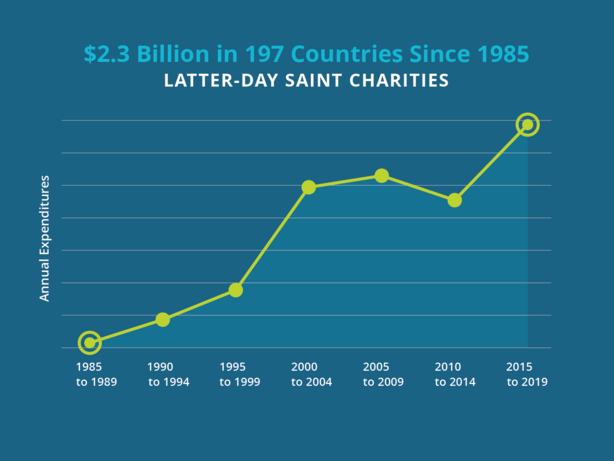 The report Latter-day Saint Charities releases each year is a form of "accountability" to those who have donated to the humanitarian fund "so they can see what their donations do," Sister Eubank said.
When Latter-day Saints pay their tithing (or 10% of their income) to the church, there is also an option to donate an extra amount to the church's humanitarian fund. Latter-day Saint Charities is funded by members who give to the humanitarian aid fund, as well as "generous donors," according to the news release.
But the funds used by Latter-day Saint Charities are only a small part of the church's combined annual humanitarian and welfare aid expenditures, which approach $1 billion a year, the news release says.
---
The core principle is to get on the ground and find out what people need right now and what they will need later on. And then we can work to fill in those gaps
–Sister Sharon Eubank, President of Latter-day Saint Charities
---
According to the 2018 and 2019 reports from Latter-day Saint Charities, the church spent about $900 million during 2019 on other humanitarian and welfare needs, including aiding the poorest members of its congregations across the world.
Members donate to a fast offering fund when they fast (or refrain from eating for 24 hours) on the first Sunday of every month. They often donate the money they would have spent on the meals they skip, though many donate much more. Bishops — or leaders of local congregations — offer financial aid to needy members of their congregations using fast offering funds.
But the church's humanitarian and welfare expenditures are just a part of the church's financial priorities. Tithing paid by members also funds 30,000 congregations and more than 200 temples across the world, aids missionaries, and subsidizes educational opportunities for hundreds of thousands of students, among other things.
In December, the church's finances were thrown into sharp relief: A former employee of the church's investment arm, Ensign Peak Advisors, filed an IRS complaint that alleged that the church should be forced to pay taxes on returns made from invested tithing funds and challenged the church's investment strategy, humanitarian efforts and tax-exemption status.
The former employee also alleged that Ensign Peak Advisors has holdings between $99 billion and $101 billion.
While church leadership has not confirmed nor denied that number, leaders who deal closely with the organization's finances sat down for an interview with Church News and the Deseret News, after granting an exclusive interview to The Wall Street Journal.
The leaders denied the church was stockpiling money for the second coming of Jesus Christ, as some had suggested, and instead said they were making investments for a future economic downturn. Surplus tithing money is handed over to Ensign Peak Advisors, which then invests the money.
"There will be future downturns," Bishop W. Christopher Waddell told the Deseret News and Church News.
"How extensive, how dramatic we don't know. But one of the comments we made to the (Wall Street) Journal was that if that were to happen, because of the reserves being carefully watched over, protected and wisely handled, we won't have to stop missionary work, we won't have to stop maintaining buildings and building temples, we won't have to stop humanitarian and welfare work, we won't have to stop education work. What the journalist (wrote) was that we won't have to stop missionary work, period. Well, there's more than that."
In addition to temples, congregations, missionary work, humanitarian and welfare aid and other expenditures, the church also invests heavily in education. The organization owns five universities and colleges, which educate 90,000 students and operate at a cost of $1.5 billion a year, paid for by both tuition and tithing.
×
Related Stories