Estimated read time: 4-5 minutes
This archived news story is available only for your personal, non-commercial use. Information in the story may be outdated or superseded by additional information. Reading or replaying the story in its archived form does not constitute a republication of the story.
Editor's note: This story contains a photo that some readers may find disturbing. Reader discretion is advised.
SALT LAKE CITY — Jose Lopez was getting ready to sit down for a lunch of chicken soup with his son at their Salt Lake City tire shop in November 2018 when they heard a loud noise outside.
His son Luis, typically the first to help customers, went into the shop yard to investigate, the elder Lopez recalled through a Spanish interpreter Thursday in federal court in Salt Lake City.
Moments later, he said a man wielding a metal pipe began shouting that he wanted to kill Mexicans, accusing the 18-year-old Luis Lopez of killing his daughter and then beating him as his father tried to shield him from the blows.
"I didn't think anything, I just grabbed ahold of my son to be with him," a crying Lopez recalled on the first day of the criminal trial for Alan D. Covington, who is charged in U.S. District Court with three hate-crime counts.
Prosecutors allege Covington, who is black, targeted the men because they were Mexican and also tried to injure Jose Lopez's brother, Angel Lopez. They said Lopez Tires had a sign out front featuring both Spanish and English.
Covington's defense attorney, Emily Stirba, said his statements reflected his thoughts about a "Mexican mafia" or a cartel who he believed had kidnapped his family and killed his daughter. But he does not have a problem with Mexicans in general, she said.
"What happened that morning was awful," Stirba said in her opening statement. In charging her client with hate crimes, however, "the prosecution is taking this awful situation and trying to turn it into something it simply is not."
Covington's defense team characterized the father, son and uncle as the aggressors that day, noting Luis Lopez had grabbed a metal pipe tool from the shop. They said the men began backing Covington out toward the street before he struck the father and son.
His defense attorneys also focused on the immigration status of Jose Lopez, who testified that he is undocumented and originally from Tulancingo, Mexico. They said Lopez submitted paperwork for a special U.S. government visa reserved for victims of crimes 15 days after the encounter with Covington and questioned whether he had known about the U visa beforehand.
"It wasn't about papers or money," the elder Lopez responded. "I just wish that none of this had ever happened."
"This has destroyed my life," he continued.
Jose Lopez had encountered homeless people near his business before, and although he perceived Covington was angry, he didn't make any judgement about whether Covington was making sense on Nov. 27, 2018, he testified. Authorities have said Covington was homeless at the time.
Related
"My place is a shop where all types of people come in and I treat everyone the same," he said. He added he was scared during the entire encounter, when he said Covington continuously repeated he "was going to kill a Mexican."
The attorneys did not delve further into Covington's mental health Thursday.
They spent most of the day questioning Jose Lopez, who said he at first threatened to call police, then bent over his son's bloody face to protect him, sustaining several blows to his own back and hands.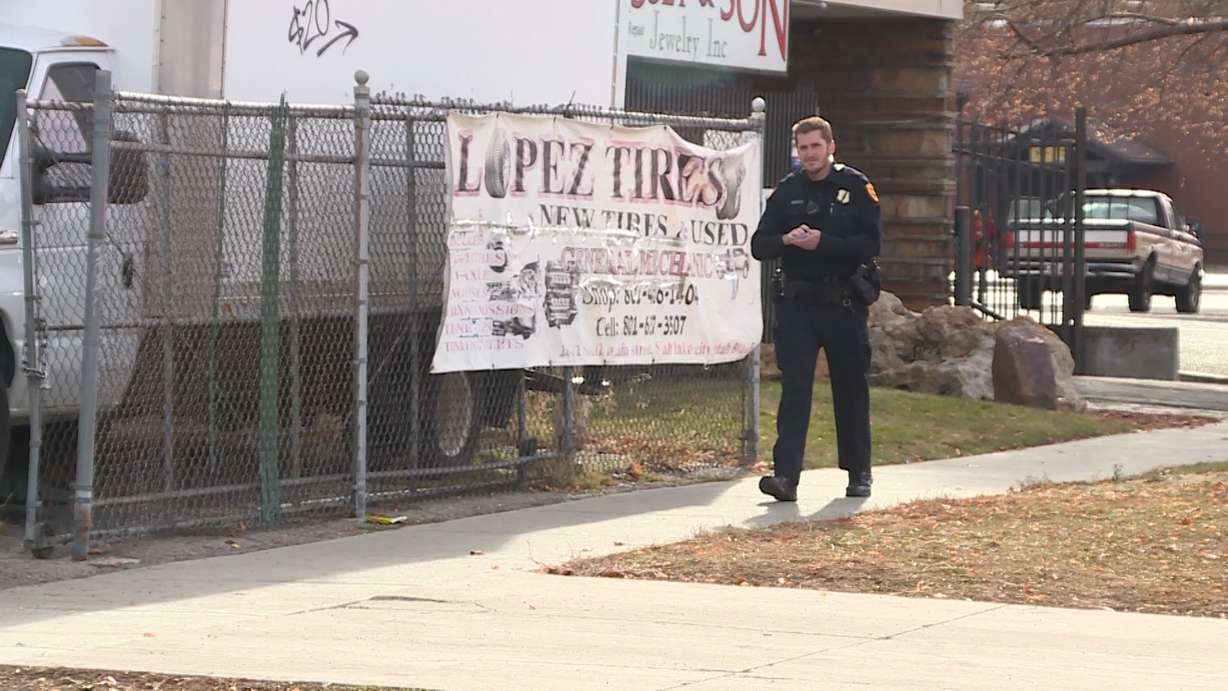 His son was shaking and twisting on the ground and did not respond when asked if he would be all right. When emergency crews arrived, the younger Lopez was unresponsive and was bleeding from his face. He had surgery for a shattered cheekbone and the shop closed for a week as he recovered.
His family members wept and embraced each other in the courtroom as photos of Luis Lopez were displayed, showing his bloodied face and a neck brace.
Covington, wearing a suit and close-cropped hair, watched quietly as Lopez testified. If convicted of the federal crimes, he faces up to life in prison and a $250,000 fine.
State prosecutors charged him separately, but those counts were dismissed at their request after the federal authorities took on the case.
In the wake of the attack, Salt Lake County District Attorney Sim Gill called on state legislators to beef up the law on hate crimes, saying it was unworkable at that time and applied only to misdemeanors.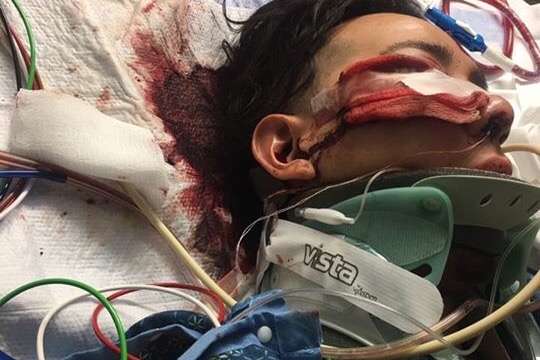 The tire shop case played a "huge role," Gill said, in bringing about a stronger 2019 state law with enhanced the penalties for offenders who commit a crime based on ancestry, disability, ethnicity, gender, gender identity, national origin, race, religion or sexual orientation.
"The critical incident was this Lopez case," he said.
Other instrumental pieces were an announcement from the The Church of Jesus Christ of Latter-day Saints that it did not oppose the legislation, and an assault on a gay man in Salt Lake City that also called attention to the issue, Gill added
The trial is expected to continue Friday and possibly into next week.
×
Photos
Related stories
Most recent Politics stories