Estimated read time: 3-4 minutes
This archived news story is available only for your personal, non-commercial use. Information in the story may be outdated or superseded by additional information. Reading or replaying the story in its archived form does not constitute a republication of the story.
SALT LAKE CITY — Janet Janis was happily playing a card game in her home when she was surprised with an impromptu hug from a local caregiving service.
"It's so thoughtful," the 89-year-old widow said. She had a houseful of relatives there on Wednesday, but, typically, Janis relies on the service, Visiting Angels, for companionship and non-medical needs.
"I love working with the elderly," said Nicole Maynes, who has worked as a CNA for the Visiting Angels Salt Lake City office for six years. She developed a love of caregiving while helping care for her own great-grandmother years ago and was on hand to stop in on Janis for a hug on Wednesday.
"I really love learning about their lives," Maynes said.
Visiting Angels, a national franchise, has about 100 clients in the Salt Lake Valley and nearly all of them will be getting an extra visit this week for Valentine's Day, along with a token from the organization "that shows them how much we care," said Bruce Allison, franchisee and administrator at the 4095 Highland Drive location. He said holiday drop-ins are important to clients because a lot of them can get pretty lonely.
The Pew Research Center reports more than one-quarter of Americans age 65 or older live alone and feel isolated, which can lead to higher rates of chronic disease, depression, dementia and death.
In addition to increasing bonding, hugging a loved one can lighten a person's mood, reduce stress and stave off symptoms of illness, and reduce high blood pressure, according to various research. It produces a bump in the hormone oxytocin, which is sometimes called "the love drug."
"People need hugs, especially if they're living alone," said Kathy Sorenson, Visiting Angels spokeswoman. "They need love and we want to make sure they feel loved."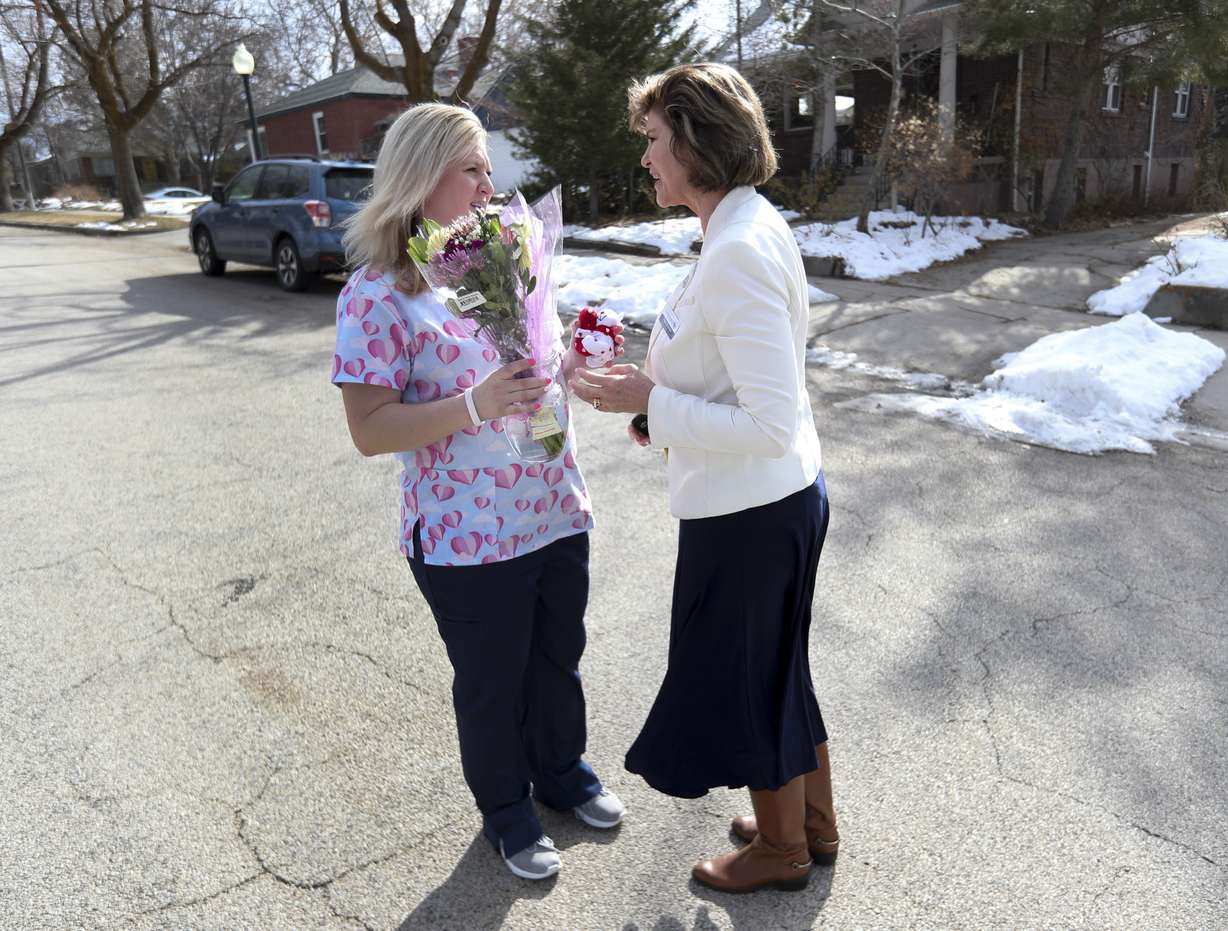 "We really do care for our clients," Allison added. "They're family."
In addition to regular duties, the Visiting Angels drop in on clients on holidays when they believe a little extra care might be beneficial.
Janis said it made her day.
It is estimated that families in Utah provide more than 80% of the care needed by the elderly in the state, and there are more than 132,000 of them doing it on a daily basis. Services like Visiting Angels become critical to provide much-needed respite and relief for those caregivers, who also have their own lives to lead, said Allison.
---
They need love and we want to make sure they feel loved.
–Kathy Sorenson, Visiting Angels
---
"It was critical for my mental health to make sure my dad was taken care of," he said, adding that many people aren't aware of caregiving services and the help they can provide in caring for a loved one.
Resources like Visiting Angels not only offer companionship and emotional support, but also help with medications and meals, hygiene assistance and overall health. They work with hospice care providers and other in-home nursing services to "help them to be happy at home," Sorenson said.
"Whatever it takes to help them age in place," she said, adding that home is a familiar place where people can feel safe and maintain their independence.
×
Most recent Uplifting stories