Estimated read time: 3-4 minutes
This archived news story is available only for your personal, non-commercial use. Information in the story may be outdated or superseded by additional information. Reading or replaying the story in its archived form does not constitute a republication of the story.
MIDVALE — Midvale is the first Utah city to use Facebook local alerts, which notify users of urgent issues happening in their area including missing people, active shooters, utility issues and weather and traffic updates.
Midvale's city government joined Facebook's pilot program in 2018, but the feature is now available to a small number of local government and first responder pages in the United States and Australia.
If a page approved to send local alerts chooses to send a notification, people who follow that page will receive the alert in their notifications and will also see the post show up in their feed with a little yellow triangle icon with an exclamation point inside.
The notification will not send an alert to the user's phone unless the user has his or her Facebook notifications set to appear as push notifications on the phone. Users must also follow the agency's Facebook page in order to receive the alert in their notifications and feed.
Midvale sent a local alert last year to notify residents of an alternate route to avoid construction on the I-15 bridge, but the city has seen the most success with a recent local alert that informed people about a water main break in the city.
"A lot of the community had low water pressure, and some of the community had no water pressure," said Laura Magness, Midvale's communications director. "People were calling the city concerned because they thought maybe their pipes froze. So they really appreciated the alert that they received."
Magness was able to update residents every hour or so while crews worked to fix the break, she said.
"We just got so much community support for that event," she added.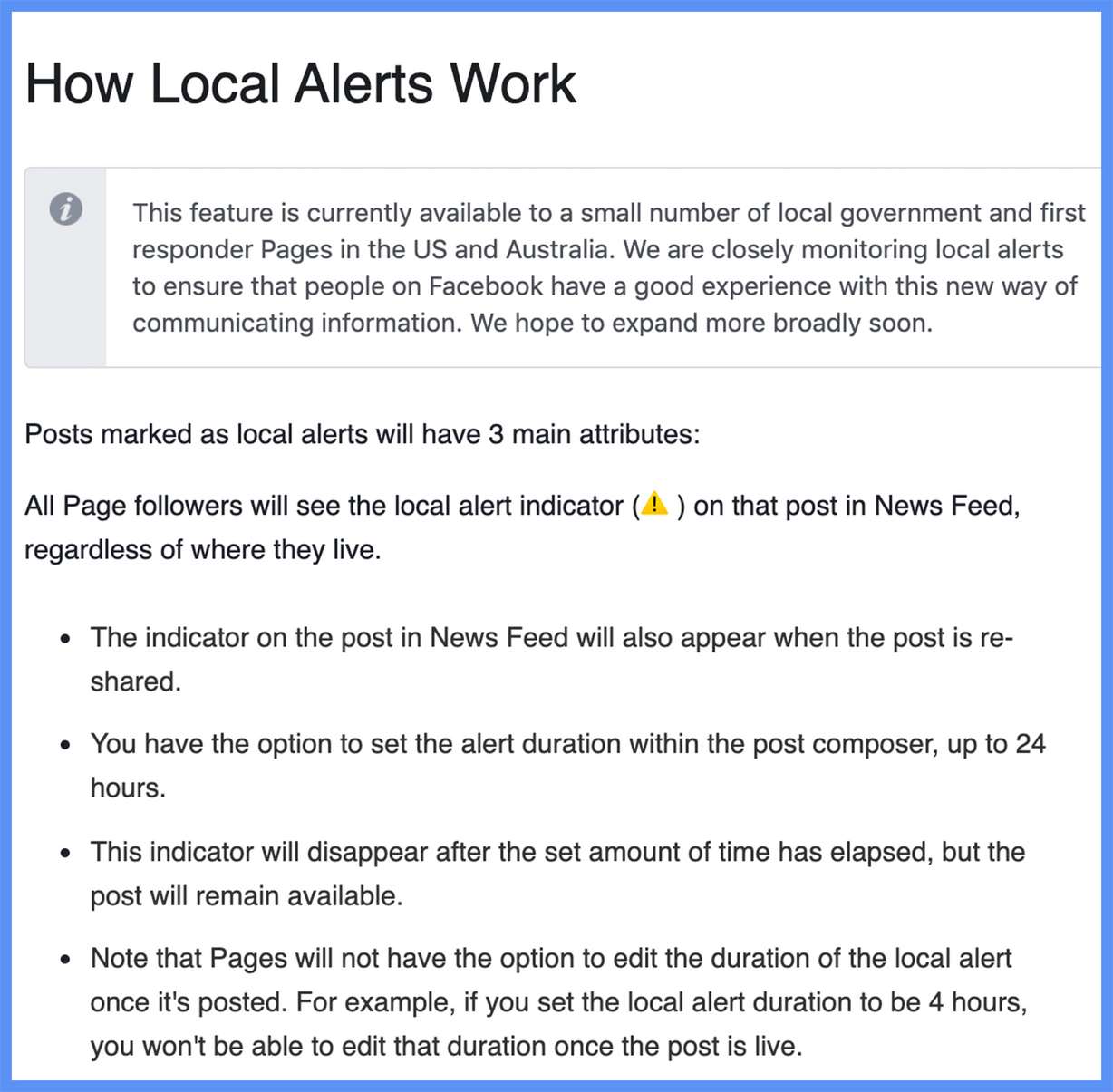 Magness is careful with the way she uses the alerts, however, because she knows overuse of the notifications will cause people to stop paying attention; and pages with local alert privileges cannot use them for community events, Facebook has specified.
"What I have found is people really appreciate (the alerts) for safety issues," Magness said. "I have to be careful, though, if there's police activity going on. That's really up to (the Unified Police Department) to issue the alerts. But I do work closely with my police chief, and if we think that there's an issue going on that we need to do a local alert, he'll let me know."
She hopes other Utah agencies will begin to use the alerts soon, as well. Magness says she personally benefits from local alerts by following agency pages where her father lives in California so she can be notified quickly if his area is in danger of fire.
Local alerts will also appear in a new place on Facebook for local news and community information called "Today In." Local alerts will appear alongside breaking news posts from local news publishers.
In addition to the local alerts, Magness also encourages residents to register for reverse 911 alerts, which work as a regional emergency notification system for Salt Lake County. The system will send voice messages, texts and email notifications in emergency situations or in times when critical public safety information needs to be communicated to residents.
×
Most recent Features stories