Estimated read time: 7-8 minutes
This archived news story is available only for your personal, non-commercial use. Information in the story may be outdated or superseded by additional information. Reading or replaying the story in its archived form does not constitute a republication of the story.
SALT LAKE CITY — With Democratic presidential candidates still waiting for the final results of Iowa's caucus votes a day later, Utah's decision to return to holding a state-run presidential primary election this year is being hailed as a smart move.
"I'm grateful that we are doing a presidential primary as a state and having the lieutenant governor's office administer it," Utah GOP Chairman Derek Brown said Tuesday, rather than relying on "well-meaning, well-intentioned" party volunteers who aren't trained in running elections to hold caucus votes, as Utah did in 2016.
"In a perfect world, the state party would have the resources and the structure and the tools to conduct our own elections," Brown said. "And frankly, long term, I would like to see the party in a position to do that. But we're not anywhere near that point."
Four years ago, Utah voters hoping to cast ballots at Republican and Democratic caucuses ran into hourslong lines that left them standing outside in the freezing cold. An attempt by the Utah GOP to allow Republicans to vote online ran into technical problems, frustrating voters who'd skipped the evening caucus meetings.
Fewer voters turned out to Utah's March 2016 caucuses than had for previous presidential primaries, with Republicans choosing Texas Sen. Ted Cruz over Ohio Gov. John Kasich and now-President Donald Trump, and Democrats going big for Vermont Sen. Bernie Sanders over Hillary Clinton, their party's eventual nominee.
The Utah Legislature responded by reestablishing a presidential primary election and picking up the $3 million price tag. Utah's presidential primary is set for Super Tuesday on March 3, the same day voters in more than a dozen states will also go to the polls.
"We were close to a meltdown in 2016," said Sen. Curt Bramble, R-Provo, the sponsor of last year's bill setting the date and securing funding for Utah's presidential primary. "We pulled it off. There wasn't a controversy about who the winner was at the end of the caucus. ...But the logistics of our caucuses were a real challenge."
Bramble said voters in Utah watching the confusion in Iowa don't need to worry about that occurring here.
"That's not going to happen in Utah because we're having a regular presidential primary," he said. "We saw the challenges in 2016 and Republicans and Democrats, we reacted to it. We anticipated we didn't want to have a replay."
Rep. Patrice Arent, D-Millcreek, the House sponsor of Bramble's bill and an earlier bill re-establishing the presidential primary in Utah, said lawmakers "absolutely" made the right decision to move on from party-run caucus voting.
"It's going to go so much more smoothly than it did four years ago — and than it's gone in Iowa," Arent said. "I think this is just a win-win for everyone."
Related:
The problems Utahns ran into with caucus voting may not be on the same scale as the failure in Iowa, but Beehive State officials see switching back to a primary as the path to a smooth election.
"I think this is a smart move," State Elections Director Justin Lee said.
"Elections are more complex than they used to be, and the public's expectations of how elections should run is higher than ever," he said. "So letting the people who do this as their job, who've done it before and know how to do it, is going to lead to a smoother process than even the best volunteers."
Lee said the state elections office has never received as many calls from voters as they did about the 2016 caucus.
"It's the worst feeling we have because there is nothing we can do. We can't fix anything. We can't take over a party process," he said, promising this year's presidential primary will be like any other election — conducted largely by mail with ballots going out next week, and offering opportunities for in-person voting early and on Election Day.
That could mean a delay in the final results being tabulated, as has happened in previous by-mail elections as ballots trickle in past Election Day, Lee said, something that could become an issue in the hotly contested Democratic primary.
Chris Karpowitz, co-director of Brigham Young University's Center for the Study of Elections and Democracy, was in Iowa to observe the caucus process and said there are clearly advantages to a state-run primary election like Utah's will be this year.
"The problems in Iowa were somewhat unique to that state. On the ground, many caucuses ran smoothly. The bigger problem was reporting results back to the state party. And on that score, having the state rather than the party run the elections process is likely a very good thing," he said.
Trust in the outcome of an election is key, Karpowitz said, because "in an age when trust in government and other institutions is declining, it's important for people to have confidence in the electoral system. Snafus like last night's don't inspire confidence."
That reinforces the reasons that the change from a presidential caucus vote is a good one for Utah, the political science professor said.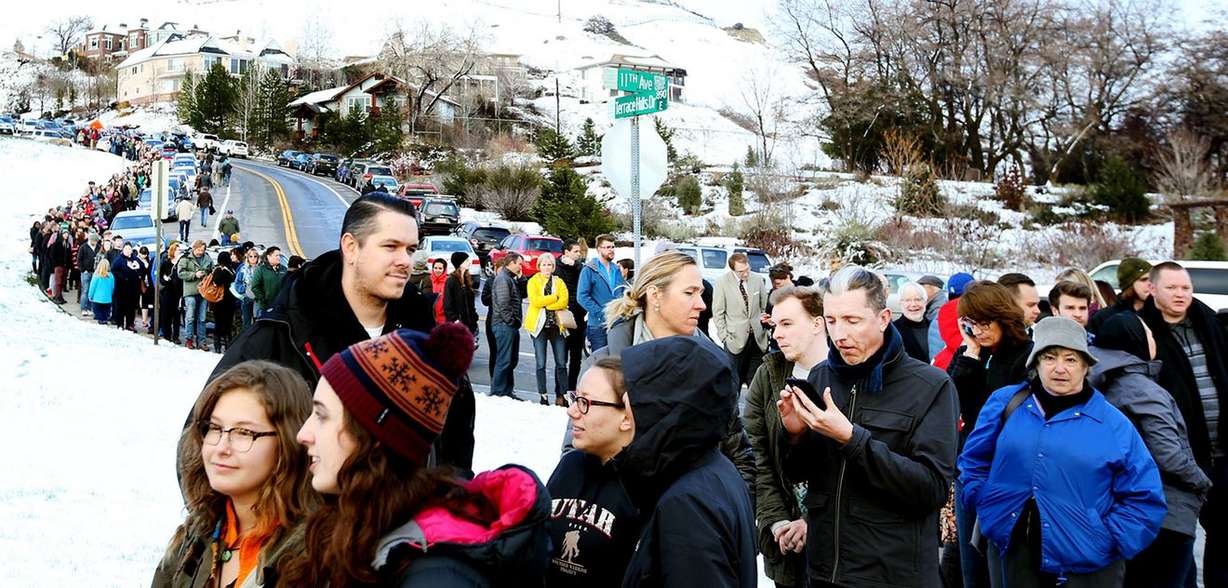 "Utah still has some issues with the speed of counting ballots, but in general, state supervision and administration of the process is a good thing. Utah is moving in a good direction," Karpowitz said.
Utah Democratic Party Chairman Jeff Merchant said he sees a presidential caucus as "a little antiquated for the number of people we have and the number of candidates we have." Only one of the 17 Democrats who filed to be on Utah's primary ballot, California Sen. Kamala Harris, has withdrawn her name.
"I'm certainly happy that we're doing a primary. I think the primary opens up the process to a lot more people. It's a lot less cumbersome and it's certainly a lot more accessible to the average Utahn" and should encourage more participation, Merchant said.
Brown said he expects record turnout in Utah's primary, even if Trump has only token opposition on the Republican ballot.
"People are still excited to be part of the process," the GOP leader said.
Merchant said Utah's new Super Tuesday status should bring Utah more attention from presidential candidates. Democrats Mike Bloomberg, who is not competing in Iowa and other early voting states, and Elizabeth Warrren already have campaign staff in the state, and Merchant said Pete Buttigieg is expected to be in Utah Feb. 17 and 18.
Bloomberg's Utah state director, Lauren Littlefield, said the campaign's attention is on Super Tuesday states.
"We are watching Iowa along with the rest of America, but we are laser focused on Super Tuesday here in Utah and defeating Donald Trump in November," she said. The campaign plans to open a second office in Utah before Super Tuesday.
Could there be another change someday to how Utahns select their presidential picks? Lt. Gov. Spencer Cox, whose office oversees elections, tweeted early Tuesday about the country making a change from the traditional presidential primary lineup to regional primaries that rotate every four years.
"Seems like a good time to once again push the idea of four rotating regional primaries," Cox, one of six Republicans running for governor, said in the tweet. "Or you know we could just continue to let Iowa and New Hampshire decide (ruin?) everything."
Cox told KSL Newsradio he's "very serious" about pursuing the idea. "We would get rid of flyover states because at least every 16 years as we rotate around through these (regions) your group would be first and you would have a say. Historically, it's like, Utah just don't matter. This year, we are part of Super Tuesday, so that may change."
When it comes to nominating presidential candidates, the lieutenant governor said he believes "there are better ways to do this. I don't know anybody who lives outside of Iowa and New Hampshire who thinks that having Iowa and New Hampshire go first is a good idea."
×
Photos
Related stories
Most recent Politics stories