Estimated read time: 3-4 minutes
This archived news story is available only for your personal, non-commercial use. Information in the story may be outdated or superseded by additional information. Reading or replaying the story in its archived form does not constitute a republication of the story.
WEST VALLEY CITY — A suspected arson at an apartment complex in West Valley City caused an estimated $250,000 in damage, firefighters said Sunday, and forced residents to jump from their windows to escape.
Police say the blaze ignited Saturday night when a man set his girlfriend's apartment on fire after she broke up with him.
Crews were called to the Overlook Point Apartments, 4612 S. 2930 West, at 8:25 p.m., said West Valley Deputy Fire Chief Chris Beichner. One of the complex's eight buildings was ablaze.
"When units arrived we had heavy fire coming through the roof and on the upper floors of an eight-plex apartment," Beichner said.
Sixty firefighters responded, including some from Unified, South Salt Lake and West Jordan fire departments, the deputy fire chief said. There was also a heavy police presence at the scene.
Luis Fernando Bueso-Romero, 21, was arrested and booked into Salt Lake County Jail on Sunday for investigation of attempted murder, aggravated arson, causing a catastrophe and criminal trespass, according to court documents.
At 6:30 p.m. Saturday, Bueso-Romero met with his girlfriend across the street from her apartment, where she broke up with him, a police booking affidavit states. At 8 p.m., the girlfriend's roommate heard tapping on the windows and saw Bueso-Romero "demanding entry into the apartment," police said.
Related:
Twenty-five minutes later, the roommate heard more tapping and opened the door.
She then "saw fire in the entire breezeway and could not get out of the apartment front door. (The two women), two children, and another adult had to crawl out a window in order to exit the apartment, which was now engulfed in flames," the affidavit states.
"Residents of the same building also found their exits blocked by flames and had to jump out of their second story windows to escape the flames," police wrote.
By the time the blaze was extinguished, four of the upper-floor units were considered a total loss, and the lower floors of the complex suffered severe water damage, according to the affidavit.
Investigators from the Bureau of Alcohol, Tobacco, Firearms and Explosives responded to the scene after the fire to look into the cause.
Investigators said they found video surveillance footage showing Bueso-Romero with gasoline and a lighter "a short distance away" before the fire started. Witnesses also reported a domestic dispute had taken place, and a man had returned with a molotov-cocktail like device, firefighters said.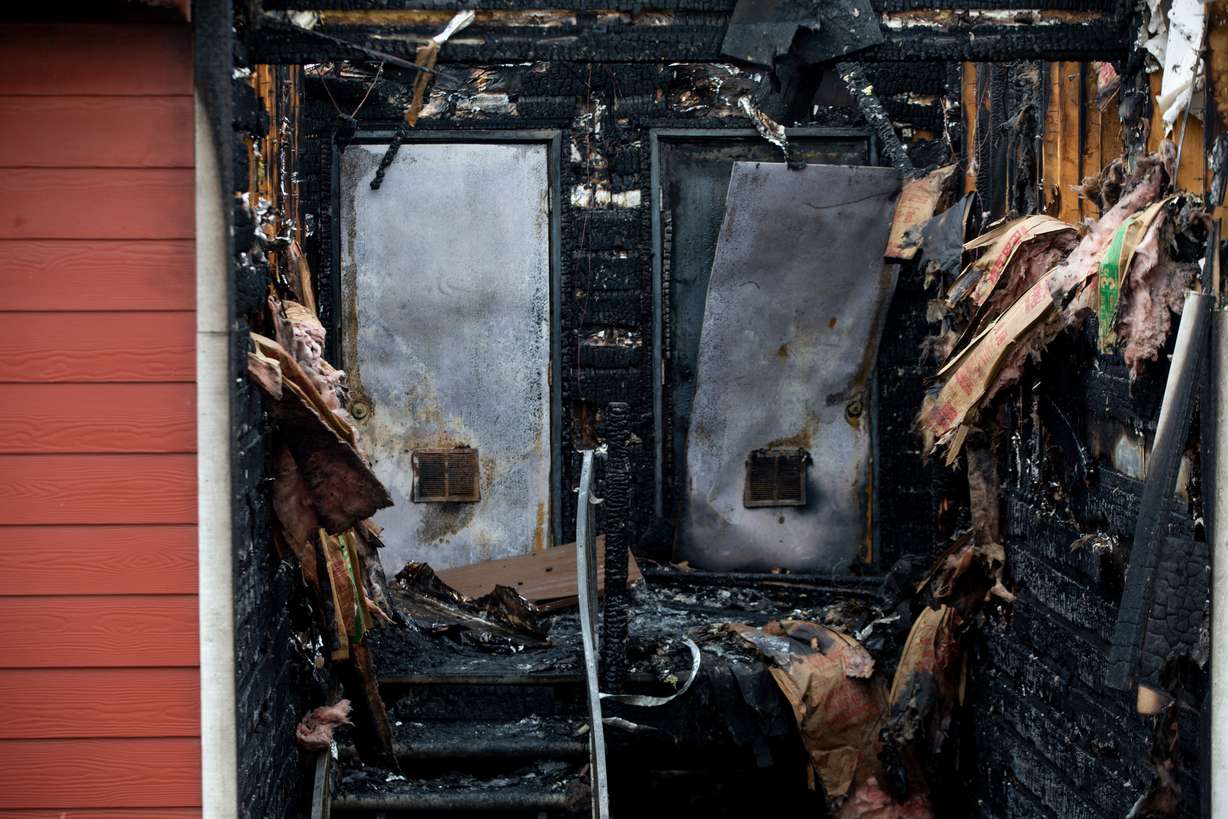 "Arson investigator found traces of accelerants on (the girlfriend's) apartment door, around the side of the apartment, and on her bedroom window in which he had previously spent time with (her) in. As fire crews were on scene, Luis sent text messages to friends saying he was not responsible for the fire at Flor's apartment," the affidavit states.
Investigators eventually found Bueso-Romero "hiding" in an abandoned building, where they said he forced open a door.
The residents of seven of the eight apartments — one was vacant — remained displaced as of Sunday afternoon, said West Valley Fire Battalion Chief Nick Dodge.
Three people were treated for smoke inhalation, Beichner said. No one, however, was significantly injured or suffered burns.
Beichner said the blaze was the largest residential fire that West Valley City has seen since last summer.
"Types of fires like this, we might see once a year, once every other year. So it's always sad when it happens. It probably displaced close to a dozen people," he said.
The Red Cross responded to help the families find housing for the night and the next few nights, according to Beichner.
Contributing: Garna Mejia
×
Photos
Related stories
Most recent Utah stories