Estimated read time: 6-7 minutes
This archived news story is available only for your personal, non-commercial use. Information in the story may be outdated or superseded by additional information. Reading or replaying the story in its archived form does not constitute a republication of the story.
SALT LAKE CITY — Chris Latham almost looked a bit shocked.
The Australian international rugby star had just finished up on a sidestage at the Silicon Slopes Tech Summit, having just been introduced as the second-ever head coach of the Utah Warriors pro rugby team.
Latham was now being approached by a young fan, one who couldn't be over 28 but who had followed his career.
"Are you Chris Latham?" the fan asked, to which the coach smiled and nodded. "I'm a huge fan. But what are you doing here?"
Then came the explanation, a tutorial Latham has already heard over and over since being inaugurated as head coach of the Warriors in November.
Yes, Utah has a pro rugby team. No, it's not based in Salt Lake City (the Warriors play their home matches at Zions Bank Stadium in Herriman). Yes, the league they play in — Major League Rugby — is entering its third season. No, it has not entered the mainstream American sports consciousness, though proponents of the sport argue that day will come soon enough.
So in many ways, Latham's first full-time club managerial job at nondescript Utah in a nascent rugby league was almost perfect for the 44-year-old former Australian fullback who represented the Wallabies at three Rugby World Cups and remains the No. 2 try scorer in national team history.
Out of sight, out of mind, but in a land with tons of potential — and one of the stronger rugby communities in the United States, with a high growth potential.
"It's obviously very exciting: a new country, new city, new things to see, and a new team," Latham told KSL.com. "I've got a squad of guys who are really hungry for success — and when you have that, it makes your job easier.
"It's now just about getting into the season and getting some wins."
Latham's job is simple: to win. That's how Utah fans will come see his team, how he will gain media attention and social media clout, and how — eventually, if he so chooses — he could be chosen to coach in bigger, higher profile or (at the very least) more established rugby leagues around the world.
But the four-time Australian Super Rugby player of the year also has one other job: salesman.
"Coaching is not just about getting a team of winners," Latham said. "It's about development, it's about teaching, it's about introducing people to rugby — Utah provided that. It's exciting to me."
That's why a Warriors franchise that went just 5-19-2 in two seasons appealed to Latham, and why the club sacked former coach Alf Daniels to go get Latham.
If you don't know Latham, you don't know rugby.
Which takes us back to that fan, a nondescript, non-Major League Rugby fan who had no idea the one-time Queensland Reds legend was living on the Wasatch Front, with a Utah-based cell phone and all.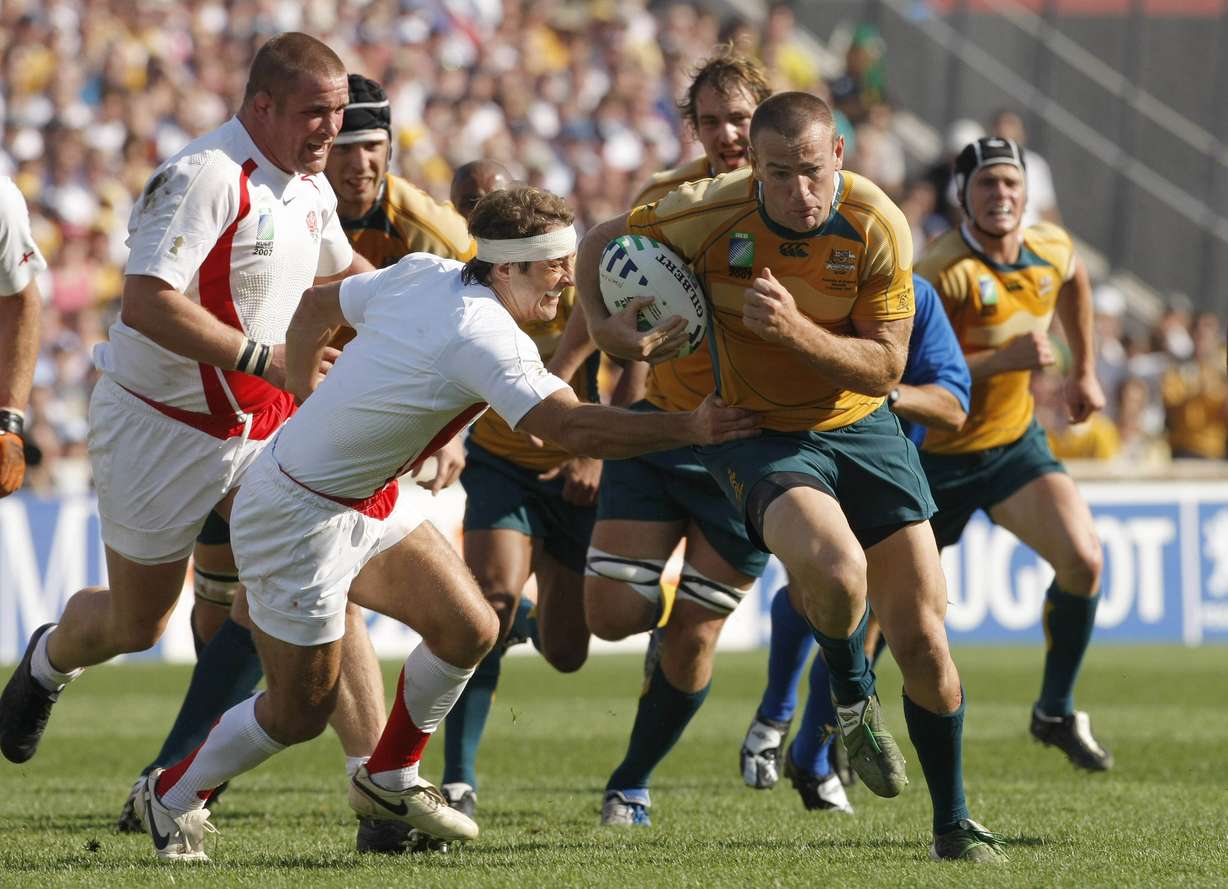 Rugby is, according to most, the fastest growing sport in America. Part of that is where it started — a younger sport than even soccer or other athletics outside the country's "big four."
It's the fastest-growing sport you've never heard of, Warriors CEO and general manager Kimball Kjar said.
"This league is arguably the fastest-growing professional league in the United States. It's just that no one knows about it," Kjar said. "People love this sport in America; they just don't know it yet."
Under Latham, the Warriors expect to be gritty. Latham, assistant coaches and former BYU standouts Ben Nicholls and Shaun Davies, and the team expect to be tough, stout, and able to grind out results, staying in games for a full 80-minute match.
In other words, they expect to play like Latham — who scored 253 points with four professional teams during an internationally renowned career as a fullback, arguably the best in Australian history.
"The boys are still a little raw in rugby, but they are learning and the approach they are taking is exciting for me as a player," said scrumhalf and team captain Dwayne Polataivao, a recent signee. "The kids here are like sponges; they want to observe all the learnings. We're definitely here to challenge, we're here to be a Warrior. And it's going to be thrilling."
The Warriors are banking on an untapped fanbase getting to know the sport will involve getting to know and supporting the local team, too. It's why the club held its annual media day at the tech summit, rather than a hotel ballroom or local media headquarters filled with nothing but reporters and broadcasters.
They want to get to know the fans, first and foremost.
Utah will kick off the third season of Major League Rugby at 1 p.m. MT Sunday, Feb. 9, against expansion side Rugby ATL. First four games on the road, including Saturday, Feb. 15 against the New England Free Jacks which the Warriors will host at Sam Boyd Stadium in Las Vegas (12:40 p.m. MST). The club will kick off its third home season Friday, March 13, at Zions Bank Stadium against the NOLA Gold (7 p.m. MST).
Year 3 of Major League Rugby brings 12 teams, two conferences, and the promise of two more expansion clubs for the 2021 season (Dallas has already been named, and Los Angeles is expected to be the league's 14th club).
"This concept is not going anywhere," said Kjar, a BYU rugby grad who has been with the Warriors since their founding. "Major League Rugby isn't going anywhere. It's here to stay.
"This isn't a flash-in-the-pan concept or a fly-by-night venture. With the support of the community, but also our partners, we have the foundation for this thing to play out and to build into what we know it can become. Our long-term plan includes our own stadium, our own facilities, our own home. We know it's going to take time — we've taken our lumps — but this thing isn't going anywhere. It's only going to get better."
And they'll do it with Latham at the helm.
Lucky you, local rugby fans.
"If you know rugby, you know Chris Latham," said Polataivao, a New Zealand native who most recently represented Samoa at the Rugby World Cup in Japan. "He's been awesome. I pick his brain as much as I can — he's got a lot to offer to the game of rugby. It's surreal to still be involved with him.
"I'm very grateful that we've got a legend coaching us."
×
Related stories
Most recent Sports stories