Estimated read time: 4-5 minutes
This archived news story is available only for your personal, non-commercial use. Information in the story may be outdated or superseded by additional information. Reading or replaying the story in its archived form does not constitute a republication of the story.
LOGAN — The first thing Abby Jones decides in the morning is whether it's a good day or not. Based on her pain, stiffness and what she ate the night before, she "just knows."
Diagnosed with rheumatoid arthritis at age 3, Jones didn't share her autoimmune disease on social media until she was 17 years old. Three years later, she's created an Instagram account called "move free from arthritis," titled after Jones's motto.
Jones hopes her Instagram account will bring a sense of community to others suffering from the disease.
"There are certain things I can't do, but the end goal is to move freely. You want to move every single day and not have it stop because of the stiffness."
Arthritis creates many barriers for Jones, who feels pain in her jaw, ankles, knees, fingers, wrist, hips, shoulders and elbows. Sometimes the inflammation and stiffness become so debilitating that Jones cannot walk or eat much. Because of this, her hardest days are spent in bed.
Still, Jones maintains a full schedule as a sophomore studying pre-nursing at Utah State University. Jones also dances for USU, which she said helps loosen her joints.
"It's all about the balance," Jones told KSL.com.
After discovering there was no arthritis support group at USU, Jones decided to start developing an autoimmune disease club of her own.
"It's a process," Jones said with a laugh. "With creating this group, it would help further a community and bring in more people for the Arthritis Foundation, so everyone involved is really getting help."
Growing up, Jones often thought she was the only kid with arthritis, which made sharing her disease with others more difficult.
"I think people are scared to say it because they don't want people to look at them differently or they don't want people to think they're incapable of something."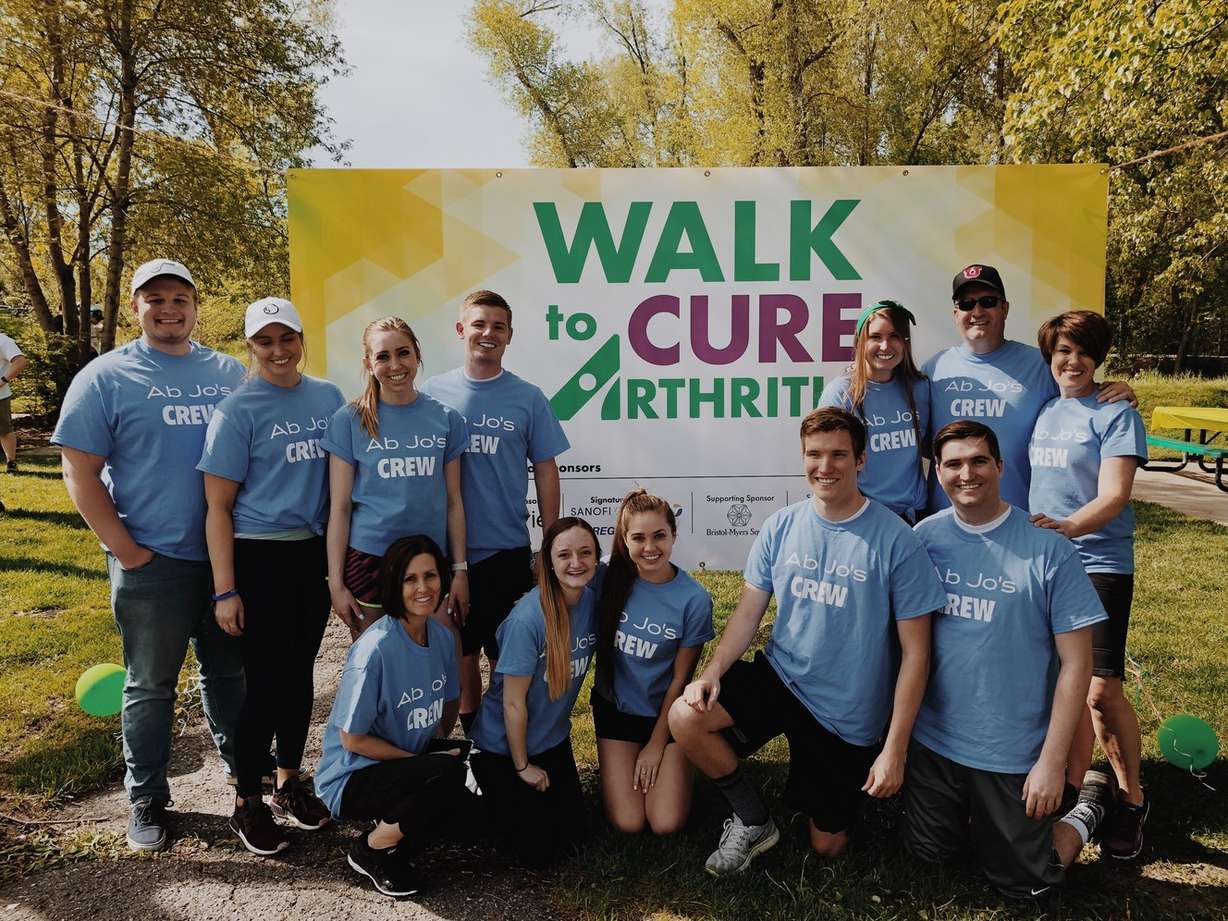 According to Jones, it doesn't matter how awesome your family and friends are, it's hard for them to understand what it's like to have rheumatoid arthritis.
Jerrika Jensen, Jones' friend since seventh grade, said her awareness of the disease has grown a lot since first meeting Jones.
"I've had good conversations with just random people about arthritis because of it, and I feel like it's helped them become aware that it is a big deal and not just for the elderly," Jensen told KSL.com.
Journaling helps Jones stay positive through it all.
"It's kind of like a therapy session in a way," Jones said. "I can talk myself through a really big flare-up."
Getting out and moving around also helps Jones stay happy.
"I realized if I just stay in my bed all day, the only thing I'm focusing on is how bad I hurt," Jones said.
"Your body is an amazing thing, the more I learn about it," Jones said. It's amazing how the body is put together and can heal itself ... also it can attack itself like it's doing to my body right now."
Some people take this too personally Jones explained.
More Uplifting:
Arthritis affects only 19.8% of Utah residents, according to the Arthritis Foundation; in 2017, about 3,000 of those residents were children.
With over 100 types of disease, arthritis acts as an umbrella term, according to Bailey Bowman, a community engagement director for the Arthritis Foundation in Utah.
"There's a huge shortage in rheumatologists," Bowman said.
Utah is lucky to have seven or eight pediatric rheumatologists and 39 adult rheumatologists, which is still a shortage Bowman explained.
The foundation works with rheumatologists nationwide to offer resources to those with arthritis.
"The whole goal is to connect people and bring them resources that they wouldn't otherwise have, and then ultimately find the cure for arthritis," Bowman explained.
With hopes of raising $50,000 during The Walk to Cure Arthritis on May 9 this year, the foundation aspires to take one step closer to their goal of a cure.
In the meantime, Jones continues to volunteer and raise awareness of the disease.
Editor's Note: The article initially stated that rheumatoid acts as an umbrella term for the disease. The story has been corrected to show that arthritis is the umbrella term. The article also stated that there were seven or eight rheumatologists in Utah. The story has been corrected to show that there are seven or eight pediatric rheumatologists in Utah and 39 adult rheumatologists.
Correction: A previous version of this article incorrectly said there were 100 types of arthritis instead of using it as an umbrella term for 100 types of diseases.
×
Photos
Related stories
Most recent Uplifting stories