Estimated read time: 2-3 minutes
This archived news story is available only for your personal, non-commercial use. Information in the story may be outdated or superseded by additional information. Reading or replaying the story in its archived form does not constitute a republication of the story.
LOGAN — Three Utah State football players who were cited with drug possession charges have had their cases dismissed in court, according to court documents filed Thursday in Logan City Justice Court.
Two days after a Cache County prosecutor made a motion to dismiss citations filed against former quarterback Jordan Love, running back Gerold Bright and senior-to-be wide receiver Sean Carter for marijuana possession, Judge Lee Edwards dismissed the case without prejudice Thursday morning. The motion was filed based on prosecutor's discretion Tuesday and signed by Cache County Deputy Attorney Jacob Gordon.
A fourth Aggie student-athlete, junior track and field athlete Elani Rice, had a similar misdemeanor charge of possession of a controlled substance declined by prosecution Wednesday, a week after pleading not guilty to the citation.
The charges of possession of a controlled substance, marijuana/spice — each a class B misdemeanor — stemmed from an off-campus incident at 657 E. 1000 North in Logan, where seven people were discovered in possession of marijuana, according to the responding officer's probable cause statement.
Six people were initially contacted, but a seventh — identified as Love — was brought to the officer's attention after he was found hiding in a nearby bedroom, according to the statement. The responding officer requested urine tests after smelling a marijuana-like odor, and all seven complied after a warrant was obtained.
None of the cited offenders were arrested, but were instead released at the scene.
None of the three football players were subject to punishment from the program by head coach Gary Andersen, who cited internal policies and procedures by the university in stating there was "never any thought" Love wouldn't play in his final game with the Aggies. All three athletes played in the Tropical Smoothies Cafe Frisco Bowl, a 51-41 loss to Kent State to finish a 7-6 season.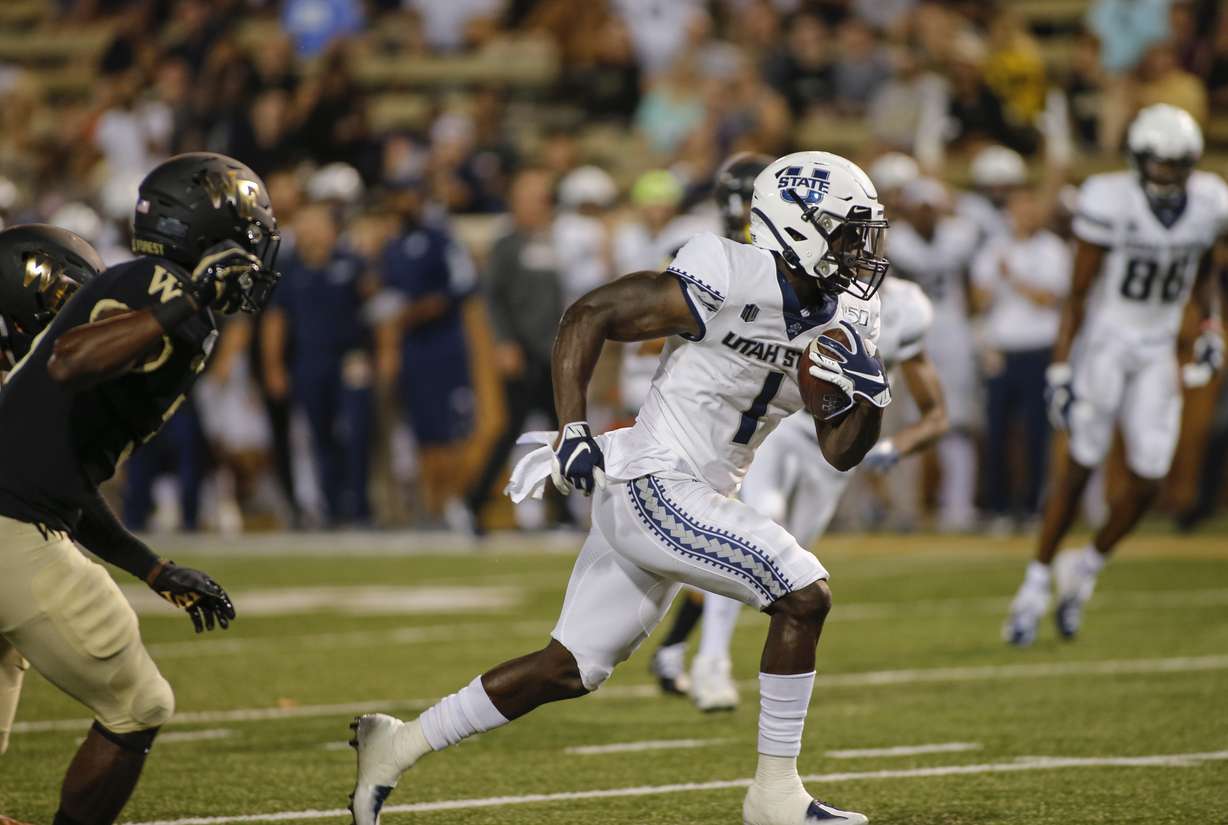 "We have processes in place, both in student conduct and in athletics, and we'll follow our procedures, as we do in all cases," the university said in a statement released shortly after the citations.
Love, a junior with one year of eligibility, declared for the NFL draft in April. Bright is a senior who has played his final game with the Aggies, and Carter, a junior college transfer, will be a senior in 2020 and is listed on the school's current roster.
Love finished his final season of eligibility with 3,402 passing yards and 20 touchdowns, finishing with 3,577 yards of total offense — the third-most in school history.
Love ranks second all-time in passing yards, completions and attempts, and is tied for second in touchdown passes.
The Bakersfield, California, native is currently at the Reese's Senior Bowl in Mobile, Alabama. The game will kick off Saturday at 12:30 p.m. MST.
×
Related stories
Most recent Utah State Aggies stories