Estimated read time: 4-5 minutes
This archived news story is available only for your personal, non-commercial use. Information in the story may be outdated or superseded by additional information. Reading or replaying the story in its archived form does not constitute a republication of the story.
PLEASANT GROVE — Some might call a bunch of kids gathered around a TV while holding controllers a "waste of time" while others might call it a "pointless way to rot your brain."
But for 17-year-old Jason Buchanan, playing Super Smash Bros. Ultimate on a Nintendo Switch is serious business — serious enough to have his own title.
"I am the president of this club," he said.
Buchanan has been playing iterations of the game for almost as long as he's been alive. He referred to his group as the "Smash Bros. Club," and between maneuvering his Donkey Kong character to attack a version of Pac-Man, he squinted and threw out the occasional bit of trash talk.
It all seemed very informal, but their location was a little more official than someone's basement.
"We're in Mrs. Yocum's room at Pleasant Grove High School," Buchanan said.
That's Mrs. Audra Yocum — after spending her days teaching computer science and IT, she often hosts Buchanan and other students. To her, it's like any other extracurricular activity.
"It's just an amazing way for me to meet new students and introduce them to my classroom," she said. "A lot of times kids will come in and they'll play, and then they'll come up to you and say 'Well, what classes do you teach?'"
Getting kids interested in her classes was just the first level.
"We go to practice once a week, every week," said Riley Holbrook, a student with dreams of being a professional video game commentator. "We go up against other schools in their esports programs."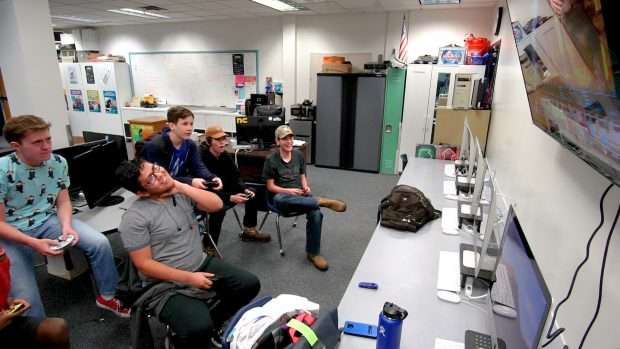 Starting this school year, Alpine School District officials made three different video games part of an official program at five different schools.
"We decided to start with Super Smash Bros., League of Legends and Rocket League," Yocum said. "This year, we're doing five beta schools because they kind of wanted to see how it was going before we expand it."
The schools practice and compete against each other — and believe it or not, top players can win scholarships or even build careers as professional gamers.
"You can make a living out of it, or at least you will be able to as prize pools grow," Holbrook said.
"These are a lot of games that they're playing already," Yocum said. "We're actually working with a curriculum that Microsoft helped develop that teaches them a lot about teamwork and a lot about collaboration and communication."
Yocum said communication is key. If students aren't able to communicate well with one another, they'll have a difficult time landing a coveted esports scholarship.
"That's a big thing that all the colleges have said they're interested in when I ask them about esports and what they're looking for," she said. "They said a student who can communicate well is going to get higher consideration for a scholarship than a student who can maybe play well but not communicate with their team."
Related Story
Alpine School District officials were working with a group called "iTeam USA," which helps students develop skills in line with what tech employers are looking for.
"Our big competition is in the beginning of April at UVU," Yocum said. "It actually includes more than esports. It includes academic events: kids will do the hardware events, the cybersecurity events, the digital media events."
But even for students who aren't looking for esports scholarships or a career in tech at all, Yocum said involvement can still be worthwhile — she's seen barriers evaporate and friendships born.
"Jason, for example, is on student council," she said, speaking about Buchanan. "I don't think a lot of kids would have gone up to him unless they saw him here and realized that he's really into something like this."
"I have a personal goal of knowing everyone's name," Buchanan said. "Just knowing them personally, so that I can be a better president, instead of just being the guy who's like, 'Hello, I don't know you, but I'm the president of your club.'"
Regardless of the benefits, some may still call this a waste of time. But at Pleasant Grove High School, it's about much more: breaking down cliques and forging a future.
"They allow football because people are having fun," Buchanan said. "We're just having fun in our own way."
×
Related stories
Most recent Education stories