Estimated read time: 5-6 minutes
This archived news story is available only for your personal, non-commercial use. Information in the story may be outdated or superseded by additional information. Reading or replaying the story in its archived form does not constitute a republication of the story.
MURRAY — Kayla Dekker was just 26 years old when she was diagnosed with chronic congestive heart failure. She'd just had her second child.
"I had no idea. I went in three months after having my baby because I had a cough for three months. I went in and they told me I had bronchitis. A few months later, I came back and found out that my heart was actually quite enlarged on the left side," Dekker said. "That's how they discovered it."
Dekker is one of many American women with heart disease. In fact, the disease is the No. 1 cause of death for U.S. women, said Terri Kane, Intermountain Healthcare vice president and chief operating officer of clinical programs and services.
It's women like Dekker who pushed five local artists to team up with heart clinicians from Intermountain Healthcare and the American Heart Association to create paintings centered around the disease's impact on women. The artwork was rendered to raise awareness and give artists the opportunity to share their views on women and heart disease, Kane explained. The artists unveiled their work during a ceremony at Intermountain Medical Center on Tuesday.
Concealed by red drapings, the paintings waited behind the podium where Kismet Rasmusson, Intermountain Healthcare Heart Institute researcher, stood.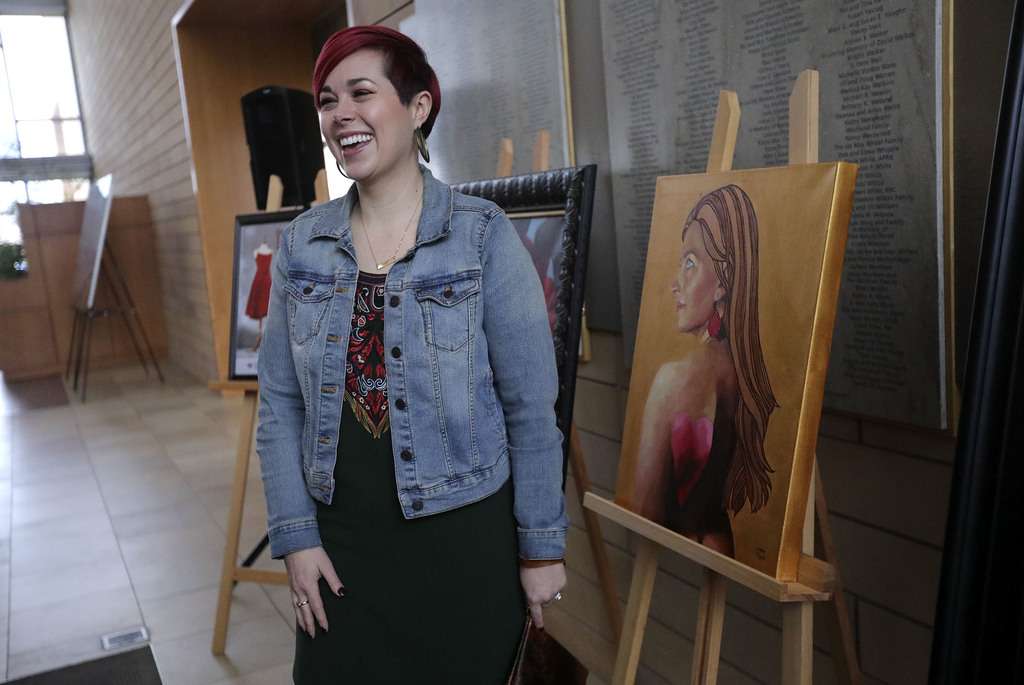 "Only about half of the women in the United States recognize that heart disease is the leading cause of death," Kismet said. "That's astounding to me."
Prior to the diagnosis, Dekker was one of them.
Doctors removed 40 pounds of fluid from her body, implanted a device that would help restart her heart if anything adverse happened, and informed the young mother that she'd likely need a heart transplant one day.
She reported that things were going fine until she returned to the hospital three years later because she was experiencing some pain. There, Dekker learned her gallbladder had failed.
"It was kind of a blessing in disguise. If I hadn't gone in then I wouldn't have known again that my heart was as sick as it was," she said, then paused for a moment. "Sorry, it's a life changer."
Heart disease is not just an older person's disease, nor is it just a man's issue, Kismet said, pointing out that women tend to have different symptoms than men. Like Dekker's experience, heart disease can manifest itself for women in various ways. It's not necessarily just chest pain.
---
You don't have to be old. ... I was 26.
–Kayla Dekker
---
Dekker underwent surgery, and after putting on 60 pounds of fluid in a month, was rushed by medical helicopter to Intermountain Medical Center. She spent two months waiting for her heart to be healthy enough to receive a left ventricular assist device — a device that supports and strengthens the organ.
Addressing the crowd gathered at the art unveiling, Dekker pointed to the band wrapped around her waist and explained the device is supporting her heart so that it has time to heal and be healthy enough for her to receive a heart transplant.
"All I can tell you is that it can definitely sneak up and surprise you when you least expect it. You don't have to be old. ... I was 26," Dekker said.
Though the number of women impacted by heart disease is high, 80% of the disease is preventable, Kim Gourley said.
Gourley oversees Go Red for Women — an American Heart Disease platform put in place to raise awareness about women's heart health. The program will be making its way through the state this year, as will the paintings, which will travel from Logan to St. George throughout the next couple of months.
She thanked Intermountain Healthcare for its sponsorship of the platform and said the paintings will have an important impact on the community.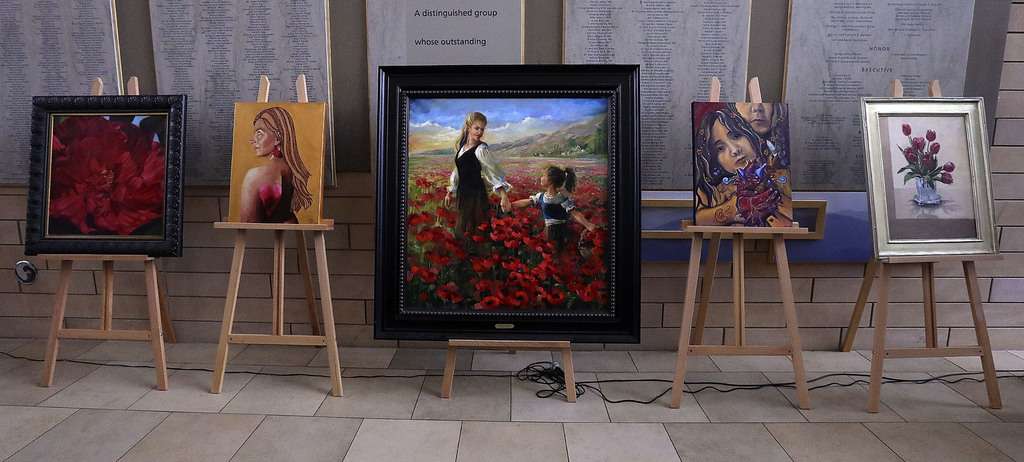 Artist Lindsay Huss said she was inspired to create her painting because she feels being part of a family with a long history of cardiovascular disease, including a grandmother who passed away from a heart attack, gives her a sense of responsibility to inform other women.
Huss' painting depicts a woman standing to the side against a smooth bronze background. The woman's sandy hair is swept behind one shoulder, and her angular cheekbones reflect shimmery light. A painted heart curls across the upper left side of her back.
"I am a strong believer in women understanding their own health," she said, pointing to the piece. "My painting is really talking about how heart disease is really in every single one of us — it's part of us whether we like it or not."
Personal experience also prompted artist Theresa Otteson to create a piece.
She said her mother has heart disease and has been a patient at Intermountain Healthcare for some time. She credited her quality of life improving because of medical advancements made possible through the American Heart Association's research and through hospital staff's care.
Standing before her painting "The Perfect Woman," Otteson said she rendered it in honor of her mother and the other women like her. The piece captures a velvety red flower with graceful petals that curl around its daintily beaded center.
"Art is a universal language, adults and children both understand it. It crosses culture, race and gender. It speaks to our minds and to our souls. It evokes emotion, it makes us think, it adds beauty to our lives and it heals us," Otteson said. "When these paintings are unveiled and they go out on tour to be displayed they will be able to speak to people in a way that words cannot."
Correction: In an earlier version, Kayla Dekker's last name was misspelled as Decker.
×
Photos
Most recent Utah stories