Estimated read time: 4-5 minutes
This archived news story is available only for your personal, non-commercial use. Information in the story may be outdated or superseded by additional information. Reading or replaying the story in its archived form does not constitute a republication of the story.
PAYSON — At Aaron Garcia's boxing gym, you'll find a community built on confidence. Behind every swing lies the belief that you can handle any punches the future might throw.
"I used to get bullied a lot in school," Garcia said. "My dad used to box and my dad took me to a gym and I started training."
That training shaped his entire life — he spent a career coaching fighters. Garcia said he built around 20 champions from amateur to professional.
But now, instead of instructing those with their eyes set on championship gold, his students are more likely to wear shoes covered in smiling puppies. Amid a handful of adults strapping on gloves or punching a speed bag, you'll find a large contingent of kids, ranging in age from teenagers down to those who need someone to hold their hand to cross the street.
"Forty percent of the kids who come here used to get bullied," Garcia said. "They don't get bullied anymore, and they don't need to fight."
Garcia said you can smell confidence a mile away.
"I just tell them to look them in the face and tell them to stop," he said. "When they see that confidence in you, and that look, it stops."
But it isn't always a bully who's pushing you around. Sometimes, your worst enemy is yourself.
No one knows that better than Garcia. He may have stared down his childhood bullies, but his biggest test was yet to come.
"Yeah, it was my birthday," he said, thinking back over a decade ago. "It was the 4th of July. It was my birthday."
Garcia and his family took a trip to Yuba Lake in Central Utah with some friends.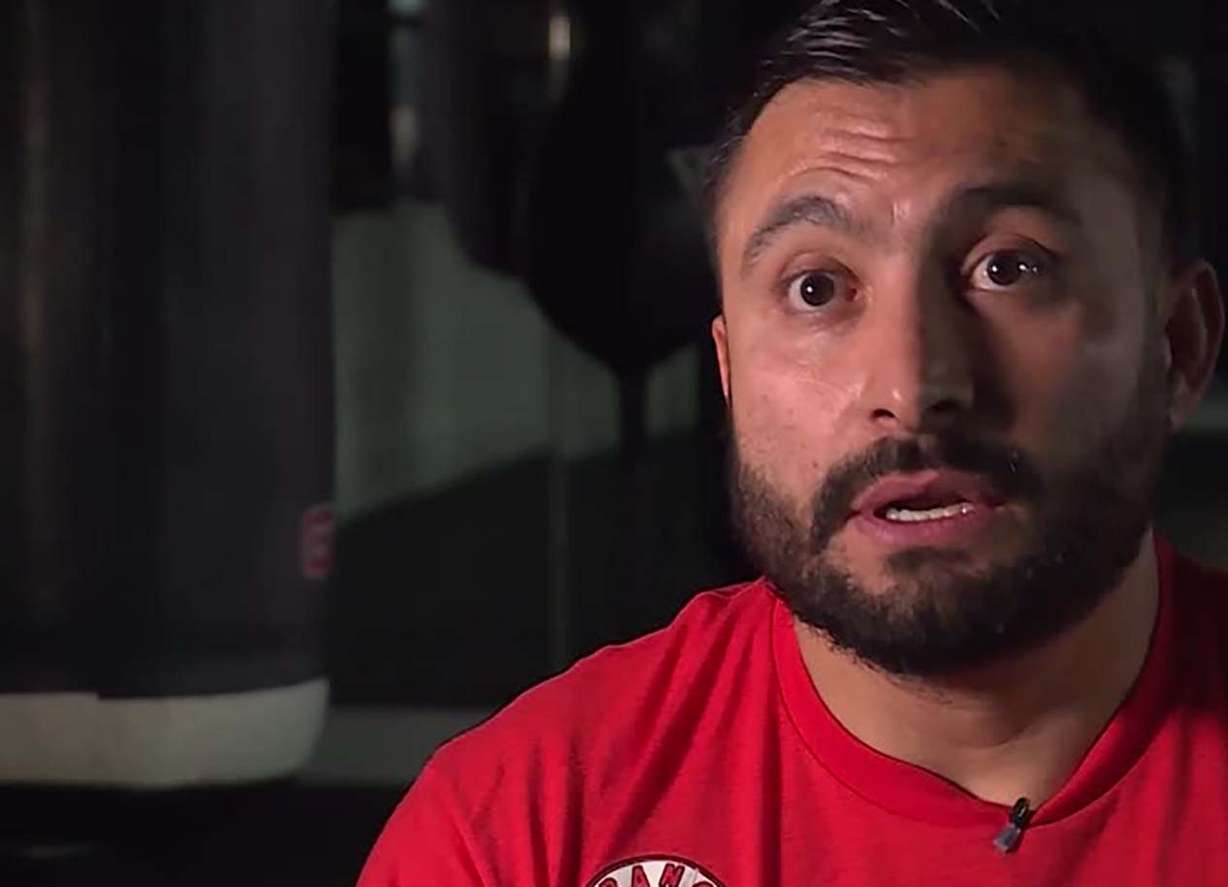 "We were just doing a barbecue, there were a lot of kids," he said. "I was just cooking there and the kids were playing, and you know, it just happened."
In a few short seconds, Garcia's life changed forever.
"We didn't find my son," he said. "We were looking for him and yeah, he was in the water. We don't know what happened. It's one of the things that haunted me for so many years."
Aaron's son Maximus was only 3. He went unnoticed for just a few seconds and must have tumbled into the lake. He didn't make it.
Garcia said that day haunted him — not just what happened, but not knowing how. There were a couple of jet skis sitting halfway out of the water and he speculates Maximus may have tried climbing up and fell in.
"I was mad," he said. "I was mad, you know, with God and everything."
From 2009:
He couldn't imagine taking a harder punch. He prides himself on being there for others — and in his mind, he said he believed he wasn't there for Maximus. Garcia thought he was down for the count.
"I was on the couch," he said. "I was crying. It's kind of hard for me to say because it was so real. And he was just right there, you know, saying 'Hey dad, hey dad, don't worry dad, I'm okay. I'll be fine.'"
For Garcia, it was much more than just a dream.
"When that happened, it was like a sign that he's okay," he said. "It changed my life. I'm not going to lie, it didn't change it completely, but it gave me hope in life. And I started moving forward."
---
Martial arts and boxing teach you to never quit. It saved me, and I want to give back.
–Aaron Garcia
---
Garcia rededicated himself to teaching and to the lessons he learned growing up.
"Martial arts and boxing teach you to never quit," he said. "It saved me, and I want to give back."
When Garcia opened his gym, coming up with a name was easy.
"MBG: it means Maximus Boxing Gym," he said. "God took my kid to a better place. But he gave me 40, you know. They're great kids."
His focus now is teaching students both young and old that life is all about confidence — believing that you can always get back up, especially if you're fighting for someone else.
"They're fighting for Maximus too," Garcia said, speaking about his students. "It's the Maximus gym. And that's how we're keeping him alive."
—
Maximus Boxing Gym is located in Payson. While Garcia no longer trains professional fighters, his children Maxine, Aaron and Austin are accomplished amateur boxers, all ranked either number one or number two in the country in their divisions. All three recently won at the Silver Gloves Regionals in California and Maxine took home the "Most Outstanding Boxer" award for 9- and 10-year-olds.
×
Photos
Related stories
Most recent Utah stories