Estimated read time: 4-5 minutes
This archived news story is available only for your personal, non-commercial use. Information in the story may be outdated or superseded by additional information. Reading or replaying the story in its archived form does not constitute a republication of the story.
AMERICAN FORK — Now that holiday wrapping and other preparations are finally slowing down, it's time to get outside with family and friends. One Utah family always makes safety a priority before they play in the snow.
Alicia Hodges will be the first to admit getting her four kids ready for the snow is a lot of work.
"I'm not even going to tell you how long it took to get all of their bags together," she said laughing, as she helped her kids get ready to sled at Tibble Fork Reservoir in American Fork Canyon.
Their family loves winter activities like sledding, so Hodges said it's totally worth it!
Nine-year-old Corbin said he looks for the steepest hill, and his little sister, Ayva, said she likes to go "really, really fast!"
Plus, it's a nice change of pace for this family of six, especially during the winter. "If you are inside all the time it starts to just become like really hard and the kids get cooped up," their mother said.
But it's all fun and games until someone gets hurt. "It makes all the fun come to a crashing halt," Hodges said.
Intermountain Healthcare's Jessica Strong, community health manager at Primary Children's Hospital, said they see lots of broken bones and head injuries this time of year from snow-related sports like skiing, snowboarding, ice skating and sledding.
Fortunately, the Hodges family have not been seriously injured, but they take extra measures to be safe.
"We put on our helmets!" 11-year-old Kyra said.
Strong said helmets should fit snugly with no wiggle room when someone moves their head back and forth and side to side.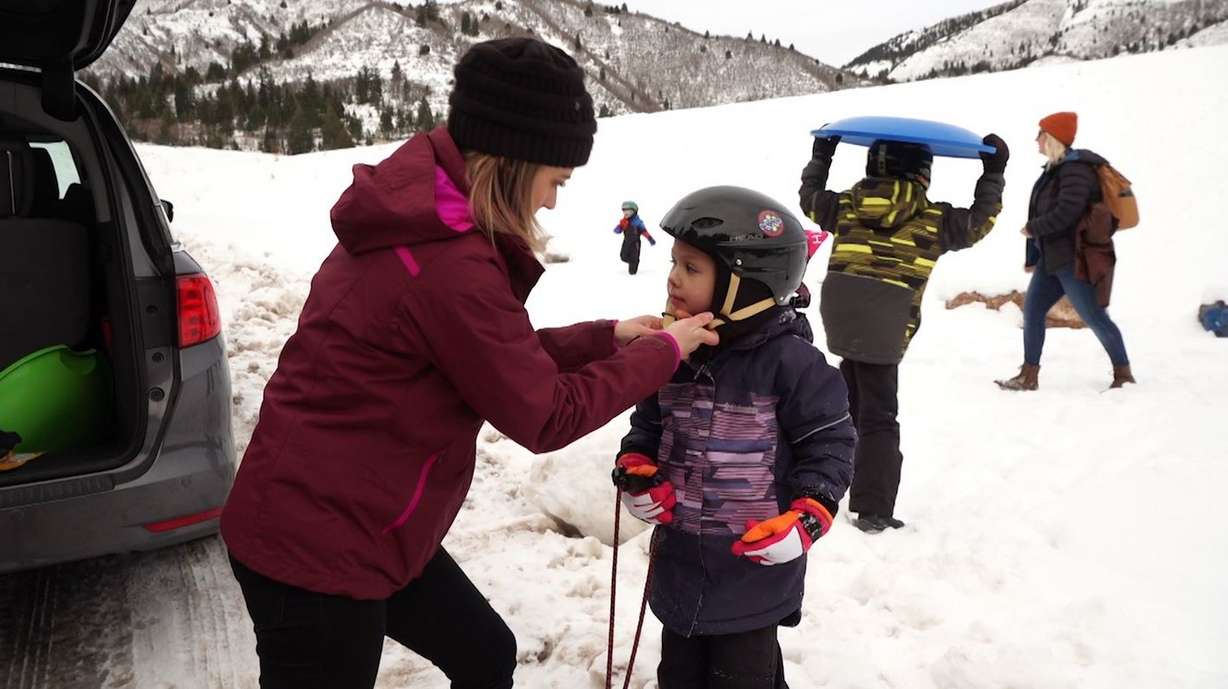 "You want to make sure that it's low across your eyebrows, so you can fit two fingers between the eyebrow and the top of the helmet," she explained.
She encourages parents to check the fit of their kids' helmets at the beginning of each season. "Kids outgrow helmets like they outgrow everything," Strong said. If it doesn't fit properly, she said it might be time to get a new one.
Corbin understands the importance. "I could get a concussion, go to the hospital, and I don't want to do that," he said.
Strong said prevention is key. "The problem with a head trauma is that often there can be long-lasting, lifelong effects," she added.
In addition to wearing a helmet, Strong encourages people to be aware of their surroundings. "Make sure you're paying attention to potential hazards, whether that's rocks or trees or a busy road at the bottom of the hill. You want to avoid those things," she said.
If you have a stubborn child who isn't excited to wear a helmet, Strong tells parents to get creative. "So whether that's putting stickers on it, or choosing the color that they really love, that's gonna help motivate them to want to wear it," she suggested.
Strong also encourages people to take breaks and stay hydrated.
"When you're outside and you're cold, you may not recognize that you're getting thirsty. So, it's important just to continually drink," she explained. "We know that the effects of dehydration are real and can lead to, you know, serious consequences; but it's really easy to stay hydrated."
Hodges is always prepared. "We have a whole thing of water in the back of the van and all times to keep ourselves hydrated. And we have a few kids that are very hangry, so we always have snacks on hand!" she said.
---
I found that if they're warm, they'll be out there longer and they'll be more happy.
–Alicia Hodges
---
She is also extra careful and prepared for snow outings because they have asthma in the family.
Strong also reminds people to wear sunscreen. "Because the sun will actually reflect off of the snow, and so you get kind of a double whammy," she said.
Hodges said bundling her kids in layers is also key to a successful snow day. "I found that if they're warm, they'll be out there longer and they'll be more happy," she said.
Eleven-year-old Kyra said they wear thermals, wool socks, and always uses hand and foot warmers to stay extra warm.
For more information on finding the right helmet, visit intermountainhealthcare.org for a fitting guide.
×
Photos
Most recent Your Life - Your Health stories