Estimated read time: 3-4 minutes
This archived news story is available only for your personal, non-commercial use. Information in the story may be outdated or superseded by additional information. Reading or replaying the story in its archived form does not constitute a republication of the story.
SALT LAKE COUNTY — There was a secret police operation underway Monday as officers with the Unified Police Department targeted people in the community they thought could use a little extra help this holiday season.
It was a police operation that caught everyone they pulled over by surprise.
When Unified Police officers pulled over Crystal Durazo in Kearns this morning, she was panicky, at first. It's usually bad news when you spot flashing police lights in your rearview mirror — especially when you're busy finishing off errands during the holidays.
"I thought I was getting pulled over," she said. "I don't need a ticket."
Her granddaughter, Sheyenne, was distraught by being pulled over by the police, until they realized the officers were Santa's helpers with gifts in hand — part of Operation Giveaway.
"Do you want a little teddy bear?" asked a young volunteer, as she handed the stuffed animal to Durazo's granddaughter.
The cops had been checking them out.
"We make sure that it's a legitimate stop," said Utah Attorney General Sean Reyes.
Not because they were breaking the law, but because they wanted to share some holiday cheer with Crystal and Sheyenne. They had gifts for the girl and $100 cash for the grandmother out finishing her Christmas shopping.
"Of course, we can use it," she said. "Merry Christmas to all of you."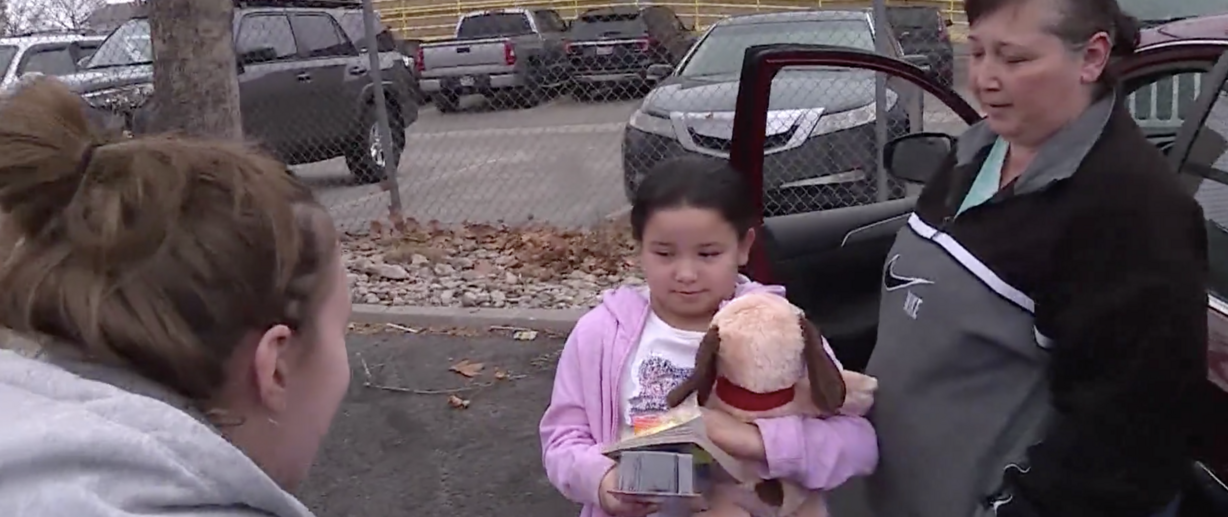 It's the kind of positive interaction in the community that enables police to strengthen the bonds with people. They pulled over a lot of people Monday for minor violations in Magna, Taylorsville, Midvale and Kearns.
"So often, you think that when you're around cops it's because something's bad is happening," said Brendan Call, a section chief in the Utah Attorney General's Office.
Today, it's spontaneous holiday giving sponsored by the Utah Attorney General for the third straight year.
"It's just nice to be able to see people that are grateful for what we're doing," said Call. "We get to see them smile and cry and just appreciate the good the police actually do."
A mother of three they pulled over sure did. She was out picking up medicine for three sick kids when the police pulled her over for a minor child seat violation.
At first, she too, was afraid she was getting a ticket. But the police turned her day around with gifts for her kids and $100 cash for her. Her face was a picture of disbelief when the officer gave her the money.
Many of the toys were collected through the Officer Doug Barney Memorial Toy Drive. Barney was a UPD officer shot and killed in the line of duty nearly four years ago. Many of the other gifts and cash were provided by local businesses and individuals.
"For us, it's a chance to send a message back to the community that we care about them, that we love them, that the reason why we're in this profession is to serve the public," said Reyes.
×
Most recent Uplifting stories