INSPIRING YOU — Sports have a unique ability to unite society, whether its rivals in a difficult time or on-field opponents coming together to hug it out after the game.
Nowhere was this more evident than Saturday in Newtown, Connecticut.
As always, click the video above for more Great Clips of the Week — including a state football title won seven years to the day after one of the nation's worst tragedies.
'It brings people together'
December 14, 2012, will be forever remembered in Newtown, Connecticut.
That was the day the town changed forever, a gunman opened fire on Sandy Hook elementary school and killed 25 people, including 19 first grade students.
Nothing will ever take away the pain and heartbreak of that day. But seven years later, the football players of Newtown High School — a direct feeder of Sandy Hook — hope that Dec. 14, 2019, will add a happy memory to the tragedy.
That was the day when, with no time on the clock, Newtown quarterback Jack Street hit Riley Ward through a sea of fog with a 36-yard touchdown pass that gave the Nighthawks a 13-7 win over Darien, clinching a perfect 13-0 season and their first Connecticut Class LL state title since 1992.
Every member of the team and the Newtown community has been touched by the tragedy of seven years ago. Some are barely coming to terms with what happened; many, like Americans around the country, never will as they grapple with another act of senseless gun violence.
But for one brief moment, the community could celebrate — because of a group of players who had friends and family directly touched by the tragedy at Sandy Hook, including senior linebacker Ben Pinto, whose 6-year-old brother Jack was among the victims.
"The great thing about football and sports is that it brings people together," Newtown coach Bobby Pattison said as his team was highlighted on NBC's Sunday Night Football. "These boys had an outstanding year, and to win on the last play is a tremendous accomplishment."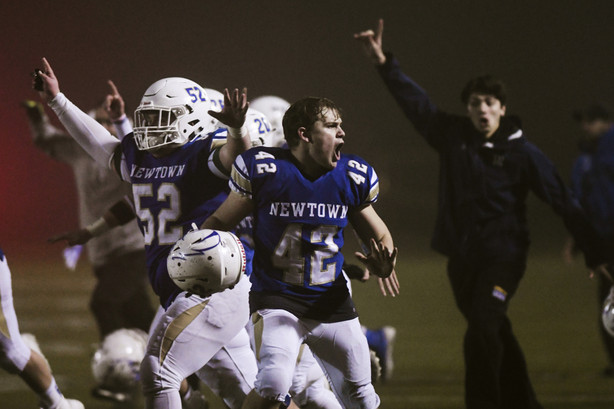 Sports, man. Sports.
He's a point guard
Bringing it back home, Fremont High's boys basketball team won the Utah Elite 8 tournament this weekend at American Fork High School, which you watched on live.ksl.com.
The senior point guard who is the top uncommitted recruit in the state had just 9 points in the Silverwolves' semifinal win over Corner Canyon. But he more than made up for it in the championship, going off for 43 points and 11 rebounds in a 64-60 win over Bingham.
That included this rim-rattling dunk.
@DallinHHall with the POSTER👀@DNewsRewind@dane_stewart@dustylitster Fremont beating Bingham in the Elite 8 Championship pic.twitter.com/fDIiAyuzYx

— Fremont Boys Basketball (@FHSBasketball19) December 15, 2019
Hall's efforts kept Fremont (7-0) unbeaten in 2019-20. The Silverwolves open Region 1 play Friday at Roy.
Chase it down
Finally, we saved an oldie-but-goodie for last.
Desert Hills senior guard Mason Chase hit this halfcourt buzzer-beater during the Thunder's 62-52 win over Ridgeline back on Dec. 5.
That first win of the year was important for the Thunder, who snapped a three-game losing skid last Saturday with a 74-68 win at Tooele. That moved Desert Hills to 2-3 on the season before opening Region 9 play Tuesday against Hurricane.
×
Related Stories