Estimated read time: 4-5 minutes
This archived news story is available only for your personal, non-commercial use. Information in the story may be outdated or superseded by additional information. Reading or replaying the story in its archived form does not constitute a republication of the story.
SALT LAKE CITY — There's something about a fresh start. A do-over. A second chance. Don't we all want that from time to time?
The new year often brings a sense of renewal and inspires many to set goals, intentions or resolutions. While there are a lot of opinions about the effectiveness of making New Year's resolutions, if you're part of the 45% of Americans who do, there are some things to consider.
The most common types of resolutions are financial or health/fitness goals. In my experience, there's nothing as demoralizing for people than to fail, yet again, at meeting their health goals. It's easy to blame yourself, but it might not be you; it might be your goal. It's either unrealistic or you're trying to tackle too much, too soon.
Making progress in meeting your goals will allow you to feel more capable of taking care of yourself. That creates positive feedback and the momentum to want to continue doing what you're doing. You might be carrying around a lot of negative experiences with food, which erodes your confidence and makes you question your ability. Making a few changes in how you approach goal setting can help you create positive experiences that build your confidence.
Set positive goals rather than negative goals
Identify what changes you want to make and create a goal based on what you want to do rather than what you don't want to do. For example, perhaps you have concerns about feeling overly full after dinner. You could phrase your goal in a positive way such as, "I am going to slow down at dinner so I can more consistently connect with and respect my fullness cues" instead of "I want to quit eating too much at dinner."
Other examples of positive goals might be:
"I am going to eat breakfast every day."
"I will be prepared with snacks to prevent me from getting overly hungry"
"I am going to try a new recipe one day a week."
"I am going to find new and interesting ways to prepare vegetables."
"I want to move my body in a way I enjoy most days of the week."
"I will identify other ways to cope with uncomfortable emotions outside of food."
"I will extend kindness and respect to my body."
"I am going to talk more positively about what I eat."
"I plan to minimize distractions when I eat my meals and snacks."
"I am going to meal plan each week so I am prepared with food at home."
Think logistically
After you set your positive goal, you'll want to identify the logistics around achieving it. If you want to eat breakfast each morning, you'll need to find a few substantial, enjoyable, balanced (and perhaps easy) ideas and keep the ingredients on hand. That means you need to make a grocery list and shop regularly. You'll probably need to get up a little earlier to give yourself time to prepare breakfast, so may you want to get to bed earlier too. And so on.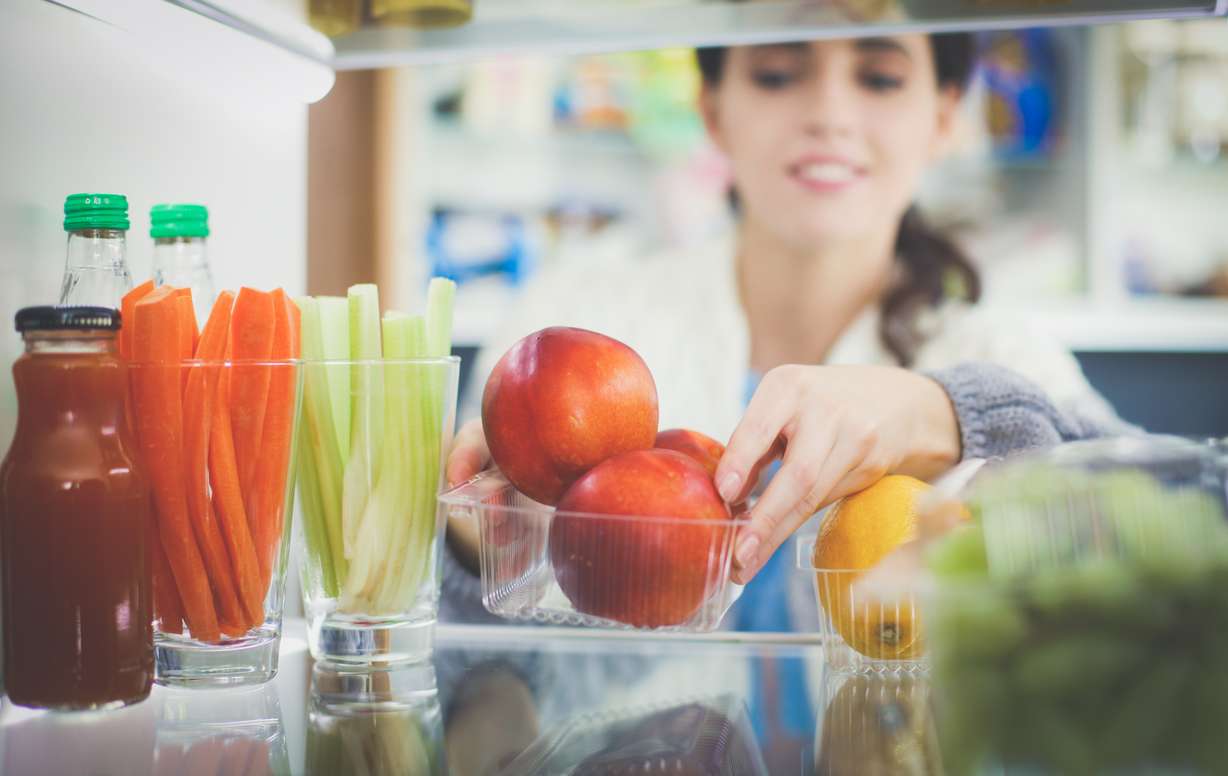 Focus on 1-2 goals at a time
With all the logistics that go into meeting your positive goal, it's wise to set only one to two goals at a time to prevent getting overwhelmed and burnt out. Be gentle with yourself; you don't have to do it all right now.
Remember, you can set goals anytime throughout the year. In fact, maybe you want to focus on one goal each month (or every other month), giving yourself time to build new habits before tackling something new. Once you are feeling confident with what you've been working on, you can identify a new area you'd like to work on and let it evolve from there.
Make sure your goals are realistic
Are you making a goal based on what you feel like you "should" do or what is actually realistic for your current circumstances? Is it in line with what you value and how you want to live? Is it worth your time and attention?
For example, do you really want to give up sugar for the rest of your life? Do you really want to run a marathon? Are you sure you want to start yet another diet or rigid fitness routine? It's OK if the answer is no. Make sure your goal-setting process is personal to you.
What are some of your health resolutions? Let us know in the comments below.
---
---
Editor's Note: Anything in this article is for informational purposes only. The content is not intended, nor should it be interpreted, to be a substitute for professional medical advice, diagnosis, or treatment. Always seek the advice of your physician or other qualified health provider with any questions you may have regarding a medical condition; Any opinions, statements, services, offers, or other information or content expressed or made available are those of the respective author(s) or distributor(s) and not of KSL. KSL does not endorse nor is it responsible for the accuracy or reliability of any opinion, information, or statement made in this article. KSL expressly disclaims all liability in respect to actions taken or not taken based on the content of this article.
#bio_disclaimer
×
Related stories
Most recent Lifestyle stories