Estimated read time: 5-6 minutes
This archived news story is available only for your personal, non-commercial use. Information in the story may be outdated or superseded by additional information. Reading or replaying the story in its archived form does not constitute a republication of the story.
SALT LAKE CITY — The Utah Wildlife Board approved a new statewide mule deer management plan Thursday, which seeks to keep a healthy deer population across the state while also cutting down on the spread of chronic wasting disease that has popped up in Utah.
The decision came after a lengthy meeting and as the previous management plan, which was adopted in 2014, expires. Despite a seven-year proposal, the plan approved Thursday will carry through 2024. It calls for:
Utah Division of Wildlife biologists to make recommendations every year on what the target deer population should be across the state, thus allowing for "more fluctuation" of buck deer hunting permits every year.
An update of "specific" unit plans to set a "realistic and attainable" population objective for the units across Utah. Herd health and range conditions will be considered when coming up with a population objective number.
An evaluation of areas for new extended archery hunt units and new handgun, archery, muzzleloader and shotgun permits to expand hunting opportunities across Utah.
A continued general season ratio of bucks to does, which varies in different units throughout the state. In some areas, it's 15 to 17 bucks per 100 does; in others it's 18 to 20 bucks per 100 does, while it's 25 to 35 bucks per 100 does in seven limited-entry units.
DWR big game coordinator Covy Jones, who presented to the board, said the division was looking for more consistency in managing deer across the state since a decision in one region could impact hunting for everyone in Utah.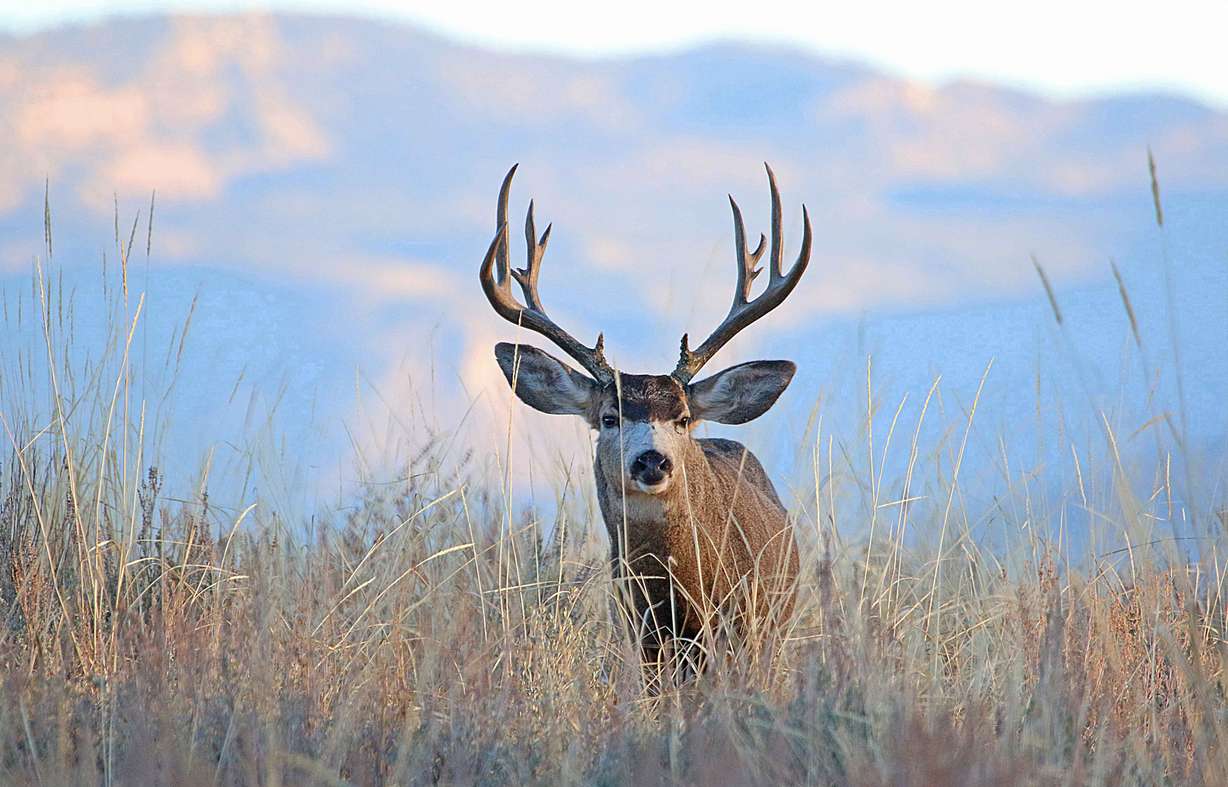 The presented plan was devised by DWR officials, as well as other officials from federal and state agencies, researchers, members of different sportsmen's groups and members of the public, who met for more than 30 hours in eight meetings between March and September. In addition to their own expertise, the group also sifted through more than 2,000 survey responses from Utah hunters to see what was working well with the state management plan and what needed to be improved.
Data presented to the board shows how much fluctuation there has been regarding deer population since the 1990s. There were fewer than 250,000 deer statewide in the mid-1990s and more than 350,000 a few years ago. However, the numbers are starting to slide again and Jones estimated that the mule deer population dropped again in 2019. He added the state has done well managing deer when populations are struggling, but not as well when populations are rising.
"Where we really struggle to manage mule deer is when they're on their way up and catching them before they get to a carrying capacity and a major crash," he said. "That's something we want to start to do in this plan."
The meeting had a long feedback period followed by even more discussion before some of the proposals were tweaked. Utah Wildlife Board vice chairman Kevin Albrecht said after the public comment period that he was appreciative of the feedback before and during the meeting, prior to the board approving a new plan.
Chronic wasting disease
Some of the proposal centered on managing chronic wasting disease in accordance with the state's plan regarding the disease. Chronic wasting disease, or CWD, is a relatively rare disease that affects the nervous system of deer, elk and moose that is transmittable.
The first Utah case was reported in 2002. Since 2003, there have been 97 deer and two elk cases in the state. According to Jones, male deer are more likely to be infected than female deer, and male deer 4 to 6 years old are the most likely to be inflected. It is 100% fatal for deer.
"There is a lot we don't know about chronic wasting disease," he said. "There are some things we know, but there's a lot we don't know; and we left it as an appendix so as new research becomes available, we can update that and we can add those things in."
DWR officials noted a requirement for deer or elk harvested in a CWD-positive state to have a skull free of brain matter before it can be imported to Utah, targeting "prime-age bucks" and holding hunts later in the year to help male deer and slow the spread of the disease as possible strategies to fight CWD approved Thursday.
Hunting
The board made no changes to hunting season lengths. They approved a 28-day archery season, nine-day muzzleloader season, a nine-day any weapon season, a nine-day late muzzleloader season, and a five-day early any weapon season (for applicable units).
However, the board also approved changes to the hunt drawing process. Those changes include:
The waiting period for limit-entry buck deer will be increased from two to five years.
The end of a permit quota allocated to youth or individuals 65 or older.
A hunter that surrenders their permit(s) at least 30 days before the season opens will lose bonus/preference points.
Hunters who accept a reallocated permit for the species they had a permit for will receive a refund for their general-season permit and have all preference points reinstated.
Hunters will forfeit preference points for "almost any over-the-counter permit purchase."
All points of the mule deer plan and hunting changes can be found here.
×
Most recent Outdoors & Rec stories