This archived news story is available only for your personal, non-commercial use. Information in the story may be outdated or superseded by additional information. Reading or replaying the story in its archived form does not constitute a republication of the story.
PROVO — McKenna Miller still remembers the Cougars' thrilling run to last year's NCAA women's volleyball national semifinals.
Advancing to the third Final Four in program history, the fourth-seeded Cougars took down No. 5 Texas, Florida, Utah and Stony Brook — all by a combined 12 sets to one and all in front of a raucous crowd inside the Smith Fieldhouse.
Miller remembers every set, every point, every thrilling moment.
And she remembers watching all of it from the sideline.
That's because the Murrieta, California, native tore her anterior cruciate ligament in November and was forced to sit out the remainder of her junior year. All she could do was watch as some of her best friends led the Cougars on the trip of a lifetime to Minneapolis.
Along with the swelling, bruising and typical pains of a torn ACL, Miller also had one other self-diagnosed ailment: a serious case of Fear Of Missing Out (FOMO).
"I was just tired of sitting and watching," she said. "Those are my best friends, and they were doing the thing I love to do the most."
Miller vowed to make it back for her senior year. She wasn't going to take a medically advisable redshirt season. Instead, with the help of her mother and classmate Mary Lake — who both suffered similar injuries several years prior — the senior-to-be went to work.
Miller went to every rehab session. She did as much extra work as her surgically repaired knee would allow. She even formed a close bond with the seven or eight other members of "the ACL club," a group of BYU student-athletes who all suffered debilitating knee injuries in the fall and winter.
But she was not going to miss another moment with BYU.
"There were times when I was literally crying in therapy — but I knew it would pay off in the long run," said Miller, who also married Alex Ah Sue from the BYU men's volleyball team in May. "They were very hard for me. But I knew what I wanted to accomplish, and I knew I wanted to be back."
Miller returned as good as new — and then some — for 2019. The 6-foot-1 outside hitter had 13 kills and two aces in BYU's season-opening sweep of Boise State on Aug. 30 and hasn't slowed down since. Her 377 kills, 101 digs, 55 blocks and 11 assists paved the way for BYU's 25-4 season, including a 16-2 mark in West Coast Conference play.
For the fifth time in nine years, BYU represented with the top player in the conference. A year after a devastating injury, Miller was voted WCC Player of the Year. She credits most of her success to her teammates — the players making the passes that turned into sets for kills by Miller and her pin-hitting teammates.
Now she'll get to lead BYU into the NCAA women's volleyball tournament Friday, at home, against Western Athletic Conference champion New Mexico State (7 p.m. MST, BYUtv).
"It's a remarkable story," BYU coach Heather Olmstead said, "and I'm just glad she's still getting to tell it."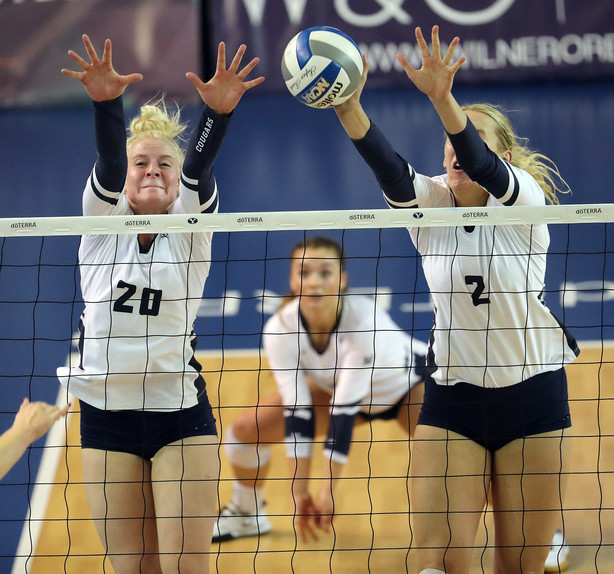 One of those key players is Lake, the Cougars all-time digs leader who won back-to-back WCC Libero (formerly Defensive Player) of the Year honors, as well.
Like Miller, Lake knew how devastating a knee injury that a torn ACL can be; she had a similar injury that cost her a full year in high school. But the 5-foot-7 libero, who has attached herself to Miller since they first met at 12 years old, was there to push her through it.
And when Miller came back, Lake was one of the first people to leap into her arms and celebrate with her.
"She's more herself; and when you go through something like that, it really teaches you who you are," Lake said. "That's what I love about Mal: she's unapologetically herself. It shows on the court — she's confident, and she's excited to play. I really think those things were strengthened by going through hard adversity."
No. 13 BYU will host New Mexico State (27-3) in the opening round of the NCAA women's volleyball tournament, immediately following No. 17 Utah (22-9) and Illinois (16-13) at 4 p.m. MST (BYUtv.org).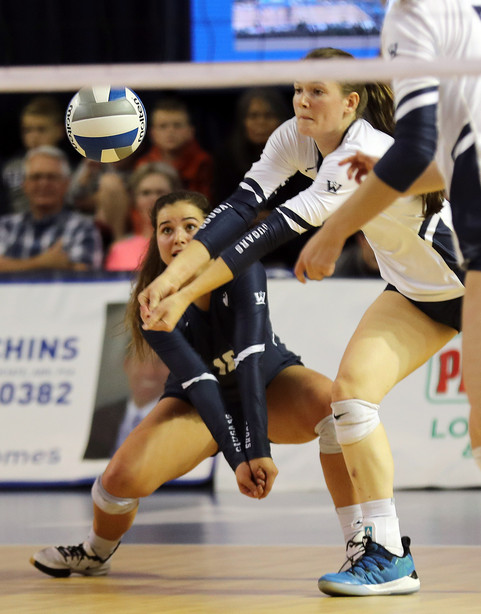 Illinois was on the other side of the NCAA Final Four in Minneapolis a year ago, while the Cougars own a 73-28 record against the rival Utes — most recently a 3-1 win in Salt Lake City that starred Miller.
"We're so excited to be at home and to get to play in the Smith Fieldhouse again," Olmstead said. "We didn't know if we'd be back, and so it's nice to be here.
"They're a really good team — a 19-match win streak and haven't lost in a while. We're excited about this feisty group that takes a big swing."
The Cougars, who garnered the right to host the tournament's opening rounds by virtue of a No. 14 seed, should be overwhelming favorites to beat the Aggies, who rolled to a 16-0 record in Western Athletic Conference play and currently sit on a six-match losing streak to BYU that dates back to 1989.
But the match will be special for Miller because of the way she watched, then waited, then battled to get back to this point. It will be special because of the players she surrounded herself with — seniors like Lake, Snow College transfer Riley Lyman and setter Kiani Moea'i — and because now, finally, a year later, she won't have to suffer FOMO based on an injury.
"They've been through a lot, and when you've been together for four years, through a lot of trials and adversity, you just learn to love each other for your strengths and your weaknesses," Olmstead said of her senior class. "They'll be friends forever, and I'm just grateful to be a part of their lives and see their friendships.
"Mary and McKenna's friendship is really unique, and they've been best friends since they started coming to camp together. I think that's cool that they get to go out together and keep competing as long as they'll let us."
How to watch and stream
NCAA women's volleyball tournament, first round
Who: No. 17 Utah (22-9) vs. Illinois (16-13)
When: 4 p.m. MST
Live stream: BYUtv.org /BYUtv app
Who: No. 13 BYU (25-4) vs. New Mexico State (27-3)
When: 7 p.m. MST
TV: BYUtv
Live stream: BYUtv.org /BYUtv app
×
Related Stories