This archived news story is available only for your personal, non-commercial use. Information in the story may be outdated or superseded by additional information. Reading or replaying the story in its archived form does not constitute a republication of the story.
PROVO — Any other team would be devastated with the loss of a major contributor in the penultimate home match of the regular season.
Not the No. 1-ranked BYU women's volleyball team.
Just a day after losing standout McKenna Miller — the team's second-best hitter behind senior Roni Jones-Perry — the Cougars didn't miss a beat in the regular-season home finale against struggling San Francisco.
Jones-Perry had 12 kills and eight digs, and freshman Heather Gneiting added 10 kills and six blocks to help the top-ranked Cougars roll to a 25-12, 25-12, 25-9 victory Saturday in front of a near-capacity crowd of 4,213 fans in the Smith Fieldhouse.
"We recruit girls who are ready to play, and I believe everyone on the bench is ready to play," said Gneiting, the former Ms. Volleyball from Pleasant Grove. "We have all the puzzle pieces, and even if the pieces are different now, the picture is still the same and we want the same goal."
Lyndie Haddock-Eppich had 39 assists to go with four kills, but the senior setter was fueled by a back line that included 11 digs from Mary Lake, eight digs each from Jones-Perry and Sydnie Martindale and seven more from Danelle Stetler, the latter three of whom were playing their final regular-season match at home.
With the win, the Cougars moved their record to 25-0, finishing the regular season with a perfect homestand. BYU (15-0, West Coast Conference) is three wins away from an unbeaten regular season and one from an outright conference title.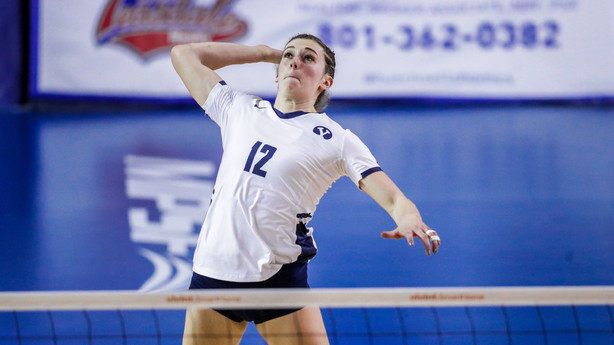 But they want more.
"The crowd today was unbelievable," BYU coach Heather Olmstead said. "They want to win every game. That's their goal, and they've been able to do that so far. To close it out at home, I'm happy for them that they could give Cougar fans something to look forward to when they come to our gym."
BYU will likely get more home matches in Provo; a recent tournament reveal by the NCAA selection committee spotted the Cougars as the No. 1 team in the field, meaning if they continue on course with wins over Saint Mary's, Pacific and Loyola Marymount to end the season, they will earn a top-four overall seed and host a regional site through the semifinals of the NCAA Tournament.
That will bring BYU — as well as its impressive collegiate volleyball fan base — just two games away from a championship.
"We've built this fan base that has come out, and I'm really proud of my team and the fans that come out," Gneiting said. "I'm just really happy about today."
Just two nights before Saturday's regular-season home finale, the Cougars lost Miller to an ACL injury during a 3-0 sweep of Santa Clara. The junior rightside had to be helped off the court during the match, and further evaluation revealed the season-ending injury.
The loss of Miller hurts; she averaged 3.25 kills per set prior to her injury, the second-best mark on the team behind Jones-Perry. But BYU has a unique array of firepower, and it was on full display Saturday against the Dons.
Kennedy Eschenberg, Lacy Haddock and Madelyn Robinson each had eight kills, and BYU's first-set hitting percentage of .640 fluttered only mildly to finish at .530 — the third-best hitting percentage in the Smith Fieldhouse in the rally scoring era.
"We like our team," Olmstead said. "That means everybody has the ability to step in and help at any time. They always know that they have to be ready for the moment. Today, Maddie played fantastic and stepped into that role. She had good energy, got good block touches and managed when she needed to. I'm happy for her and proud of her for taking advantage of that opportunity.
"The team is just rallying around each other, supporting each other and doing a little bit more. I think that's what we saw today."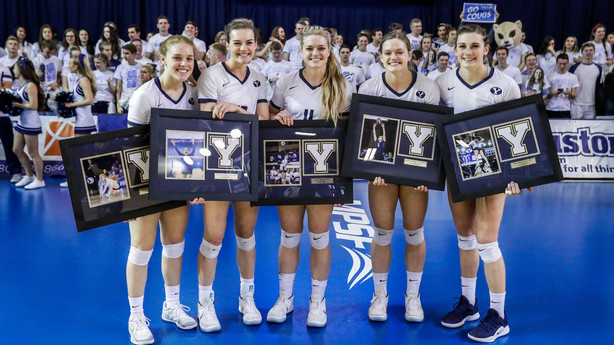 BYU 3, San Francisco 0 (25-12, 25-12, 25-9)
Set 1
BYU jumped out to a 5-0 lead early on the Dons and never looked back, hitting .640 to take a 25-12 victory in the first set.
Gneiting was more than adept to step seamlessly into the offensive vacancy left by Miller, and Robinson, a freshman who prepped at Lone Peak, had her best match since dropping 12 kills in the Cougars' second match since Duke back on Aug. 25.
The Cougars held the Dons to .036 hitting in the opening set and hit an eye-popping .640 with just one error on 25 swings to cruise to the finish.
Set 2
BYU opened the second set much the same as the first, capping a 10-1 run with back-to-back kills by Jones-Perry.
USF finally strung together consecutive points with a block and a kill by Marjolijn Oskam — but the Dons already trailed 21-7 by then.
But the Cougars kept the Dons hitting just .059 in the second set, and clinched the 25-12 second-set victory with three-straight points and a double block by Gneiting and Jones-Perry.
Set 3
BYU cruised to a 13-4 opening in the third set, looking to close out the match in quick succession on Jones-Perry's high-flying, back-row kill.
The Cougars pushed the lead to 10 on a kill by Robinson, 16-6. They added two more, then went back to their bread-and-butter — back-to-back kills by Jones-Perry gave the Cougars a dominant 20-8 advantage en route to the 25-9 win and the sweep.
×