SALT LAKE CITY — BYU looked shocked.
After No. 18 Utah came back from an 0-2 deficit en route to a dominating 25-12 third-set victory, the 12th-ranked Cougar women's volleyball team could've been a bit taken aback. It could have been an unraveling, a loss of momentum, enough to drop the match, or at least another set.
Fortunately for the Cougars, they have a short memory — and McKenna Miller.
Miller had a match-high 22 kills, hitting .413 on 46 swings to lift No. 12 BYU over rival Utah, 25-22, 25-21, 12-25, 25-18 Thursday night at the Huntsman Center.
It's almost like she wanted the ball, on the road, against a heated rival that has won just 28 times in the last 101 matches.
Turns out, she did want the ball, the satisfying kill, the moment of silencing the less-than-sellout crowd celebrating the Huntsman Center's 50th anniversary.
"When I'm off the court, I feel like I'm not in control of the play," Miller admitted. "I probably want the ball a little more than I should — a little selfish."
BYU (8-2) won for the fourth-straight time in the nonconference rivalry series, and for the eighth time in nine years. The only loss in that span, ironically, has come in Provo; BYU hasn't lost to Utah in Salt Lake City since 2010.
Maddie Robinson added 13 kills and four digs for the Cougars, who got 37 assists and nine digs from freshman Whitney Bowers and 17 digs from senior Mary Lake.
Dani Drews led the Utes (8-3) with 21 kills and eight digs, Kenzie Koerber had 14 kills and nine digs, and freshman Zoe Weatherington supplied 13 kills in a breakout performance.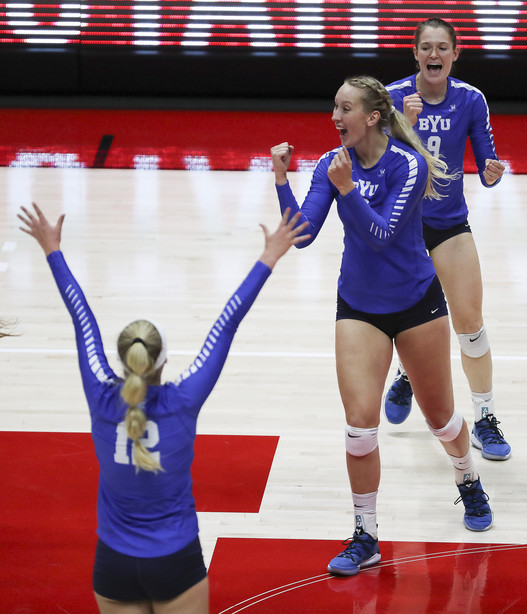 Thursday night's match was far from perfect for the Cougars. BYU struggled on offense, hitting just .227 to Utah's .235, and only posted six blocks, while the Utes kept them off balance and hit .515 in the third set — with just one error.
"We're not perfect, and we know that — so we're ready for a battle every single night at home or away," BYU coach Heather Olmstead said. "We knew coming in to Utah's gym that they were going to play well and play tough. We just wanted to focus and make it about us. I think our girls did that.
"We lost our focus a bit in the third set, but we got it right back in the fourth."
Miller, though, was the critical difference.
"It was a battle, and I think any team could've won tonight," Utah coach Beth Launiere said. "I thought McKenna Miller made some big plays at the end, and that hurt us. She was taking some really aggressive swings, getting kills at the end of long rallies. But we fought, we battled, and I was really proud of our effort."
Despite the 3-1 win, BYU outscored the Utes just 87-86 in total points. Of course, timing is everything in finishing off those rallies.
Even after falling behind 0-2, the Utes didn't go away.
Drews, Koerber and Weatherington roared in the third set, opening up with a dominant 9-3 advantage early. Weatherington's kill helped the Utes double up their rivals to the south, 20-10 and Saige Ka'aha'aina-Torres pulled one back for Utah with a 25-12 rout in set 3.
Drews (17), Koerber (12) and Weatherington (12) all reached double-digit kills by the end of the third set.
#12 @BYUwvolleyball survives #18 Utah, 3-1 for fifth-straight win over rival in Salt Lake City. https://t.co/5Os4YwNBq8pic.twitter.com/rf6aaZRHe6

— KSL.com Sports (@KSLcomSports) September 20, 2019
"In the third set, we weren't playing volleyball like we know we could," said Miller, who totaled more kills than any 3-4 set match of the past two years. "When it was over, that's over, we got it out of our system. Let's just start playing, start doing our jobs."
That seemed to spark the Cougars. Kate Grimmer's kill gave BYU a 7-2 lead to open the fourth set. Then the Utes cut the deficit as low as one, 14-13, but couldn't regain the lead as BYU took a 20-16 lead on back-to-back kills by Miller.
"That definitely got our confidence back," Miller said. "We were a little shaken, but I feel like in the fourth set being able to start strong again and keep pushing was big."
A block by Kennedy Eschenberg, who finished with seven kills and four blocks, set up match point, and the Cougars forced Utah wide for the match-point victory.
Next up
BYU travels to face No. 2 Stanford, which just beat No. 1 Nebraska, 3-1 earlier Thursday. First serve at Maples Pavilion is scheduled for 2 p.m. MDT Saturday on the Pac 12 Network.
Utah opens Pac 12 play next Wednesday, Sept. 25, against Colorado.
×