Estimated read time: 4-5 minutes
This archived news story is available only for your personal, non-commercial use. Information in the story may be outdated or superseded by additional information. Reading or replaying the story in its archived form does not constitute a republication of the story.
SALT LAKE CITY — Utahns should have plenty of candidates to choose from in the state's March 3, 2020, Super Tuesday presidential primary.
Two dozen contenders for the office now held by President Donald Trump filed to appear on Utah's presidential primary election ballots by Monday's deadline — 17 Democrats and seven Republicans, including, of course, Trump.
That list is already getting shorter with California Sen. Kamala Harris' decision Tuesday to suspend her race for the Democratic nomination, but before a candidate's name can be removed, a formal letter of withdrawal must be submitted to the state.
None of the dozen other Democratic candidates who have dropped out of the race had paid the $500 filing fee and submitted the necessary paperwork to appear on Utah's primary election ballot. The only Democrat still in the race who isn't a candidate in Utah is former Maryland Rep. John Delaney.
"The numbers are starting to dwindle. I think everybody's anticipating that will continue to happen," Utah Democratic Party Chairman Jeff Merchant said, especially with the first votes in the presidential primary race set to be cast in Iowa in just over 60 days.
But Merchant said he believes Super Tuesday, when Utah and more than a dozen other states will cast presidential primary ballots on March 3, will be the "big decider" in winnowing a Democratic field that represents a wide array of political perspectives.
That amount of choice is "pulling the Democratic electorate in a lot of different ways. That's not necessarily a bad thing," Merchant said. "A lot of people are looking at this race not just for one thing, which is to beat Donald Trump, but also to see a new approach to politics that is not the politics as usual, that will bring our country together."
So far, he said no favorite has emerged among Utah Democrats, who overwhelmingly backed Vermont Sen. Bernie Sanders over the party's eventual nominee, former Secretary of State Hillary Clinton, in 2016's party-run presidential preference caucus voting.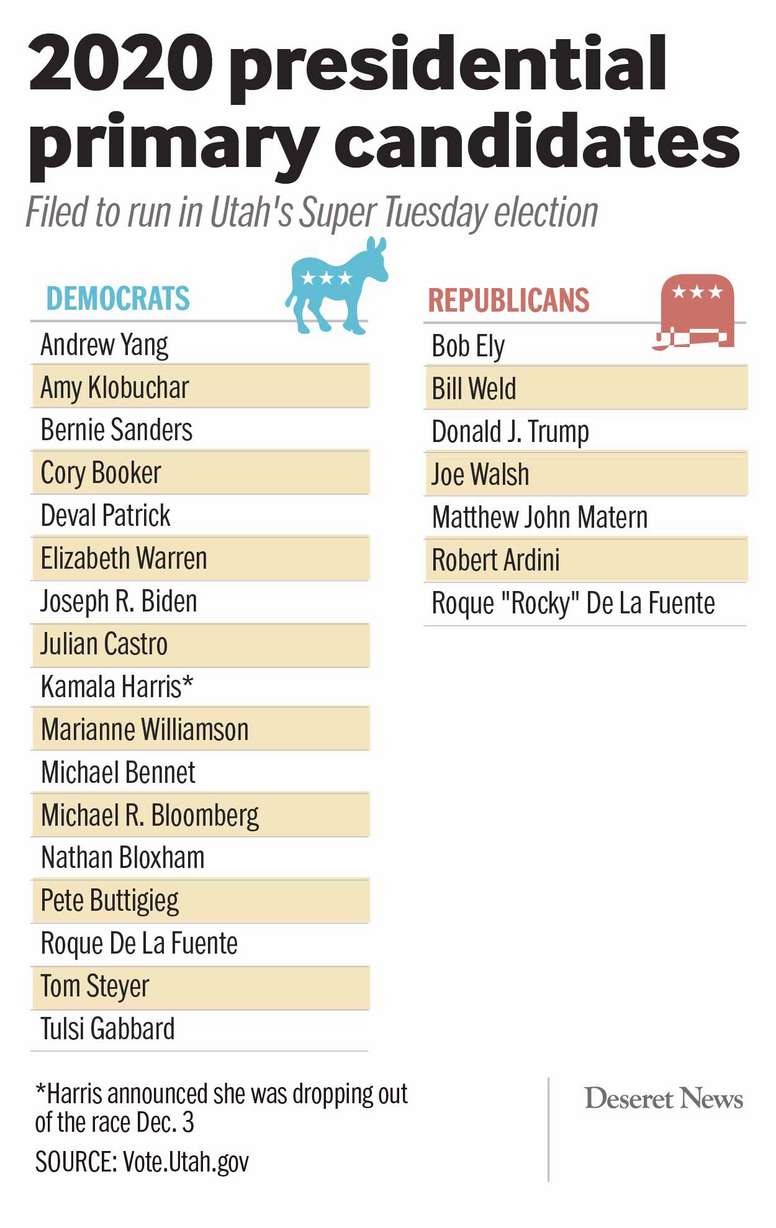 All of the top-polling Democratic candidates have stepped up to compete in Utah's primary — former Vice President Joe Biden, Massachusetts Sen. Elizabeth Warren, Sanders, and Pete Buttigieg, mayor of South Bend, Indiana — and all have support in Utah, Merchant said.
Others competing include a pair of newcomers to the race, former New York City Mayor Michael Bloomberg and former Massachusetts Gov. Deval Patrick. They join entrepreneur Andrew Yang; Minnesota Sen. Amy Klobuchar; New Jersey Sen. Cory Booker; former U.S. Housing Secretary Julian Castro; Hawaii Rep. Tulsi Gabbard; and Colorado Sen. Michael Bennet.
Also filing to be on the Utah Democratic ballot are author Marianne Williamson; billionaire Tom Steyer, who, like Bloomberg, is already running TV commercials in Utah; Nathan Bloxham, who lists his address as a P.O. box in Kamas; and Roque De La Fuente, believed to be the son of a similarly named Republican presidential candidate.
On the GOP ballot, Trump will be joined by former Massachusetts Gov. Bill Weld and former Illinois Rep. Joe Walsh, along with Illinois businessman Bob Ely, who ran for president in 2012 as a Democrat; California lawyer Matthew John Matern; politically moderate New Yorker Robert Ardini; and perennial candidate Roque "Rocky" De La Fuente.
Trump finished a distant third in Utah's 2016 GOP presidential preference vote, behind the winner, Texas Sen. Ted Cruz, and then-Ohio Gov. John Kasich, but ended up winning the state that November with 45.5% of the vote. Utah has not voted for a Democrat for president since Lyndon Johnson was on the ballot in 1964.
Related:
For Utah GOP Chairman Derek Brown, there's no question Utah will continue that trend despite the president's primary opponents.
"Under Utah's robust election process, anyone can run to be president of the United States. The Utah Republican Party has certified seven candidates to participate in the presidential primary as a Republican," Brown said. "For this upcoming election, our party will strongly support President Donald J. Trump."
He said although there's no predicting who will emerge as the Democratic challenger, "the Utah Republican Party is confident that Republicans will again select President Trump as our nominee. He has produced tangible results for Utah's families, created record low unemployment, and most importantly, kept his campaign promises."
The crowded Democrat field, Brown said, "is simply not resonating with the American people, which is why there are others entering so late in the game."
Derek Brenchley, Utah's deputy director of elections, said the race could mean record voter turnout for next year's presidential primary. Voter participation actually fell in 2016, compared to the last contested presidential primary in 2008, because of long lines and other issues with holding preference votes at party caucus meetings.
"Our office, we're always excited for the next election," Brenchley said, declining to make a prediction of how high turnout could be in Utah in the upcoming Super Tuesday presidential primary. "We're hoping for a big turnout from voters next year."
×
Photos
Related stories
Most recent Politics stories