SAN DIEGO — The first 12 drives of BYU's regular season-finale at San Diego State created quite the cure for insomnia, so you'll be forgiven if you fell asleep during any of it.
As a brief recap, here's the overall result: punt, punt, punt, field goal, punt, interception, turnover on downs, turnover on downs, punt, punt, punt, punt.
With 2 minutes, 23 seconds left, the Aztecs got the ball back in search of a drive that would put BYU on its heels. That wouldn't be easy; the Cougars led 3-0 on Skyler Southam's 24-yard field goal in the first quarter, so a lead would require a touchdown — something first-time starting quarterback Carson Baker had never done in his collegiate career.
But with the game on the line, Baker performed admirably. His 25-yard strike to tight end Daniel Bellinger with 13 seconds remaining gave San Diego State a 7-3 halftime win, and led to the Mountain West squad's ninth win of the season via a 13-3 upset of the Cougars.
It snapped BYU's five-game winning streak in 2019, as well as a six-game win streak in the series that dates back to 1947.
Football is a team sport, and there was plenty of blame at every position to shoulder amongst the visiting locker room at SDCCU Stadium late Saturday night. Offense, defense, special teams; no one hid from their responsibilities.
But something changed on that first — and only — touchdown drive that ended the first half. Something was different in the final 17 seconds of the half that wasn't there before.
So how did one drive, and one game-winning touchdown, lead to Aztec glory and Cougar defeat, and send a BYU team with so much optimism looking for answers leading up to the Dec. 24 bowl game at Aloha Stadium in Honolulu?
"You have to give them credit; they're a good defense," said BYU quarterback Zach Wilson, who threw for 316 yards with two interceptions, and added a team-high 29 rushing yards. "I'd say the biggest problem was they brought a lot of pressure, got into the backfield, caused a lot of havoc and caused some bad plays. We moved the ball, but got stopped in the red zone. Past the 50, we've got to do a better job of finishing drives."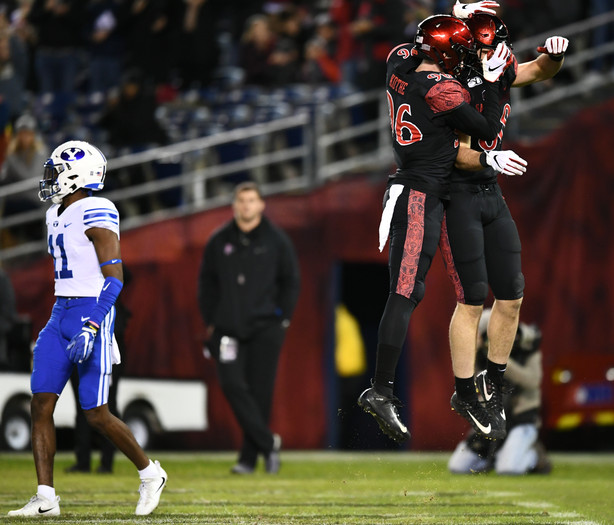 BYU's failure to finish would be a theme Saturday night. The Cougars outgained the Aztecs 416 yards to 269 and held a vaunted rushing offense to a season-low 97 yards. But issues crept up early — BYU's stable of running backs ran for just 49 yards — and perhaps the first crack came on that touchdown drive.
The Cougars' defense game plan, up to that drive, had been a masterpiece. They held the Aztecs to just 127 offensive yards in the first half, including 45 yards on 17 carries. And 61 of those yards came on the final drive.
"They caught us in a certain defense, and really capitalized," said BYU linebacker Isaiah Kaufusi, who had a team-high nine tackles. "They just kept going back to it."
San Diego State (9-3) had only advanced into BYU territory once in the second quarter prior to Jake Oldroyd's final punt of the first half, and the Aztecs had an average field position on their own 28-yard line. That's important for a team coached by Rocky Long, a grizzled defensive veteran whose teams are all known for his power-run scheme that has produced NFL-caliber running backs, both at San Diego State and New Mexico before it.
So it was little surprise when the Long's first two play calls came on the ground — a run of 8-yards by Kaegun Williams and another designed run that Payton Wilgar and Kaufusi sniffed out in the back field.
Then Baker showed he can use his legs, too, sprinting 4 yards for a first down at the 50-yard line before being tagged out of bounds.
The Cougar defense didn't have a disruptive play — or the San Diego State offense didn't go backwards — for the rest of the drive.
"I think the coaches did a really good job of keeping my nerves down, keeping me in the game and focused and it felt really good to play football again," said Baker, who threw for 172 yards and a touchdown, and ran for 16 more. "So you know, it was really fun."
Baker was methodical in his short passing game, including on that drive: 8 yards to Williams, a 6-yard out to Chance Bell, and a 7-yard throw to Jesse Mathews — along with one more QB run — brought the Aztecs to the BYU 25-yard line inside the final minute.
It was never a monstrous play, but always enough to push forward, move the chains, and keep the Cougars on their toes. BYU never called timeout on the drive; the Aztecs used two, though.
With about 20 seconds left, Baker shot a pass toward the end zone that floated by a handful of wide receivers — and fluttered into nothing.
Maybe BYU's defense would hold.
But then without hardly a second thought, Baker snapped the ball, Bellinger flew on an inside route towards the end zone, and the duo connected on history.
Baker's first touchdown pass, already a significant milestone, would go on to be a game-winner.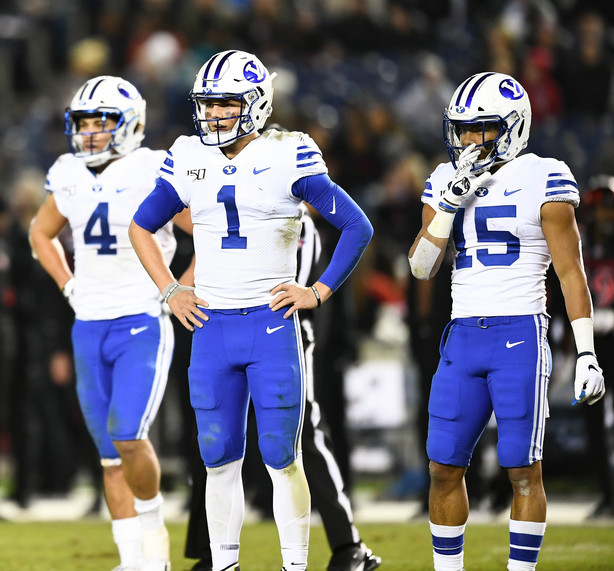 "We knew that they had a pattern, and we were stopping the run the whole time," BYU defensive lineman Khyiris Tonga said. "There was a bad communication in the backfield, and that led to a touchdown. Our little mistakes cost us. We gave up a cheap one right before the half. That's on us as a defense."
BYU coach Kalani Sitake said the Cougars were angling for an interception on the touchdown throw that went to Bellinger, but a breakdown prevented what would've been BYU's first turnover of the game.
"They ran basically the same play for the touchdown 4-5 times, and nothing really happened before," Kaufusi said, perhaps elaborating. "But they ran it that one time, got us in a right call, and they capitalized on it."
For all but the final 90 seconds of the half, the Cougar defense went toe-to-toe with a top-10 defense nationally. But one slip-up just 13 seconds before the break finally did them in.
And the offense couldn't recover.
"We've got to just learn how to just finish," Kaufusi said. "Finish the half, or finish the game. That's been a goal of ours are year; sometimes we've finished, and sometimes we haven't.
"As a team, as a defense, that's just frustrating to not be able to finish the last 90 seconds or so. That hurt us, and at the end of the game, it really hurt us."
The Cougars will have until Dec. 24 to figure out what went wrong and fix them, or suffer a similar fate in the SoFi Hawaii Bowl.
×
Related Stories