SAN DIEGO – BYU won't carry any sort of momentum into the Hawaii Bowl this Christmas Eve after a 13-3 setback at San Diego State in the regular-season finale for both teams.
The Cougars (7-5) were held without a touchdown for the first time since Oct. 27, 2018 in a 7-6 home loss to Northern Illinois.
But this one wasn't that close.
Here are three takeaways from BYU's season-ending sour note, one that snapped a six-game winning streak in the series.
BYU has a kicking problem
There were a lot of problems on a rainy day in San Diego.
BYU started off the day with a 28-7-1 record against the Aztecs, but fell behind on the final play of the first half and never recovered in an offensive-free game.
But the most glaring issue? The Cougars no longer have a kicker.
Yes, after recruiting a landing a U.S. Army High School All-American in Skyler Southam and adding former green-booted sensation Jake Oldroyd again after a two-year church mission, BYU coach Kalani Sitake is back to square one in the kicking game.
"We thought Skyler had won the position from competition last week, but obviously it didn't pan out," Sitake said. "I still believe in those guys. They've shown that they can kick the ball well. It just hasn't shown up the last few weeks; that needs to change."
Southam won a competition during the week in practice after Oldroyd struggled for several weeks, but the 6-foot sophomore from Wasatch High did little to engender confidence. He barely pushed a 24-yarder over the bar in the first quarter in taking a 3-0 BYU lead, then missed a pair of attempts from 24 yards in the fourth to secure the loss.
Oldroyd continued as starting punter, but had just two boots for 64 yards — an identical measure to rugby-style punter Danny Jones. But the Texas native did not attempt a field goal as Cougar kickers devolved to make 5 of their last 13 field-goal attempts.
It's hard to single out one individual or position in a night where so little went right for the Cougars. But the special-teams deficiency was a glaring blight on the evening.
"It was a defensive battle," Sitake said. "You're not going to win a lot of games scoring more points. We're going to get that fixed, and I've got to do a better job of getting my guys to score more points."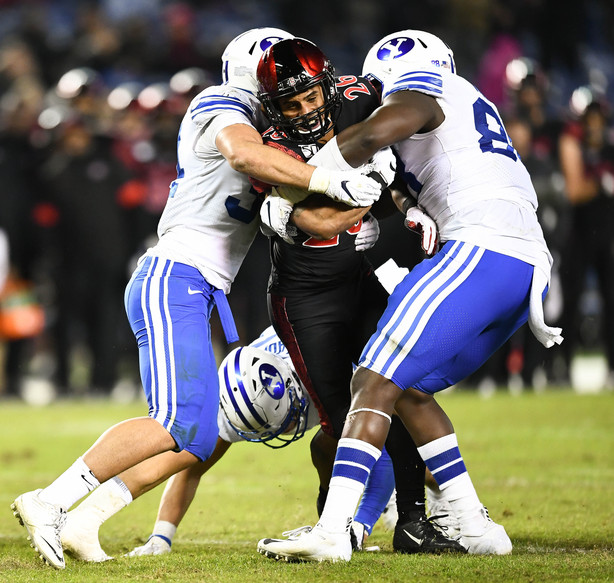 Cougar defense did its job … mostly
In the ground-and-pound game typical of SDSU coach Rocky Long, the Cougars' defense lived up to its end of the bargain.
BYU held San Diego State to just 50 yards of offense in the first quarter en route to a 127-yard opening half. The Aztecs had just 66 yards of net offense before their first touchdown drive, capped by Carson Baker's first career TD strike to Daniel Bellinger with 13 seconds left.
On the ground, San Diego State had a season-low 97 yards spread out amongst six different ball carriers. The vaunted Aztec power-run game had plenty of runs — 35 of them, to be exact — but little power, averaging just 2.8 yards per carry.
But the most important number was zero — as in zero turnovers. No interceptions. Not a single fumble.
"It hurts. I felt like we had a lot of good opportunities to change momentum and we failed to do that," Sitake said. "That's something we need to take to the room, learn from, and move on."
Even the freshman making his first career start kept himself turnover-free.
"San Diego State took care of the ball," Sitake said. "They were mindful of it and didn't take a lot of risks. We weren't able to capitalize on it.
"None of us played well enough to win, so I'm disappointed in everyone — including myself. That's where we'll start first, where we can control."
So long, Murph
Saturday night's contest was likely the final game BYU will play in historic Jack Murphy Stadium, or Qualcomm Stadium, or SDCCU Stadium, or whatever name you learned for the Aztecs' home field since it opened in 1969.
The stadium that was left half-empty by the former San Diego Chargers' move to Carson, California will be torn down and rebuilt before the 2022 seasons, replaced by a smaller, more manageable college football field amid a massive overhaul dubbed the "San Diego State West campus."
The Cougars have a lengthy history with the stadium, including what is now a 27-8-1 record against the Aztecs and a long list of Holiday Bowl games. The two sides squared off regularly in the old Western Athletic and Mountain West conferences, but had seen the regular-season series go dormant since 2011 prior to Saturday night's meeting.
The series is in the dark, with a return trip to Provo on Nov. 14, 2020 being the final scheduled date between the Cougars and Aztecs. It'll likely continue — eventually — but no one knows when. This might make some fans in the stands and neighboring The Show student section happen, as they chanted "B-Y-Poo" in the final moments of the game, and as the two teams were shaking hands and walking off the field.
×
Related Stories