SAN DIEGO — The southern coast of California is normally a good place for BYU. It wasn't on Saturday night.
San Diego State quarterback Carson Baker threw for 172 yards and a touchdown with no interceptions in his first career start, and the Aztecs snapped a six-game losing streak to BYU with a 13-3 win Saturday night in front of 28,180 fans at SDCCU Stadium.
Juwan Washington ran for 26 yards, and Chase Jasmin added 39 yards for the Aztecs (9-3). Zach Wilson threw for 316 yards with two interceptions for the Cougars (7-5), who ran for just 78 yards and 2.9 yards per carry as their five-game win streak was snapped.
The Cougars held the Aztecs to a season-low 97 yards on the ground and kept them out of the end zone for all but 13 seconds of the first half. But BYU couldn't find the end zone themselves and were kept without an offensive touchdown since a 7-6 loss to Northern Illinois on Oct. 27, 2018.
"We had a lot of opportunities to score," Wilson said. "We just couldn't capitalize on any of them."
Baker unleashed a 25-yard touchdown pass to tight end Daniel Bellinger on San Diego State's final play of the first half to give the Aztecs all the scoring they would need.
"I thought they had a really good job having their quarterback be really safe with the ball. They were able to play a lot of max protection, and pick and choose what they wanted," BYU coach Kalani Sitake said. "I thought first down-wise, we kept them out of first downs.
"But it comes down to that drive at the end of the half. That hurt. That touchdown is something that I thought we should've had a pick on. We were playing that bender, had our linebacker there, and we've done it for weeks now. But we missed the opportunity to make that pick … Defensively, if we needed to, we should've shut them out to win the game."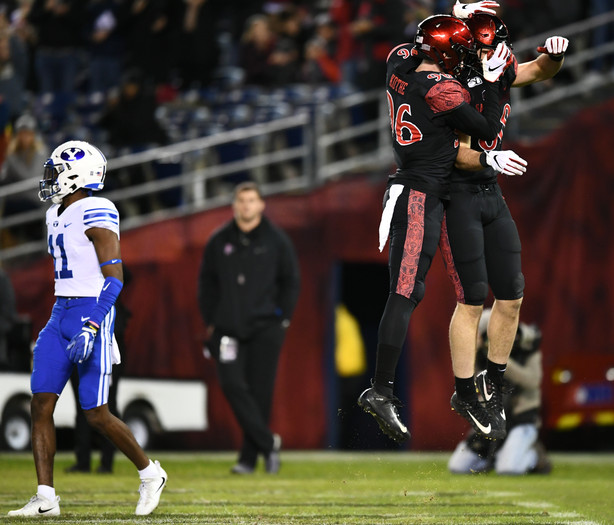 Aleva Hifo's 22-yard pass to Matt Bushman helped the Cougars strike first, and Skyler Southam finished off a seven-play, 39-yard drive with a 24-yard field goal with just under 4 minutes left in the opening quarter.
But that was all the scoring BYU mustered. In the meantime, the Aztecs won the turnover battle 3-0, including a strip-sack on an attempted flea-flicker from Wilson after going up 10-3 in the third.
The Cougars were unable to trim the Aztecs' lead, and Southam missed two fourth-quarter field goals to end BYU's chance at a comeback.
After a promising drive yielded nothing with Southam's 24-yard field goal attempted that caromed off the upright, Matt Araiza nailed his second field goal of the night to put San Diego State up 13-3 with 5:40 left in the game.
Never had a 10-point lead felt so insurmountable, but it seemed so for a BYU team that had 306 yards of offense and just three points to show for it.
"We gave up 13 points, which should be OK," said BYU linebacker Isaiah Kaufusi, who led the Cougars with nine tackles. "But they had three turnovers, and those are the things that can really change games. They had three turnovers and we had none.
"Looking back at it, I'm really frustrated that I couldn't produce any takeaways. I had opportunities and just missed those."
BYU couldn't find the same offensive magic.
"I think we put our offense in a lot of bad positions," defensive lineman Khyiris Tonga said. "But we'll learn from this and we'll move on."
Tariq Thompson tied for the game-high with nine tackles and added a sack, a forced fumble, and an interception to lead San Diego State's defense. Teammate Trent Thompson added nine tackles and a pass break. Dwayne Johnson Jr. added nine tackles and an interception for the Aztecs, who ranked No. 8 nationally in total defense prior to the game.
BYU outgained San Diego State with 338 yards to 172, and held the Aztecs to a season-low 97 yards on the ground. But the Cougars had just 78 rushing yards, led by Wilson's 29 net yards while scrambling, and no other player had more than Lopini Katoa's 24 yards on 10 carries.
"It's simple: we weren't able to put points on the board on offense. They made their kicks, and we didn't. They caused turnovers, and we didn't," Sitake said. "That was the difference."
×
Photos
Related Links
Related Stories