PROVO — If Rocky Long had his way, perhaps the BYU football team would be finding another place to play its final regular-season game of the 2019 season than warm, sunny San Diego.
The 69-year-old coaching veteran remembers the old WAC rivalry between the Cougars and Aztecs, who will tee it up for the 37th time Saturday at the old Jack Murphy (now SDCCU) Stadium (7 p.m. MST, CBS Sports). BYU leads the all-time series 28-7-1 against the Aztecs, and the Cougars have also gone 10-2 against teams coached by Long, who was previously the head coach at New Mexico for 10 years until 2008.
It's not quite a rivalry on the level of Utah, Utah State or even Boise State for BYU. But San Diego State holds a unique connection to the Cougars' past — one that the Aztecs' current coach prefers to stay there.
Long doesn't hate BYU. Quite the contrary; the Provo native whose parents met and married while attending BYU would love to continue a long-term series with the Cougars and his current employer. He complimented the Cougars several times during his weekly press briefing, calling BYU "the best football team we've played all year" in an opening statement.
He'd just prefer that they were playing in a Mountain West Conference game.
"I think that BYU, if they came back to our conference, would be a positive," said Long, who is contracted with SDSU through the 2021 season. "They have a national audience, and they have history that proves they are a good football program. I think it would be a positive for our league.
"I think they'll come back if people don't schedule them," he continued. "If we will not schedule them, so that they have an unbelievably hard time developing a schedule, that might make them come back into the league. I don't have anything against BYU … But the way to get them back is to not schedule them. Make them hunt and peck and try to find a schedule. Half of their schedule or 3/4 of their schedule are Mountain West Conference teams already."
The Cougars are 2-0 against the Mountain West this season, with wins over in-state rival Utah State and regional rival Boise State. So there's motivation to add a scalp like one belonging to the Aztecs, who came within four points of the Mountain West title game before a 14-11 loss at Hawaii last week.
Whether each coach wants to or not, the two sides will continue what was once a thriving rivalry this weekend. For BYU coach Kalani Sitake, the chance to play San Diego State (8-3, 5-3 Mountain West) is a net positive.
Sitake loves Long's old-school style of football, the defensive grind, and the power run game belonging to the Aztecs. And he doesn't hold any ill will toward the school over a coach speaking his mind.
"I know Rocky. He's a good man and competitive," Sitake said. "I'm just looking forward to the game. I respect him as a coach, and I respect the players. I know they've had a really good season, and they're a team we are looking forward to playing."
How to watch, stream, listen to the game
BYU (7-4) at San Diego State (8-3)
Kickoff: 7 p.m. MST
TV: CBS Sports Network (Dave Ryan, Corey Chavous, Amanda Guerra)
Radio: BYU Radio 89.1 FM, KSL 1160 AM /102.7 FM (Greg Wrubell, Riley Nelson, Mitchell Juergens)
Series: BYU leads 28-7-1
Whether he likes the series or would prefer not to schedule the Cougars, Long has done a fantastic job with San Diego State — particularly on the defensive end. The Aztecs rank eighth nationally in total defense, allowing just 4.58 yards per play and 277.1 yards per game, paired with an offense that averages 137 yards on the ground.
"They've always had talent. They've always had skill," said BYU offensive coordinator Jeff Grimes, a former offensive tackle at UTEP from 1987-90. "Now they have toughness and grit to go along with it. It's a very formidable opponent."
It's the kind of identity that takes the form of its grizzled 69-year-old head coach, even, he admitted.
Even if the Aztecs are shuffling quarterbacks, bringing in redshirt freshman Carson Baker to replace the injured Ryan Agner (calf), according to the San Diego Union-Tribute.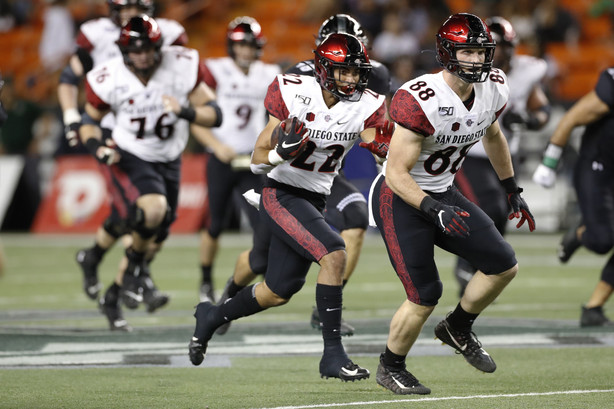 "You see the way they play, the type of scheme that it is — one that is built around stopping the run and attacking the quarterback — it's certainly something that Rocky Long has always been about," Grimes said. "There are a few tactical differences that are certainly a bit new, just in the way that he aligns certain stunts and blitzes. But overall, it's a similar theme."
In many ways, the coaching staff knows San Diego State football and the history of the series with BYU better than many San Diegans. The Aztecs are the only football playing-tenant at the now-SDCCU Stadium, with the recent departure of the NFL's Chargers to Carson, California, and will build a new, downsized stadium on the site of the future San Diego State-West campus in the coming years.
That's because the Aztecs routinely draw between 20,000 and 30,000 fans from a metro area with an estimated population of 1.42 million. Between the Padres, the local golf scene, an assortment of minor-league sports, and — of course — the beach, the Aztecs barely register in the local flavor.
"To be honest, San Diego State football isn't really talked about much in the area," said BYU cornerback D'Angelo Mandell, a product of nearby Del Norte High School who was not recruited by the Aztecs. "There's a lot more to do in San Diego; I don't think sports are that big of a deal in San Diego.
"It's not that they aren't good. But there's so much to do that football and any other sports aren't really a focus."
A lot of BYU players know the history of the series with San Diego State, even if it has been dormant since Kyle Van Noy met the Aztecs in the 2012 Poinsettia Bowl. Whether they call it a rivalry or not, the new generation wants to treat the final game of the regular season like one.
"This is the first time I'm ever going to play against them, so I have no idea if it's ever been a rivalry or if people look at BYU-San Diego State like it is," quarterback Zach Wilson said. "But I think the approach is going to be the same — the same energy we brought to Boise State and Utah State.
"The players need to have that focus all week. These guys are a great team, and they are going to give us their best shot. We're going to have to have the same focus, as if it were a rivalry game."
×
Related Stories