Estimated read time: 4-5 minutes
This archived news story is available only for your personal, non-commercial use. Information in the story may be outdated or superseded by additional information. Reading or replaying the story in its archived form does not constitute a republication of the story.
STANFORD, Calif. — The hardest part wasn't the result for No. 4 BYU women's soccer.
The hardest part was saying goodbye.
Catarina Macario had two goals, and Madison Haley added two assists as the top-ranked Cardinal cruised to a 4-0 first half en route to a 5-1 rout Friday afternoon at Cagan Stadium in Stanford, California, ending what will likely go down as the greatest season in program history for the second-seeded Cougars.
Kiara Pickett and Sam Tran each added a goal for Stanford (22-1-0), which cruised into next week's NCAA College Cup semifinals at Avaya Stadium in nearby San Jose, California, by eliminating BYU in its third-ever national quarterfinal.
"Stanford is such a great team, with great individual players and well-coached. They've been playing at this level for so long," BYU coach Jennifer Rockwood said. "We practice shooting every single day, and for some reason, we did not get our shots off today. You can't do that against a team like this.
"I'm proud of the way we fought. We could've just packed it in, but we wanted to finish it off for our group of seniors … and left it all on the field."
Danika Serassio converted a free kick that caromed off the underside of the crossbar from about 30 yards out for her fourth career goal with BYU in the 65th minute.
The fourth-ranked Cougars (21-1-1) end the most successful season in program history with a loss in the NCAA Tournament quarterfinals for the third time, led by MAC Hermann Trophy semifinalists Elise Flake (20 goals, 7 assists) and Mikayla Colohan (16 goals, 7 assists) and a host of other talent, both on offense and defense.
Stanford joins UCLA, Washington State and North Carolina in next week's Women's College Cup.
"Our team culture this year has been the best I've had of any team in my whole career," said Serassio, one of three seniors on the Cougars' back line with Alyssa Jefferson and Rachel Lyman, as well as goalkeeper Sabrina Davis. "That's what made us so good; we have chemistry on and off the field. We're positive, we work hard, and we love playing together."
But it was the Cardinal's Brazilian-born star and reigning Hermann Trophy winner that led the way in the Bay Area.
Macario broke through in the 17th minute, poking home the cross from Madison Haley with the outside of her boot on the counterattack for the prolific striker's 31st goal of the season. The Cardinal outshot the Cougars 20-4 in the first half and held BYU without a shot on goal until Cameron Tucker's attempt in the 61st minute.
By then, Stanford had outshot the Cougars 24-5. The Cardinal finished with 33 shots, including 15 on frame. It was the first time the Cougars were held without a shot on target since Sept. 12. BYU went on to beat then-No. 12 Texas A&M 2-0 that night in Provo.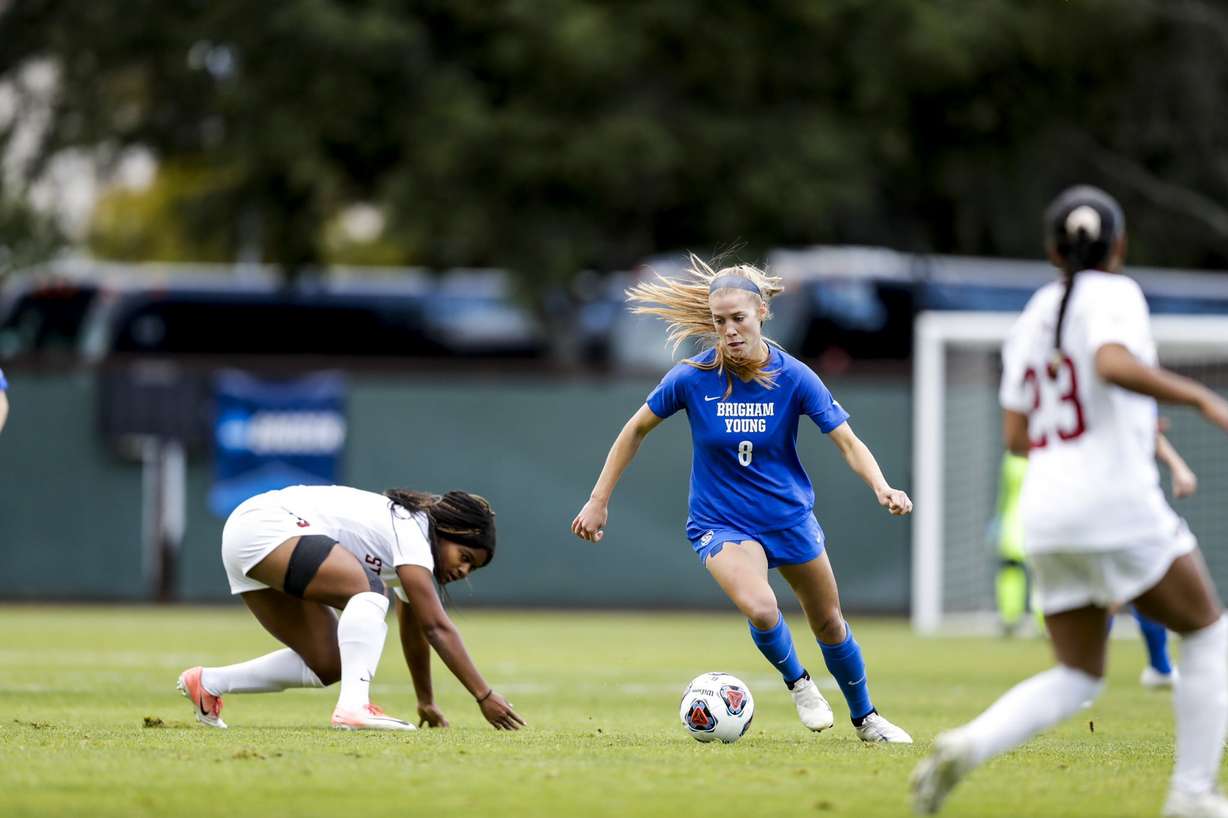 But Friday was different — for one, the Cougars were limited to just nine shots.
The duo of Macario and Haley connected again less than 15 minutes later, with Haley finding Macario in the center of the box for the one-touch goal to put the Cardinal up 2-0 and gave them all the scoring the hosts would need before Serassio's consolation goal late in the second half.
Stanford converted an own goal on a cross that caromed off the back of BYU defender Alyssa Jefferson in the 54th minute.
It was a rare own goal by the sturdy center back, and the rarest of days for the Cougars, who conceded as many goals as they have since the second match of conference play back on Oct. 9.
"We came out in the second half a lot better than we did in the first half. I think we're mostly frustrated that we didn't play our game. That's hard," Serassio said. "It's over. But we have a lot to be proud of — we've only lost one game all season."
It's a special group, even for Rockwood — the only head coach the 25-year-old Division I program has ever known.
And it's not over yet.
"Our seniors will be missed, but we've got a lot of great players coming back," Rockwood said. "We've got a great freshman group coming in, and our group of freshmen here had a great year. Jamie was fantastic for us, SJ got some great minutes.
"We've got a lot coming back and a lot to look forward to."
×
Related stories
Most recent BYU Cougars stories