PROVO — Sabrina Davis never dreamed of playing for BYU, of going to school in Provo, or earning a starting spot with the BYU women's soccer team.
It's not that she isn't grateful; it just wasn't a big priority for her growing up as the daughter of recent converts to The Church of Jesus Christ of Latter-day Saints in Littleton, Colorado. The goalkeeper with U.S. youth national team experience had plenty of things to do, and plenty of college offers that she considered as a teenager.
In many ways, the Cougars are lucky to have had her for the past five years. That credit goes to former goalkeeper coach Chris Watkins, when the current Gonzaga head coach made several trips east of the Rocky Mountains to personally scout, visit and persuade the rising goalkeeping star to visit Provo.
"My dad said we should give BYU an opportunity, and they came out and scouted me," Davis recalled of those visits. "So I prayed about it, and it felt special to me."
Five years later, Davis has helped the Cougars to new heights: a top-four national ranking for most of the year, an undefeated 21-0-1 season, and the quarterfinals of the NCAA Tournament for just the third time in program history.
BYU will play at No. 1 Stanford at 4 p.m. MST Friday, with a spot in next week's NCAA College Cup semifinals in San Jose, California, on the line. While much attention has been paid to the Cougars' prolific offense — 80 goals scored, 66 assists and a 20-goal scorer in MAC Hermann Trophy semifinalist Elise Flake — plenty of credit is due to BYU's defense.
And it starts in the back.
"Sabrina has been incredible," Flake said. "Last game, she made some incredible saves. We're super lucky to have her and the back line. They're also a huge part of our attack, and that's huge."
Yet Davis' recruitment almost ended before it started. She didn't come to any of BYU's acclaimed soccer camps as a youth, like most of her teammates. The Colorado Rush club product won an ECNL national championship in 2011-12 and had her pick of almost any school she could have dreamed of attending.
But her father, Arturo, told her to give BYU a chance, Watkins was persistent — and her sports-mad late grandfather, Ben, to whose memory she has dedicated this NCAA Tournament run — sealed the deal.
"He said to go somewhere that wouldn't just make me a better athlete, but a great woman," Davis said. "I know BYU would do that, and it has."
There was only one downside to her recruitment: at 5 feet, 5 inches tall, Davis isn't the prototypical Division I goalkeeper with long arms and loads of pro potential. But Watkins wasn't concerned with that minor detail and, eventually, neither was head coach Jennifer Rockwood.
"Her size was unique, but he was very confident in the fact that her size doesn't matter. She's proven that since she's been here," Rockwood said. "She has so many qualities, and so often height is a big issue with goalkeepers.
How to watch, stream and listen to the NCAA women's soccer tournament
No. 4 BYU (21-0-1) at No. 1 Stanford (21-1-0)
Kickoff: 4 p.m. MST
TV: Pac 12 Network
Radio: BYU Radio 107.9 FM
"Sab is so quick, so smart, and such a good leader on the field that she brings a lot of confidence to our team. It's been good … and she's been able to help take us to the highest point we've ever been."
Five years later, and Davis is a two-year starting goalkeeper after overcoming two major surgeries upon her arrival on campus — surgeries stemming from an injury that cost her playing time as a senior at Thunder Ridge High School.
In 2019, she's played all 21 of 22 games for the Cougars, with a 0.52 goals-against average, and an .840 save percentage. She played every minute in nine of the Cougars' 14 shutouts, leading the team with 1,754 minutes all year and anchoring one of the top defenses in the country.
When the pint-sized keeper gets scored on, her teammates feel bad. All-West Coast Conference center back Alyssa Jefferson even blames her own mistakes for every save Davis has been forced to make, or every goal conceded.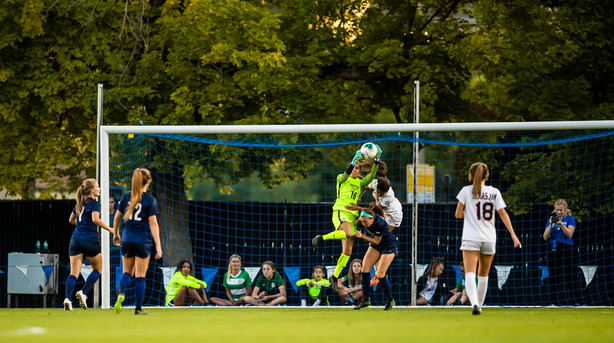 Not so fast, Davis counters.
"That's false. I love that girl to death because she always says it's her fault, and she can't do anything more. It doesn't go unnoticed," the keeper said. "You don't know how many times those girls save my butt. It's my job as a keeper to make saves, and that's what I'm trying to do. But their job is to avoid that and not get it there, and there are so many instances where they've saved me."
But Davis' BYU experience isn't just about soccer. She's set to graduate when her eligibility expires — the senior is only taking six credit hours this fall — and she married her husband, Spencer, in April 2018.
Only twice has she allowed more than two goals in a match, so the Cougars know how important scoring twice will be. That's a mark that could be tested Friday, as Davis and the BYU defense meet Stanford and Hermann Trophy semifinalist Catarina Macario, a junior with 30 of the Cardinal's 93 goals this year.
In many ways, it will be like looking in the mirror with a standout goalkeeper on the visitors' side of the field.
"We've been averaging a lot of goals per game, and we expect to score," Rockwood said. "We know we have to score at least two goals to win, and that's what we're shooting for."
×
Related Stories