PROVO — It's hard to nitpick a five-game winning streak or a blowout win over what may be the worst team in the Football Bowl Subdivision, but that's how a lot of BYU fans (and even coaches) felt after the Cougars' 56-24 rout of UMass last week.
The Cougars led the Minutemen 49-0 at halftime but missed a field goal to close the half and were outscored 24-7 the rest of the way, as head coach Kalani Sitake rotated in a lot of backups and freshmen looking at their first collegiate playing time.
Not everyone played down; returned missionary freshman Jackson McChesney ran for a career-high 228 yards and two touchdowns in the rout, for example.
But all in all, the second- and third-string players were underwhelming in their overall evaluation. Sitake's body language on the sideline made that evident, if not his postgame comments or film review with those guys when they got back into the office Monday morning.
"I did a lot of vocalizing how I felt about it," Sitake said Monday afternoon in Provo. "I expect those guys to perform well. Some of the guys did, and some didn't. I think just because the game was under control doesn't mean we go easy on them. We have to coach them hard and expect them to play at their best. I don't think they did."
Still, isn't it nice to be able to nitpick after a win — and a big one, at that?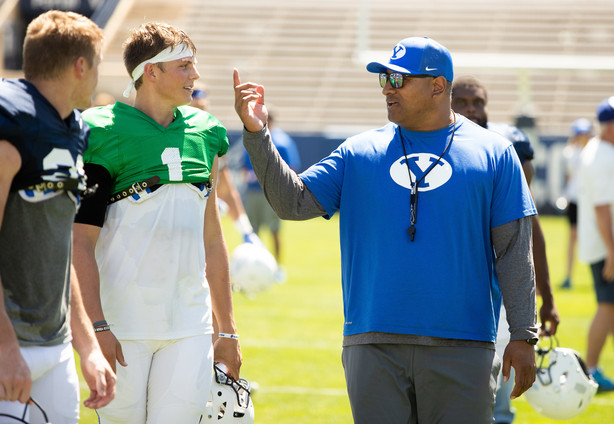 After opening the season 2-4, the Cougars have rattled off back-to-back-to-back-to-back-to-back wins to sit at 7-4, guaranteed of their first winning regular season since Sitake's first year in 2016. Even with the season finale at San Diego State this Saturday (7 p.m. MST, CBS Sports Network) yet to play out, BYU won't drop below the .500 mark in a season when things threatened to go off the rails following back-to-back losses to Toledo and South Florida.
In six weeks, Sitake has stabilized the program and earned enough confidence in his abilities as a first-time head coach to even earn a contract extension through the 2023 season.
"I think the vibe these last couple of games is that BYU has played down, and that was a huge focus against UMass," BYU quarterback Zach Wilson said. "When we know we're the better team, we've got to come out and show it — and I think that was the first time we did that.
"But I think we play better when we're the underdog, or when the game is even. So the vibe this week is just to have that energy, because we know this team is good."
BYU is 4-0 in the month of November, a status that is becoming commonplace in Sitake's tenure and the era of FBS independence. With the bulk of their Power Five scheduling front-loaded, the Cougars have gone 11-4 in the final month of the regular season under Sitake and 24-8 in November since leaving the Mountain West Conference in 2011.
The challenge, now, is maintaining that standard against a San Diego State squad that allows just 13.7 points per game and boasts a power-run game that averages 334.7 yards on offense and 19.5 points.
The Aztecs (8-3) were eliminated from Mountain West title contention with last week's 14-11 loss at Hawaii, so the Cougars know they will get the hosts' best shot.
What a crazy way to renew a series that has gone dormant since Kyle Van Noy led the Cougars to a 23-6 win in the Poinsettia Bowl in 2012.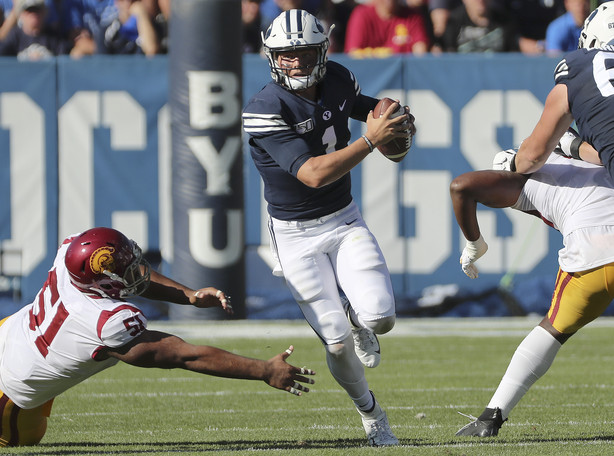 Crazy, you say? That's college football in 2019, where LSU sits atop the heap, Alabama is in danger of missing the College Football Playoff for the first time ever, and Utah and Oklahoma are jockeying to join the mix behind Ohio State, Clemson and Georgia.
The crazy factor trickles all the way down.
"Everyone talks about how college football is crazy; just look at the Pac-12 right now," Wilson said. "People lose to teams they shouldn't lose to all the time. That's the crazy part about this team: Even though we've had some bad losses, look at the good wins we've had. We've been able to capitalize on those.
"We knew that this half of the season was one that we'd really have to dial up and get rid of those bad mistakes. We're really focusing on consistency as a team, and how we can be a consistently good team."
×
Related Stories