Estimated read time: 3-4 minutes
This archived news story is available only for your personal, non-commercial use. Information in the story may be outdated or superseded by additional information. Reading or replaying the story in its archived form does not constitute a republication of the story.
PROVO — The marriage between BYU and head football coach Kalani Sitake isn't being annulled any time soon.
That's right: #ExtendKalani is a success.
The university announced Monday morning an extension of Sitake's contract through the 2023 season, finalizing an agreement that has long been in the works.
"We are pleased to announce a contract extension for Kalani," BYU athletic director Tom Holmoe said in a statement. "We believe in him and the direction of the program. Together we are committed to creating a bright future for BYU football."
In four seasons, Sitake is 26-23 as a first-time head coach, with two regular-season games remaining at UMass and San Diego State, in addition to a game in the SoFi Hawaii Bowl. That postseason contest, which the Cougars accepted Saturday after a win over FCS Idaho State, will be Sitake's third bowl game in four years.
Sitake is just the fourth head coach at BYU since Hall of Famer LaVell Edwards took over the program in 1972, and the first of LaVell's former players to lead the program — a key factor in his recruitment and ultimate hire in December 2015.
The Cougars are 2-0 in bowl games under Sitake, with a win over Wyoming in the Poinsettia Bowl in 2016 and a victory over Western Michigan in the Famous Idaho Potato Bowl in 2018.
They've also tacked on several high-major wins under the 14th head coach in BYU football history, including victories over Wisconsin, Michigan State, Mississippi State, Tennessee, USC and mid-major darling Boise State, while consistently facing one of the more difficult schedules in the country as an FBS independent.
Holmoe announced the extension to the team in the locker room following Saturday's game. The players reacted with glee and a wild screams of excitement, a clatter that was audibly heard in the adjacent postgame press conference area.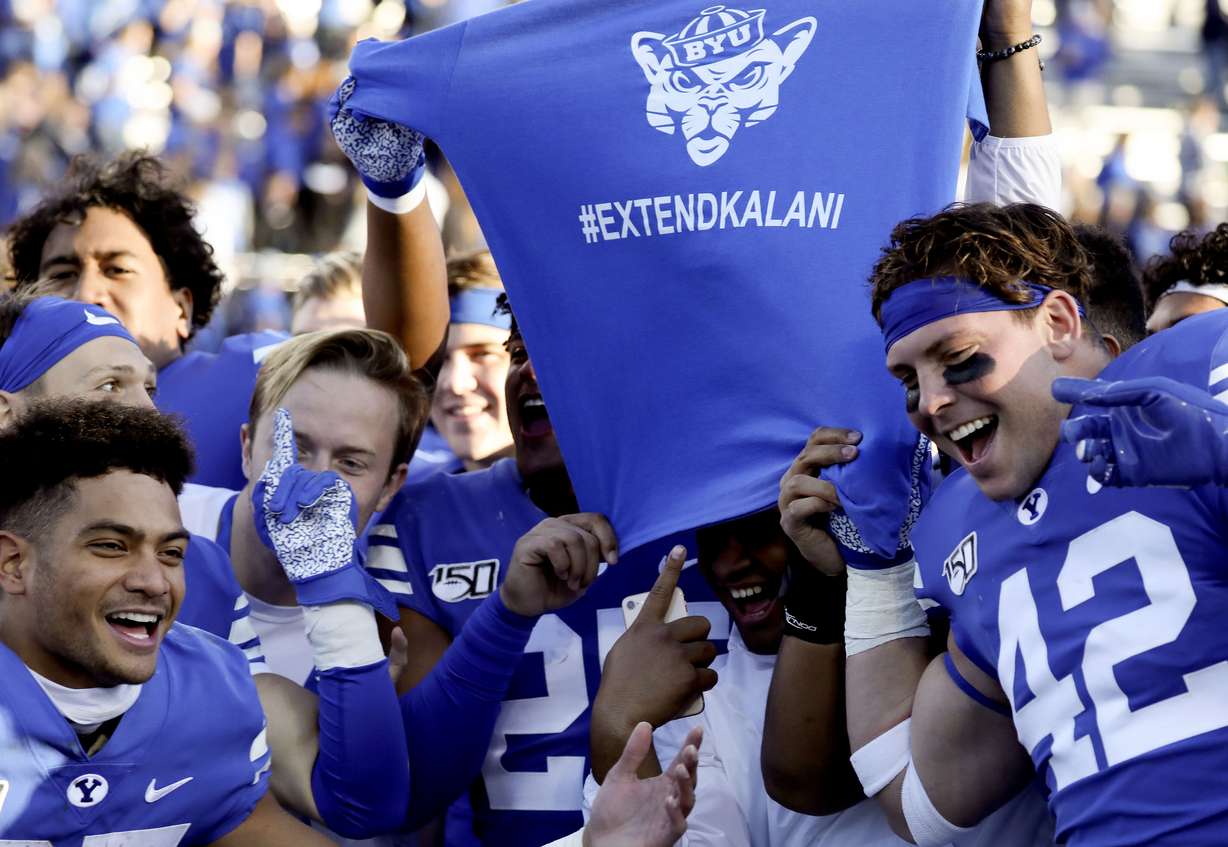 "I'm just thankful, first of all, to my players for the hard work and belief they have in the system and our program," Sitake said during his weekly media briefing Monday afternoon. "There's so much gratitude to everyone who has been involved with BYU and with me — thank you.
"My family and I love it here in Provo, and we are just looking forward to spending more time here."
With the extension in place, Sitake can focus on finishing the season, the upcoming bowl game, and the recruiting period that includes the early signing period Dec. 18-20. The coach, who at one point wished to be the "Polynesian LaVell Edwards" in terms of longevity as head coach of his alma mater, now gets a chance to move beyond the standard four-year contract offered to most new football coaches at universities across the country.
The Cougars currently have 20 commits in the Class of 2020, including three-star quarterback Sol-Jay Maiava from St. John's College High School in Washington, D.C.; American Fork edge rusher Bodie Schoonover; and Corner Canyon linebacker Josh Wilson, the younger brother of BYU's current starting quarterback Zach Wilson.
Sitake, though, admits he tried not to focus on the extras of his job — things like contracts and rubbing shoulders with high-profile boosters, for example — in favor of coaching football and a group of players he has come to love.
Sitake the coach is very much the same Sitake the individual, the private man, the family man who holds an active temple recommend for The Church of Jesus Christ of Latter-day Saints and wakes up early for Sunday morning for his church meetings.
He bristled momentarily at the attention received by Monday's announcement. But make no mistake — the man wants to continue to coach at BYU.
"I was focused on football," Sitake said. "I think that Tom asked me to trust him in the whole process. He can probably tell more of the details on it, but my focus was always on trying to build this team and keep winning football games.
"They allowed me the opportunity to keep coaching, and that's what I'm thankful for."
×
Related stories
Most recent BYU Cougars stories