PROVO — BYU quarterback Zach Wilson shook off the rust of a monthlong layoff by completing 17-of-20 passes for 293 yards and four touchdowns in the Cougars' 56-24 rout of UMass on Saturday afternoon.
But the win was far from perfect.
Let's start with a breakout, even record-breaking, performance by one of BYU's freshmen before we look at a lackluster backup experience that coaches insist must improve before next week's regular-season finale.
Say 'Mc-Cheese-ney' for your close up
Have a day, Jackson McChesney.
The former Lone Peak star showed why he was a coveted recruit in high school with 228 yards and two touchdowns on a team-high 15 carries for the Cougars.
It may have been a little surreal for some to watch BYU pile up 320 yards on the ground, and 628 yards of total offense.
It was also a little surreal for fellow Lone Peak grad Talon Shumway.
"I was probably married before he was born," Shumway quipped after the game. "But I grew up playing with Austin (McChesney, Jackson's older brother), and Jackson was around.
"I remember when I started playing, he was a baby … or a toddler. It's funny to be playing with him; like, what am I still doing here?"
Tyler Allgeier added 37 yards on six carries, in addition to a 57-yard touchdown on a screen pass from Wilson. Lopini Katoa had 34 yards and a touchdown on seven carries, and 38 yards and another score on three receptions out of the backfield.
Wilson added 20 yards on the ground — plus a seven-yard sack in the first quarter — and walk-on running back Alec Wyble-Meza made his BYU debut with three carries for six yards as the Cougars tried to limit Katoa's use as he recovers from a minor injury.
Team effort, eh?
"I'm just trying to do my 1-11th. If everyone does their job, we're going to shine," McChesney said.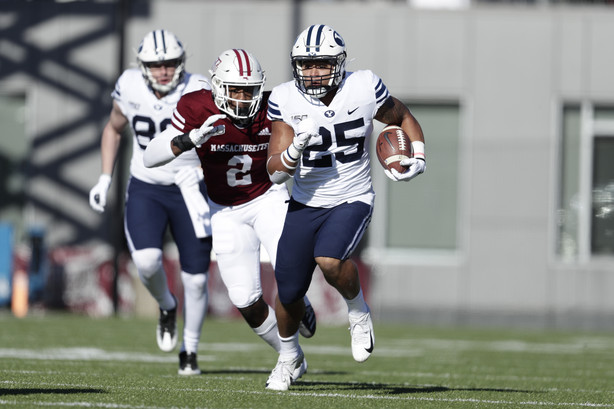 Incremental improvement
With their seventh win of the season, BYU matched its win total from last year and guaranteed a winning regular season for the first time since Kalani Sitake's inaugural year in 2016 (the Cougars went 7-6 last year, but only after a win in the Famous Idaho Potato Bowl).
And while it wasn't always pretty, the result shows progress from the past two seasons.
It's the kind of improvement that perhaps illustrated the growth of Sitake as a head coach, and why the administration deemed him sufficient enough to sign a contract extension through the 2023 season this past Monday.
"I feel really good about the progress I'm seeing from our guys," Sitake said. "Even considering all the injuries and the new bodies on the field, I like the fact that we are having a good number come back for next year."
A lot to be desired
BYU's backups-turned-starters were great: McChesney, Allgeier and even Joe Critchlow, who completed 4-of-7 passes for 15 yards in reserve, in limited time off the bench.
But the backups to those backups, the young players looking to make an impact with a 49-0 lead at halftime?
The impression they left was lukewarm.
"I'm really, really happy with the first half — but in the second half, not very happy," Sitake told BYU Radio. "There are some things we can definitely do better.
"We need to see more growth. A lot of guys have grown up, but it seems like the mistakes we made amid breakdowns, UMass was able to capitalize on it. … For some of the guys, it seemed like the moment was a little big for them. But I don't know how else to give them experience."
Yes, there were a lot of players. Yes, many of them were playing in their first actions — or at least, extended minutes — in college.
But the reception wasn't great, and there will be a lot of film room hemming and hawing this week as the Cougars prepare for the regular-season finale at San Diego State — a much different opponent than the Minutemen.
Maybe it doesn't matter as BYU's starters — on offense and defense, sans a few key running backs — get healthier, and the Cougars try to build on the momentum of a five-game winning streak.
But it does.
"The second guy has got to be ready," Wilson said. "It's not a game you are expecting to be thrown in, but you've got to be ready.
"There were plays to be made, but there were just errors on our side. I don't think it was a letdown, but you need to be ready to play."
×
Related Links
Related Stories