Estimated read time: 4-5 minutes
This archived news story is available only for your personal, non-commercial use. Information in the story may be outdated or superseded by additional information. Reading or replaying the story in its archived form does not constitute a republication of the story.
DRAPER — A long-awaited microtransit program for southern Salt Lake County officially launched Thursday, bringing residents in five cities a new option to reach public transportation for at least the next year.
Utah Transit Authority and on-demand rideshare service Via celebrated the launch of the one-year pilot program that will give people in Bluffdale, Draper, Herriman, South Jordan and Riverton a new option to go to and from their neighborhoods or jobs and public transit stations. The rides will also be available for trips to destinations like stores, workplaces and hospitals within the communities.
"This is going to be a game-changer if people choose to use it," said South Jordan Mayor Dawn Ramsey.
The program is meant to help UTA study how it can provide customized transit options for the area, which has fewer bus options than places in the northern part of the county. It's funded by a portion of county sales tax passed last year.
"Microtransit is an emerging form of on-demand transportation that can provide convenient, customized on-demand transit service that connects people with local destinations in their community," said Carlton Christensen, chairman of the UTA Board, during a ceremony at Draper FrontRunner Station on Thursday.
"UTA is very interested in studying how this type of service can increase access to transit by providing a first- and last-mile means to connect our regular service, particularly our TRAX and FrontRunner service," Christensen added.
A similar service is expected in portions of suburban Salt Lake City in the future, which will be funded from a deal between the city and UTA.
During Thursday's event, Draper Mayor Troy Walker said he was excited for the service to launch because it will help not only residents, but also those who have jobs in Draper. The service may make it easier for those workers to reach their workplaces from the Draper FrontRunner station in the western part of the city.
"I think this opportunity we have here is something that not only can be right, it can be really, really right. It can really make a difference in this first-last mile," he said. "I hope we can get some of these employees that would otherwise like to ride transit to get in this vehicle and be able to use it."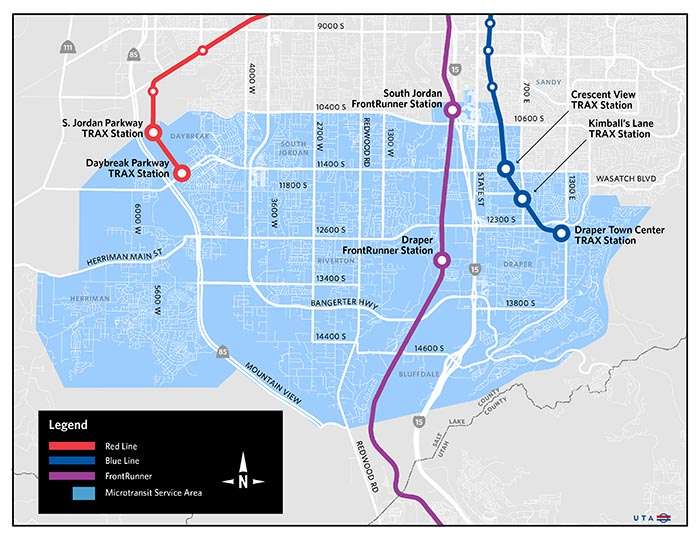 UTA's Via service operates Monday through Friday from 6 a.m. to 9 p.m. Anyone can access Via vans by using the Via app or by calling 385-217-8191. All trips must begin and end in the Via service area, UTA officials said.
Via officials said all rides will be $1 through the end of 2019, with a $2.50 flat fare rate after that. Seniors and those who are reduced fare riders will only have to pay half the normal rate. All vans are wheelchair-accessible and can take multiple riders at a time.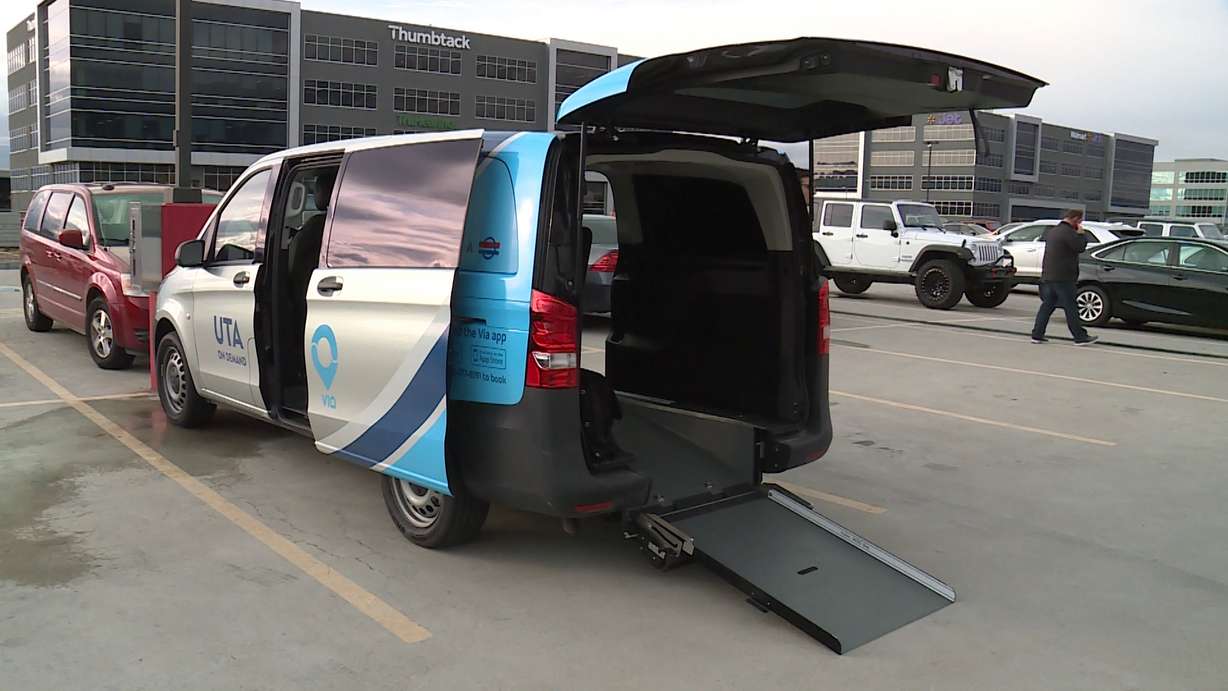 "Those who have UTA tickets or passes can also use this service as well, as a part of their normal pass program," Christensen added.
More information about the program can be found here.
While the service is aimed to increase transit access for those in the county, it may also help tackle problems — like gridlock and air quality — that are on the rise as Utah's population continues to skyrocket. Various government leaders in attendance Thursday touted the pilot program for making a form of convenient public transit.
Ramsey said while the program won't remove every car off streets, it may still potentially lead to fewer cars on the roads.
"As the car becomes less efficient and we can provide a service like this, more of us are going to use this and we're going to be able to make a dent in clean air," Walker said. "We know that transit isn't as convenient as your car; it's probably never going to be, but we want to make it more convenient. We want to make it usable so you can use it in a way — you can maybe make a little sacrifice for the clean air, but it's not such a time constraint."
The pilot program is set to end in November 2020, with the results to be analyzed before going further.
"I hope that a year from now, we are amazed at the success of this program and that it's determined to be the success that it really has the potential to be," Ramsey said.
Contributing: Winston Armani, KSL TV
×
Photos
Related Stories