Estimated read time: 5-6 minutes
This archived news story is available only for your personal, non-commercial use. Information in the story may be outdated or superseded by additional information. Reading or replaying the story in its archived form does not constitute a republication of the story.
PROVO — Austin Lee brought a special guest to the postgame podium after BYU's 42-10 win over FCS Idaho State that clinched an invitation from the Hawaii Bowl on Saturday afternoon.
It was his son, Ledger.
First question, kid: How do you think your dad played?
"Good," he answered.
And with that, another BYU recruit was born.
"I'll just start recruiting all their kids from now on," BYU head coach Kalani Sitake joked. "He's going to be a baller, too. Just like his daddy."
We can neither confirm nor deny if Sitake's remarks represent an NCAA secondary recruiting violation. But we can confirm that BYU's season will continue until Dec. 24 at Aloha Stadium — and that Saturday was an emotional day for a lot of seniors on BYU's roster, as it is most years.
"It was fun. It was awesome," said Lee, an Alta High product who first played at Utah. "You never really think that you're going to be in this position, but it's harder now that it's gone. It was a big blessing to come out here and make those types of memories and reflect upon all the memories I have in this stadium and all the relationships that I've developed, all brothers and family that I've made over the years."
Here are three other things we learned with an announced crowd of 57,379 at LaVell Edwards Stadium.
Rough day, but good day
Zach Wilson's return from a four-game layoff with thumb surgery wasn't perfect. But it went about as well as could be expected.
Wilson completed 19-of-31 passes for 187 yards and two touchdowns with an interception — and took three sacks — in his first start since going down with an injury Sep. 28 in a loss to Toledo. In his absence, Jaren Hall and Baylor Romney led an admirable 3-1 charge to save the Cougars' season.
But starters don't lose the job due to injury, and with Hall in concussion protocol, Romney "banged up" according to Sitake, and redshirt sophomore Joe Critchlow as first backup, Wilson resumed his starting post.
More concerning will be BYU's 12 penalties for 85 yards. But those can't be blamed on Wilson; most of them went to the offensive line, in fact.
"It was rough at times," said Wilson, who led an air attack that put up 200 yards or more for the 12th-straight game, the longest since 2012. "I think, overall, as an offense we can be a lot more smooth. There were a lot of penalties today. I think we've got to clean up a lot of things this week, but we got that win and that's all that matters."
A day for the seniors
The result was never truly in doubt, but Saturday's game was about more than a win or clinching bowl eligibility.
The final regular-season game of the year at LaVell Edwards Stadium sent out a senior class of 19 players, including graduate transfer running backs Ty'Son Williams and Emmanuel Esukpa.
The list also includes linebacker Sam Baldwin, defensive back Dayan Ghanwoloku, long snapper Mitch Harris, wide receiver Aleva Hifo, wide receiver Batchlor Johnson IV, linebacker Austin Kafentzis, tight end Moroni Laulu-Pututau, safety Austin Lee, defensive end JJ Nwigwe, defensive end Trajan Pili, defensive back Sawyer Powell, offensive lineman Addison Pulsipher, offensive lineman Thomas Shoaf, wide receiver Talon Shumway, wide receiver Micah Simon and defensive back Beau Tanner.
But perhaps the coolest outgoing senior was former quarterback Beau Hoge. The converted running back medically retired from football prior to the season, after several bouts with concussions that left his career limited. The son of former NFL running back (and Idaho State alum) Merril Hoge finished his career with 81 yards and two touchdowns at running back.
But he was back in the stadium Saturday afternoon, dressed in street clothes and accompanied by several family members, including cousin Tristen Hoge, the Cougars' tackle who has been injured for the past four games.
Perhaps Nwigwe had the best moment. The senior who was once an offensive lineman and tight end flashed a shirt that read, "#ExtendKalani" as the Cougars accepted their bowl invitation. Several moments later, in the postgame locker room, BYU players and coaches could be heard screaming and cheering with joy.
No official announcement has been made by BYU Athletics. But it's clear where the players stand.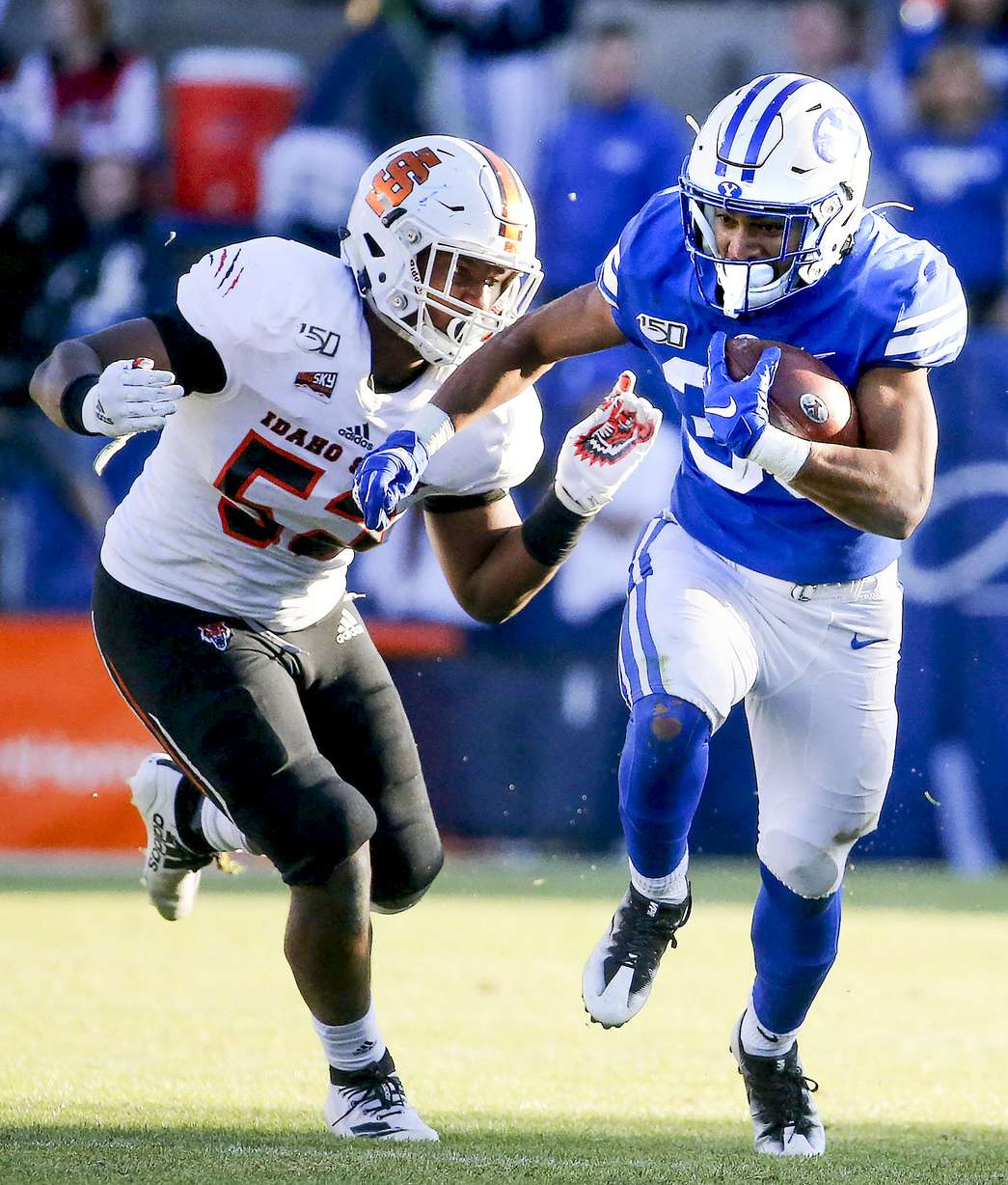 Young kittens run wild
The other goal of a normal FCS opponent — beyond celebrating the senior class, in BYU's case — is to give more playing time to younger players. And BYU did just that.
Sione Finau, the redshirt freshman running back from Kearns, looked the part of a potential lead back for years to come with 102 yards and a 16-yard touchdown on 16 carries.
Fellow freshman Jackson McChesney added a career-high 46 yards on 10 carries for BYU, and other young players to see time include receiver Keanu Hill, who caught his first pass in a BYU uniform, debutantes Carter Wheat and Tevita Ika, and sophomores Dax Milne and Gunner Romney.
The future appears bright for the Cougars.
"It's always good to have a rushing game as a quarterback," Wilson said. "Jackson McChesney and Sione Finau stepped up and made some big plays for us in the running game."
×
Related stories
Most recent BYU Cougars stories