SALT LAKE CITY — As mountain resorts across the country struggle to fill seasonal jobs in a tight labor market, Utah ski and snowboard areas say they're not having much trouble, though some have upped the perks to attract workers.
"I don't know to what level they've been impacted. I just know it's more challenging today when the economy's humming and unemployment is as low as it is," said Nathan Rafferty, Ski Utah president and CEO.
A free season pass is no longer enough of an incentive to entice people to take jobs as lift operators, parking attendants and cooks.
New Hampshire's Wildcat is offering a $1,000 bonus for new snowmakers to come on board, and Sunday River in Maine last year increased its hourly wage from $13 to $20 for that job, according to the Associated Press. Sugarbush in Vermont, which has among the lowest unemployment rates in the country, is hiring more foreign college students, and Utah's Snowbird is expanding its pool van service to get employees to the mountain.
Snowbird is in the midst of hiring about 2,000 workers for the upcoming season, which opens Nov. 29 and runs through who knows when. Last year, heavy snowfall kept some lifts running until the Fourth of July.
Brian Brown, communications manager, said Snowbird isn't having a hard time filling positions but it has thrown in more perks. In addition to increased worker vanpools in a partnership with UTA, the resort is offering signing bonuses of $500 or more for some jobs.
Like many resorts, Snowbird relies on foreign guest workers who come to the United States on J-1 visas, a program that allows them to experience American culture, become more proficient in English and build skills that will help them in future careers.
"We couldn't have a successful season without those workers," Brown said.
The ski industry uses about 8,000 J-1 visas, Dave Byrd, of the Colorado-based National Ski Areas Association, told the Associated Press. In all, the country's roughly 460 ski resorts hire about 100,000 seasonal workers each fall.
This year, Vermont's Sugarbush is bringing on more than 100 foreign college students through the program because of the difficulty in filling jobs. A few years ago, it had no one on J-1 visas, spokesman John Bleh told the AP by email. Sugarbush has also been increasing its employee housing over the past several years, according to Bleh.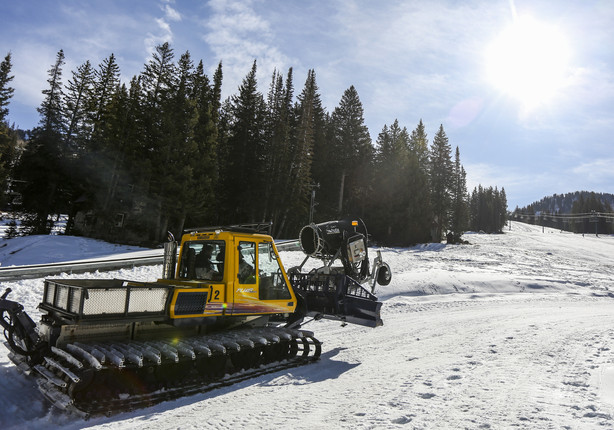 Because ski resorts are located in the mountains, they are often far from cities from which to draw workers. With the national unemployment rate recently hitting the lowest level in 50 years, potential workers would rather have full-time jobs with benefits, said Byrd, director of risk and regulatory affairs for the ski areas association.
"We don't have a lot of ski areas that are in close proximity to major metropolitan areas. And even when we do, like the ski areas in Salt Lake ... they're still struggling to find people," he said.
Housing can be scarce, expensive or both in the remote mountainous areas or resort towns, and online vacation rental services have added pressure to the market by gobbling up a chunk of the available property, Byrd said.
The housing crunch makes it difficult to be ski bum nowadays.
"If you wanted to be ski bum and you want to take a gap year after you graduate college before you go on to getting a real job, that notion of the ski bum in the 1980s and 1990s, those are hard to find, those people, because housing is so enormously challenging for us in the industry," Bryd told AP.
Related:
Unlike some of Utah's larger resorts, Brighton isn't a destination area. It doesn't provide a lot of the amenities such as spas and restaurants offered at other places. Most of its job applicants are local residents and college students who want to live the ski or snowboard bum lifestyle that might be slipping away at other resorts.
"They work for a pass, and don't have to work very much," said Jared Winkler, director of marketing.
Brighton, he said, has had plenty of applicants and has already filled more than three-quarters of its jobs for the season. Others will start as the resort become fully operational. Brighton did up its wages to be competitive with other resorts, he said.
"It's not that difficult for us," he said.
For people looking for work, Rafferty, said, "a job at a ski area is awesome to have because it's just a really fun atmosphere," adding some of the extra incentives make it all the better.
Contributing: Associated Press
×
Related Stories