Estimated read time: 3-4 minutes
This archived news story is available only for your personal, non-commercial use. Information in the story may be outdated or superseded by additional information. Reading or replaying the story in its archived form does not constitute a republication of the story.
SALT LAKE CITY — Even in football, the shortest distance between two points is a straight line.
Especially when Timpview twin running backs Targhee Lambson and Sione Moa are carrying the ball.
The two 1,000-yard rushers combined for 326 yards, and Lambson scored three of his four touchdowns in the first half to help the Thunderbirds roll to a 35-7 win over Lehi in a Class 5A state semifinal Friday at Rice-Eccles Stadium.
Raider Damuni added an interception return for a touchdown for Timpview, which improved to 12-3 by holding the Pioneers (10-5) to 213 yards, including 82 on the ground, and just 62 yards before halftime.
"My O-line did a great job. I was just trying to be patient," said Lambson, who ran for 210 yards on 22 carries. "I think I'm a big-time player, and on this big stage, I'm trying to get me some scholarships."
The Thunderbirds will face Orem next Friday, Nov. 22, in the 5A state championship at Rice-Eccles Stadium.
Moa was the big rusher of the Thunderbirds' 26-7 quarterfinal win at rival Provo a week ago. By Thursday night, it was Lambson's turn.
"In my opinion, we have the best running backs in the state," said Damuni, an all-around athlete who also punted three times at 48.7 yards per kick. "They make plays every game for us. Targhee came up big for us tonight; that's a baller."
Lambson scored his first touchdown of the game on an 11-yard run with 3:55 left in the first quarter. Eight minutes later, the junior was rumbling into the end zone from 42 yards out to put the Thunderbirds up 21-0 and turn an anticipated Region 7 rematch into a semifinal rout with a berth in next week's state championship on the line.
Moa added 116 yards on 14 carries.
"It feels good, with us both going back and forth. He's a big dog," said Lambson, a junior who is being recruited by BYU, Utah, Utah State, Cal and Oregon State.
Lambson rumbled into the end zone with his fourth touchdown midway through the third quarter, and Damuni jumped a deep route and returned an interception 28 yards for a pick-six to give the Thunderbirds a 35-7 lead going into the final period.
"He's a special football player," Timpview coach Andy Stokes said of Lambson. "He made some plays on his own, but he got a lot of protection from his front today.
"We're all getting better all the time, but Targhee was the guy today. We're super proud of him; he ran his tail off today."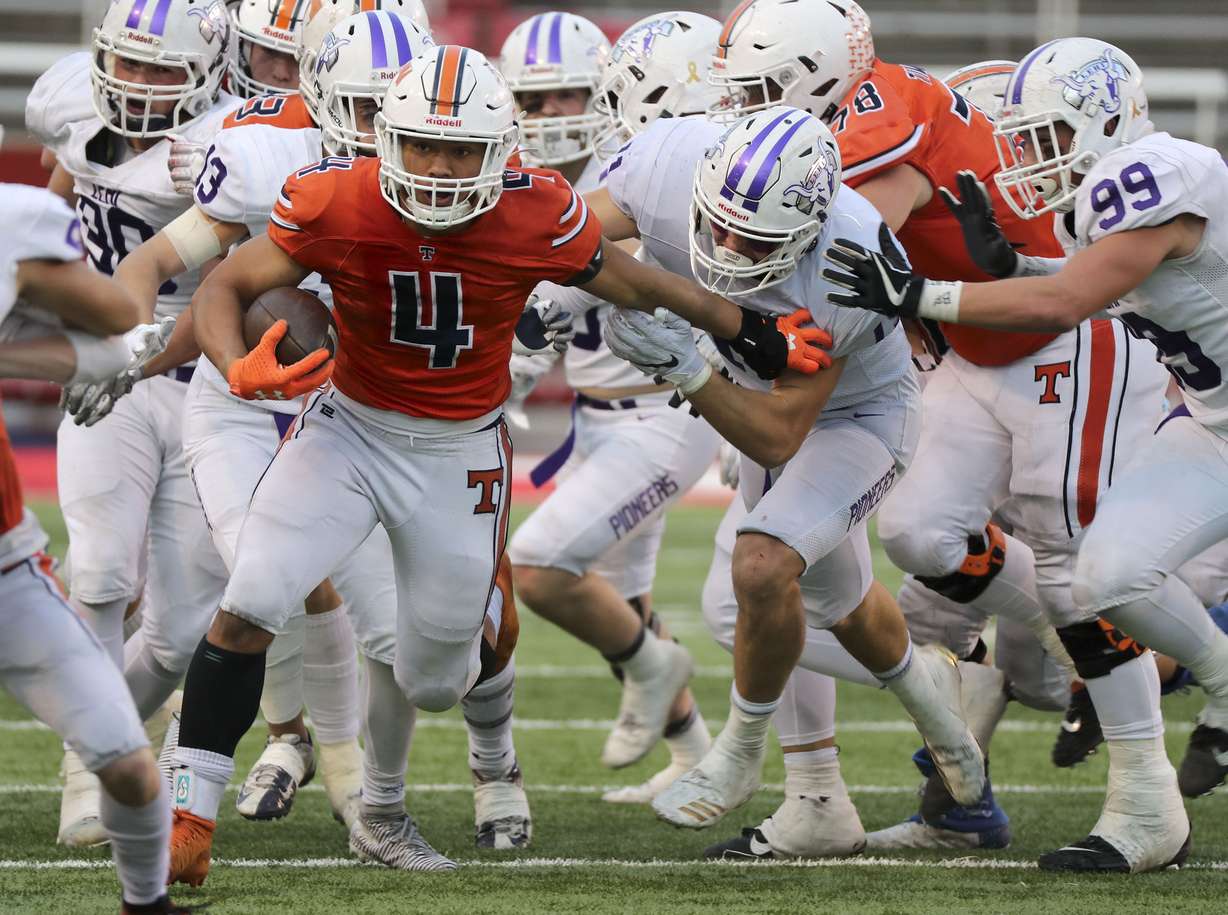 Carson Manookin led Lehi with 56 yards on 17 carries, including a 2-yard TD dive just before the half to prevent the shutout.
But Timpview's defense picked off Creyton Cooper twice and racked up four sacks to keep the Pioneers at bay.
Calvin Tonga had eight tackles, a tackle for loss and an interception to lead the Thunderbirds, and teammate Cael Richardson added eight tackles, a tackle for loss and a fumble.
Timpview rolled up a 28-9 win over Lehi in the regular-season meeting between the two sides. The Thunderbirds' only loss in region play? A 28-10 setback at Orem in one of Noah Sewell's first games back from injury.
They'll get a chance to make up for the loss next Friday.
"We're grateful to be in the state championship right now. We're not comparing ourselves to them," Stokes said. "They are who they are, and we are who we are.
"I think both teams are phenomenal football teams. The winner is going to get a ring, but that doesn't mean the other guy won't be just as tough."
×
Photos
Related stories
Most recent High School stories