PROVO — Timpview's football team had a message for its crosstown rival as it traveled to Provo High for the Class 5A state quarterfinals.
We hear you.
The social media posts. The banter. The loud talk that drifted to the other campus, talk like most rambunctious teenagers make, especially the ones with the higher seed in the UHSAA's new ratings-percentage index-seeded postseason.
The Thunderbirds heard it, loud and clear.
And they had a response.
Two-way star Sione Moa had two touchdowns and an interception, and Timpview scored 26 unanswered points in the first half to cruise to a 26-7 win Friday night for the Thunderbirds' 31st-straight win over Provo, advancing to the school's first state semifinal at Rice-Eccles Stadium since 2015.
"We were just caught up in the social media stuff they were doing," Moa said. "They said they wanted us, and they got us. I'm just proud of my boys."
After a week filled with talk that started shortly after Provo's win over Alta and Timpview's road victory over fellow Utah County rival Springville, the Bulldogs got out to the early lead. Luke Haslem hit Ryan Harward with a screen pass for a 5-yard touchdown to give Provo a 7-0 lead with 7:13 left in the first quarter.
It was the last lead the Bulldogs (9-3) would hold. Provo punched Timpview in the mouth, the Thunderbirds took it — and answered with a right hook and flurry of their own for the knockout blow.
"The kids are coming together, and doing their jobs right now," said Timpview coach Andy Stokes, whose team beat Provo 13-7 in Week 3 of the regular season. "We haven't been up to the carpet for a couple of years, so we're excited to go back there and take the T back up to the U.
"But also to play in this game; Provo called us out after their game last week. Our kids knew that. They knew we were getting disrespected, so they came out to play."
The Thunderbirds (10-3) scored just five minutes later, cashing in on Logan Fano's fumble recovery for Moa's first touchdown, a 1-yard TD plunge just four plays later and with 2:58 left in the opening period.
Timpview added a 7-yard TD strike from Elijah Allen to Carsen Ryan, set up by Moa's interception, a second 15-yard TD run by Moa, a safety, a 26-yard field goal and an interception by Raider Damuni to end the half up 26-7. And Provo, seeded second in 5A by the UHSAA's brand-new RPI rankings, never threatened again.
"That was what we needed," Moa said. "My D-line helped me get my pick. But that momentum shift was huge for us.
"I've always dreamed of playing (at Rice-Eccles), and the job's not done yet. But we're ready."
Timpview, the No. 10 seed, will face 11th-seeded Lehi in next week's semifinals at 2:30 p.m. MST Thursday at Rice-Eccles Stadium.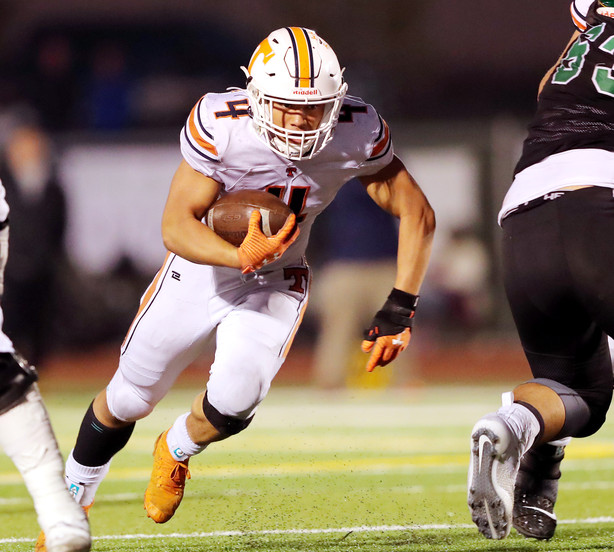 At Farmington, Jaxson Southard's 27-yard pick-six and Jacob Vasquez's 34-yard fumble recovery highlighted the Pioneers' comeback win over the Phoenix.
Carsen Manookin scored on a 4-yard run with 4:55 left in the half for Lehi, sparking a run of 27-0 run before holding on for the win.
At Salem, Jordan Ware ran for a pair of touchdowns and Jarret Elmer threw for two more to help the Skyhawks shut out the Wasps and advance to the state semifinals for the first time in school history.
Reed Johnson added a pair of touchdowns for Salem, including a 77-yard punt return in the second quarter.
The top-seeded Skyhawks will face No. 12 seed Orem in next week's semifinals at 11 a.m. MST Thursday at Rice-Eccles Stadium.
At Olympus, Micah Fe'a threw for a pair of touchdowns to cap a 21-0 run in the second half as the Tigers held off the Titans.
Buju Tuisuvura added a 55-yard TD run during the streak, and Noah Sewell scored on an 8-yard run in the first quarter for Orem, the reigning 4A state champions.
Scotty Edwards scored two touchdowns for Olympus, including a 4-yard run that pulled the Titans close before falling late.
×
Related Stories