Estimated read time: 5-6 minutes
This archived news story is available only for your personal, non-commercial use. Information in the story may be outdated or superseded by additional information. Reading or replaying the story in its archived form does not constitute a republication of the story.
TAYLORSVILLE — Spencer Johnson grew up just 14 miles away from the Marriott Center. But until recently, the former American Fork basketball standout didn't know if BYU would be in his future.
That all changed with two words: Mark Pope.
The redshirt freshman guard at Salt Lake Community College signed a national letter of intent Wednesday to play basketball at BYU, ending a whirlwind recruiting tour that has taken him around the world and across the state to finish in Provo.
"I've known most of these coaches for a really long time," said Johnson, a former Weber State signee who spent one non-basketball semester at Utah Valley University. "I just felt like this was the most comfortable situation. I knew that they believed in me, and I could go there and have the most success.
"It just all made sense."
Johnson originally signed with Weber State in 2015, and then transferred shortly after returning from a two-year mission for The Church of Jesus Christ of Latter-day Saints in Milan, Italy. He was one of the top guards in the state of Utah while at American Fork, averaging19.7 points per game and 7.3 rebounds as a senior while playing alongside current Marquette guard Brendan Bailey, the son of ex-Jazz post and current broadcaster Thurl Bailey.
But it wasn't until Pope was hired as head coach of BYU's men's basketball team that the Cougars became a major player in Johnson's recruitment.
"I never really had conversations with their coaches," said Johnson, who will graduate with his associate's degree in May and then immediately apply for BYU's advertising program. "It was always a cool idea, to play for BYU. But it never worked out until then."
He is the older brother of former four-star American Fork post Isaac Johnson. The 6-foot-11 Oregon-bound post heard that his big brother would be signing with the Cougars while serving a two-year mission in Columbus, Ohio, and gave his own congratulations in a weekly video chat with the family.
"He was excited," Johnson recalled. "He knew how hard I worked, the journey I had been through. But he was pumped."
Johnson's career at Weber State, though, was incredibly short-lived. He played just two minutes in an exhibition game against Division II Chadron State before coach Randy Rahe shut down his season in favor of a redshirt in 2018.
By December, Johnson had announced his intentions to transfer and enrolled at SLCC a short time later. But in open gym workouts, it quickly became apparent to longtime SLCC assistant coach Brian Swindlehurst that Johnson would be back in Division I soon.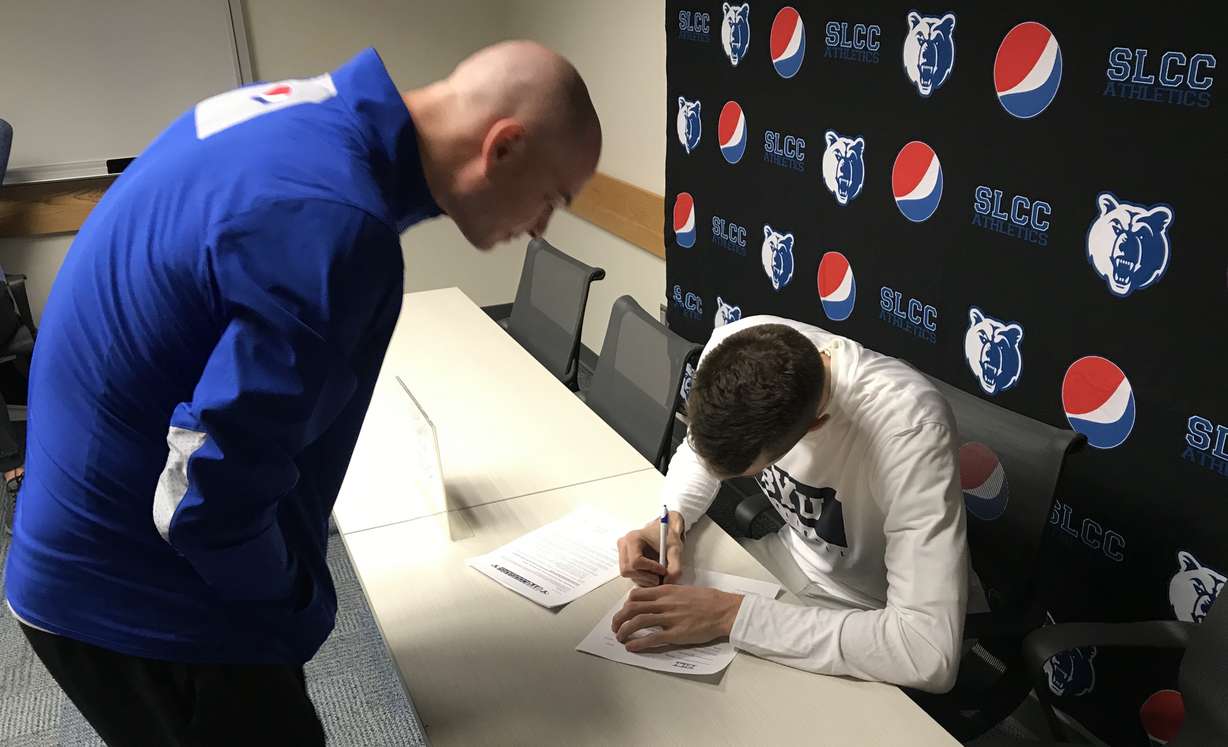 "He's an older, more mature young man, first and foremost," said Swindlehurst of Johnson, who also had offers from Boise State, Oregon State and Utah Valley. "Compared to a kid we could recruit out of high school, he's three years older — and right off the bat, that helps us.
"But on the court, he's made shots. He's been one of our top rebounders. He's a good decision-maker. It's hard for players in his situation, when they didn't get a chance to play in three years … But he's been awesome. He's been lighting it up."
The 6-foot-5 wing has averaged 14.0 points, 6.3 rebounds, 2.5 steals and 1.5 assists per game through the first four games of the season for the 13th-ranked Bruins. His best outing came with a 20-point, four-rebound effort in a 92-89 loss to Casper College.
Pope and his assistants Cody Fueger and Chris Burgess have been eyeing that transition, and they know exactly what they are getting in Johnson — a pre-scouting program that will help them maximize the career of a player who will have three years of eligibility remaining in Provo.
"He's making shots, but he's not just a shot-maker," Swindlehurst said. "He can manipulate the ball screen; he's gone to the foul line a lot; he's defended and rebounded. He's a pretty versatile player for us."
Johnson joins a recruiting class that also includes Wasatch Academy shooting guard Richie Saunders. The Riverton product signed a letter of intent Wednesday evening in Mount Pleasant, alongside the entire starting five for the Tigers' upcoming season.
In addition to Saunders, Mady Sissoko will play at Michigan State, Caleb Lohner signed with Utah, Mike Saunders pledged his loyalty to Cincinnati, and Leo Colimerio signed with Fresno State.
"We're so excited to get Spencer and Richie," Pope said in a statement from BYU. "Spencer is a battle-tested, high-ceiling, tough winner who has a chance to come and make an immediate impact on our roster. He is crushing it in the junior college ranks right now and we expect his game to continue to grow throughout this season."
Utah State added Montana's 2018-19 Gatorade Player of the Year Rollie Worster, a two-sport star from Hellgate High in Missoula, Montana, who averaged 22.2 points, 5.9 rebounds, 4.0 assists and 1.3 steals per game en route to a Class AA state runner-up finish and all-tournament MVP honors.
Worster also played quarterback in high school, throwing for more than 3,400 yards and rushing for 2,000 more in an all-state safety senior season.
The Cougars are also chasing Dallin Hall, a Fremont High star who is the top uncommitted prospect in the state. The 6-foot-3 point guard plans to sign in the early signing period, his mother told Ogden's Standard-Examiner, and he has a list of suitors that includes Oregon State, Utah State, Weber State and Saint Mary's, in addition to BYU.
Either way, Johnson will progress to help BYU fulfill a grander vision under Pope.
"The vision is to win — and I think we can do that," he said. "You've seen what Coach Pope and his staff have been able to do at Utah Valley, with 25-win seasons. This is just a bigger stage, playing better teams, and that is what you want as a competitor."
×
Related stories
Most recent BYU Cougars stories