Estimated read time: 5-6 minutes
This archived news story is available only for your personal, non-commercial use. Information in the story may be outdated or superseded by additional information. Reading or replaying the story in its archived form does not constitute a republication of the story.
PROVO — Cameron Oluyitan didn't get to sleep until the early hours of Sunday morning.
Between flights from Omaha to Denver, from Denver to Las Vegas, and a bus ride home to Cedar City, the 6-foot-7 senior from Southern Utah had a long night.
It was made even longer by a 79-78 double-overtime win at Nebraska, and the hundreds of SUU basketball fans who met the team bus on campus around 1 a.m. MST.
"It was really cool," Oluyitan said. "Just to know that we had the support of our fans. To greet us at 1 a.m., that was amazing."
Those fans had a reason to be proud. Not only are the Thunderbirds off to a 2-0 start, but Oluyitan was the hero of the win over Nebraska with a buzzer-beating shot that dropped through the net in the waning seconds of the extra period to hand Southern Utah its first win over a power conference programs since 1996.
"In my head, I knew we couldn't lose that game," Oluyitan said. "We went through too much, prepared for them too much to lose that game. I knew if I shot it, that I was going to make it."
Maybe the only person who got less sleep than Oluyitan was his head coach. By the time SUU's Todd Simon had made it back to Cedar City from Lincoln, Nebraska, he had already cut, digested and examined several scouting videos of the Thunderbirds' next opponent for the program's first trip to BYU (7 p.m. MST Wednesday, BYUtv) since 2007.
When he got home, Simon decided to pull up a recording of the previous game on Big Ten Network.
You know, just for fun, right?
"I try to drag those nights out as long as I could," Simon told KSL.com. "It was fun, though. I went home, rewatched the game, and got back into coach mode a little bit. Now we'll turn the page and work on BYU."
Simon never doubted in his players, as most coaches will tell you about a pressure-packed double-overtime session on the road in a hostile Big Ten arena. But putting the ball in Oluyitan's hands and drawing up the game-winner for him was intentional.
"We've got the ultimate faith in those guys to make plays," Simon said. "We've seen them before, and we don't have to get tricky. We know we've got guys that can make plays, we've seen Cam do it before, and he did it again."
The trip to Provo will be a rare event for the Thunderbirds — the first time in over a decade — but a road trip won't be. Southern Utah plays six of its first eight games away from home, including at BYU and UCLA as part of the Maui on the Mainland portion of the Maui Invitational.
That means a lot of time spent on planes. A lot of team-bonding time for the Thunderbirds.
A lot of chances to get a road win over a bigger opponent, in front of a hostile crowd, across varying time zones.
"It's a toughness exercise," Simon said. "Any time you go to Nebraska, BYU, UCLA, or East Tennessee State, you're going to be tested. There were 15,000 people at Nebraska, and BYU is going to be the same. We shouldn't be rattled when it comes tournament time, down the stretch of our season when we are playing for a championship."
With BYU coming off a 76-71 loss to San Diego State, the unbeaten Thunderbirds know what to expect. A high-octane offense playing without its best player Yoeli Childs, the Cougars are still dangerous — and more so when playing at home. The two teams have played each other 11 times, all in Provo, but haven't faced off since 2007.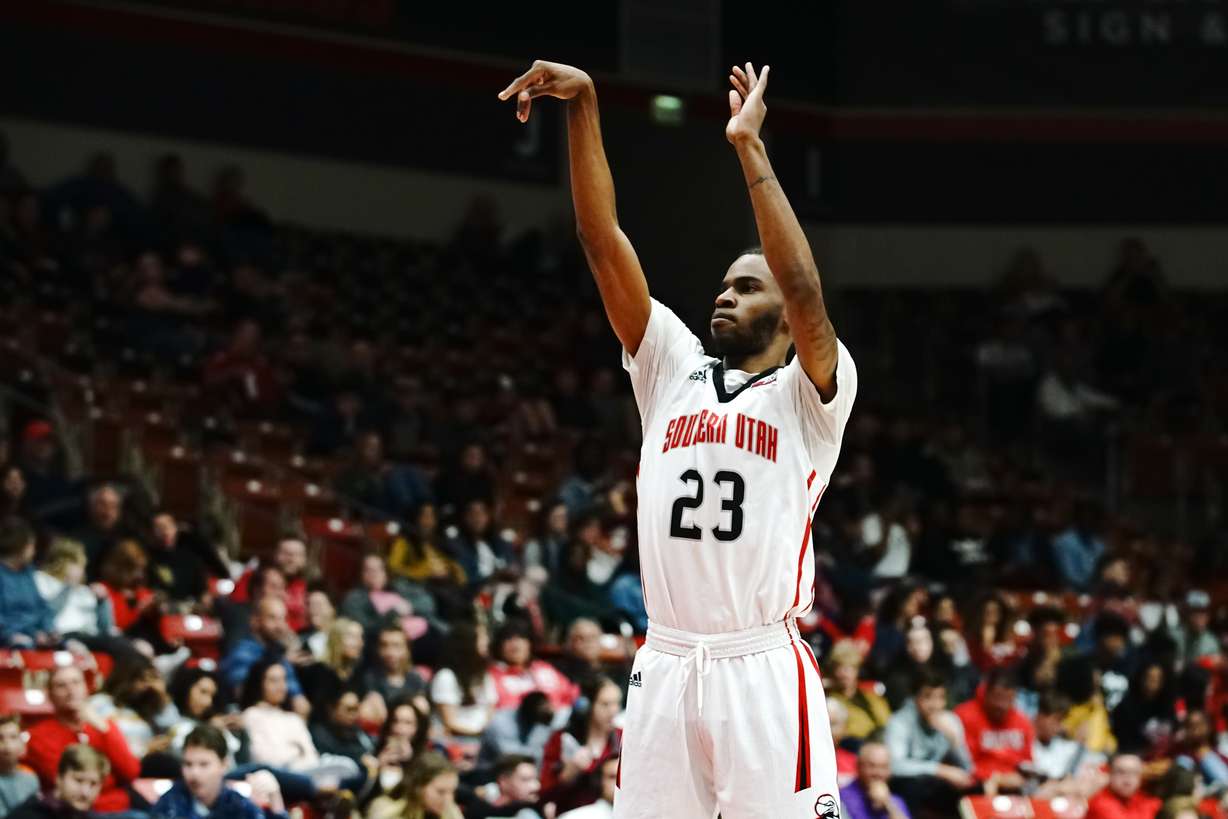 That's long enough that none of the current players will remember facing the Cougars previously; they weren't even in high school when the two sides clashed. Nor will Simon, who came to Cedar City four years ago after spending the majority of his career in Las Vegas.
But one person in the program will remember it: John Wardenburg, Simon's associate head coach who spent nine years as an assistant at BYU from 2001-2010. Wardenburg helped mentor BYU stars like Rafael Araujo, Tyler Haws, Jimmer Fredette and Kyle Collinsworth before going to BYU-Hawaii and Indiana Hills Community College prior to joining Simon's staff in 2016.
He's the head scout for Wednesday's game, for good reason. And he knows exactly what the Thunderbirds are walking into, something he hasn't been shy about sharing with the players.
"I'm definitely expecting a hostile crowd, and a Utah rivalry. I know both teams have this game circled on their calendar," Oluyitan said. "It will be big-time. It's an in-state game, and those are always huge. It's definitely a big opportunity for SUU."
But big opportunities are why Oluyitan is playing basketball in Cedar City. It's why he transferred from Boise State after featuring in just 17 games in 2016-17. It's why he took the Big Sky by storm last year, taking conference Newcomer of the Year honors while averaging 13.1 points, 4.3 rebounds and 2.1 assists per game in his first season of eligibility.
"I feel like we definitely have something to prove," Oluyitan said. "Nobody is expecting us to win any of these games. This will help us play with a chip on our shoulder. It turned a lot of heads. To win these games was definitely big for the school.
"I feel like we're not done yet. We're trying to win every game on the schedule."
×
Related stories
Most recent Sports stories