This archived news story is available only for your personal, non-commercial use. Information in the story may be outdated or superseded by additional information. Reading or replaying the story in its archived form does not constitute a republication of the story.
CEDAR CITY — Southern Utah has hired former UNLV interim head coach Todd Simon as its next basketball coach, the school announced Tuesday afternoon.
Simon, a native of Fowler, Michigan, and graduate of Central Michigan, becomes the Thunderbirds' ninth basketball coach in program history. The school will formally introduce him at a press conference Thursday in Cedar City.
"My family and I are thankful for the opportunity to become the newest members of the SUU family," Simon said in a news release. "We are eager to get ingrained into the SUU and Cedar City community. I could not be more excited for the opportunity ahead and look forward to bringing an exciting brand of basketball to the Centrum."
After spending two seasons as an assistant, Simon took over for former UNLV head coach Dave Rice on an interim basis in January, when the ex-BYU associate head coach was fired just three games into Mountain West play.
Simon went on to lead the Rebels to a 9-8 record before being let go following the season, though he was 4-1 as a head coach with a complete lineup for the Runnin' Rebels that included Oregon transfer Ben Carter and potential NBA draft pick Stephen Zimmerman.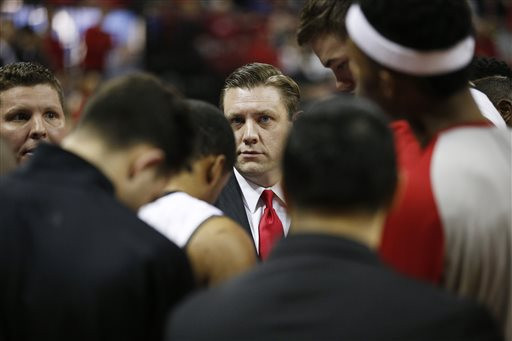 "As we entered this process, we were focused on identifying a leader that could elevate this program into a consistent winner and Big Sky Championship contender," SUU athletic director Jason Butikofer said. "After conducting the search, I felt that Todd was the perfect fit to get us there."
Prior to his time at UNLV, Simon coached at Findlay Prep in Henderson, Nevada, where he spent one season as head coach of the national prep school giant with a record of 35-1. He also assisted on three Pilots teams that won the ESPN National High School Invitational.
Southern Utah fired former coach Nick Robinson after the Thunderbirds finished the 2015-16 season with a 5-24 record, including an 85-80 loss to North Dakota in the opening round of the Big Sky Conference tournament. Robinson finished his four-year SUU tenure with a record of 28-90.
Robinson's assistant Todd Okeson was named interim head coach for the Thunderbirds on March 9. It is unclear if he will remain on Simon's staff.
×