SALT LAKE CITY — Mayor-elect Erin Mendenhall launched her transition team Thursday but doesn't intend to resign from the City Council until Jan. 1.
"There's a lot coming up in the future so I want to jump right into it," she said on the steps of the Salt Lake City-County Building. "The magnitude and complexity of a transition requires that we get as many work days as we can out of it."
Mendenhall had a 17-point lead over Luz Escamilla as of Tuesday night, prompting the Democratic state senator to concede late Wednesday afternoon. Additional election results are scheduled to be released today at 3 p.m. The canvass will be Nov. 19.
---
I really can't wait to get started — like right now. The Mendenhall administration will be ready on day one to deliver results to Salt Lake City residents.
–Erin Mendenhall, Salt Lake City Mayor-Elect
---
Mendenhall outlined three goals for the coming change in leadership as she replaces Mayor Jackie Biskupski, who did not seek re-election after one term. She said she wants the transition to be inclusive of and seamless for all Salt Lake residents and businesses and to retain as much institutional memory built over the past four years in city government as possible.
The mayor-elect said she would not seek the blanket resignation of city department and division heads. But she said there will be a process to assess political appointees' interest in remaining in their current roles and how they fit into the new administration's vision.
Mendenhall said the city has some of the best department and division heads in the country.
"We should not be cutting off our rudder as this ship moves forward," she said.
As for her own resignation from the City Council, Mendenhall said she would step down Jan. 1. She said she wants to make sure her district is represented over the next two months.
Maria Garciaz, executive director of NeighborWorks Salt Lake, and Natalie Gochnour, associate dean of the University of Utah business school, will head Mendenhall's transition team. Rachel Otto will leaver her a job as the Utah League of Cities and Towns government relations director to become chief of staff.
Mendenhall said she will solicit "transition memos" from the city's community councils and, after the final canvass, hold open office hours in branch libraries to hear from residents. The transition committee will take the feedback and work with community leaders to write "guidance" documents for the incoming administration, she said.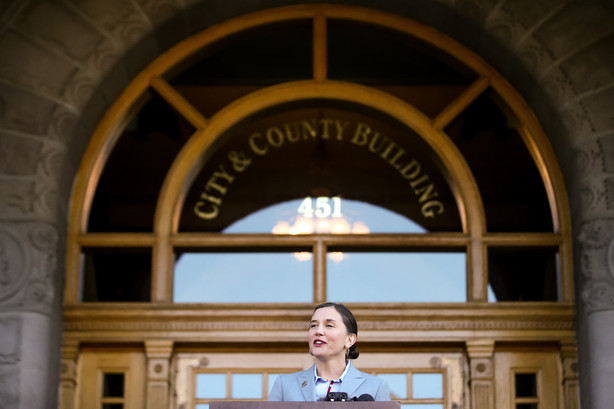 "I really can't wait to get started — like right now," she said. "The Mendenhall administration will be ready on day one to deliver results to Salt Lake City residents."
Mendenhall described herself as someone who is accessible and a "straight-shooter" and a "creative thinker."
"If you're talking about Point B and I'm still at Point A and I don't see the straight path there, I'm going to work through it instead of just saying, 'No, we're not going there,'" she said. "I know how to say no if I need to, but it's a conversation, it's about being honest and forthright, being willing to answer the phone and being willing to sit down with people."
Mendenhall identified air quality, homelessness, housing, public transportation and the controversial inland port among her most pressing priorities, most of which require working with the Legislature and the governor's office. She said she is looking forward to sitting down with Gov. Gary Herbert and Lt. Gov. Spencer Cox as soon as possible.
Having served on the city's legislative subcommittee, Mendenhall said she has good relationships there.
"I think we're in great position to start negotiating on some of these important issues," she said, adding she wants to started talking to the state about the inland port as soon as possible.
×
Related Stories