SALT LAKE CITY — When James Niehues started creating aerial paintings in 1986, he had no idea he'd one day stare down a seemingly never-ending line of adoring fans hoping to buy his book or score his autograph at a Salt Lake City bar three decades later.
In fact, even 33 years later, after his illustrious career took him to ski resorts across the globe, into the U.S. Ski and Snowboard Hall of Fame and one of the most prolific Kickstarter campaigns for a book, he didn't expect scores of people would line up to meet him during a book-signing event at Fisher Brewing Company in Salt Lake City on Tuesday evening.
"I was hoping I wasn't just standing in the corner kind of staring around," he joked after the event concluded. "It was just phenomenal. … I can't find the word for it. They're just so into it."
Niehues may not be a household name, but there's a good chance you've seen his work — especially if you spend time at ski resorts. He's painted mountains and landscapes in a handful of countries and two dozen states, including 19 paintings of Utah landscapes from Alta to Utah Olympic Park.
His birdseye-level painted ski trail maps over the years have helped him become a legend within the ski community with such infectious nicknames as "Monet of the mountain" and "Norman Rockwell of ski resorts" by various media outlets. And the reception he received Tuesday made it clear that he's a rockstar within the outdoors community.
However, for Niehues, it still humbles him that his work would have this much acclaim and fanfare.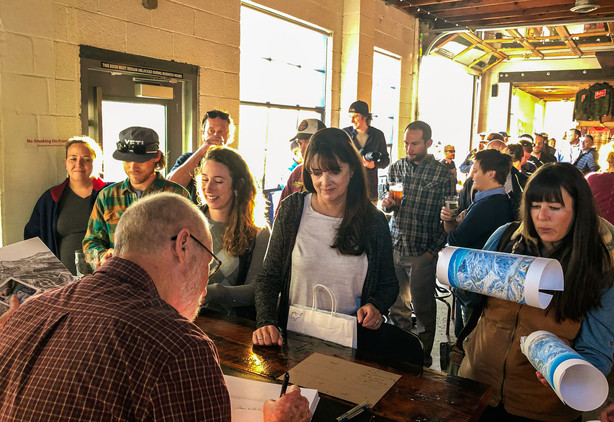 The origin
A part of the reason Niehues is surprised about the support he's received throughout the years is that he didn't necessarily think he'd paint mountains for a living. When he started painting in 1986, he was a 40-year-old looking for anything to keep himself afloat after bouncing around as a freelance graphic artist and working in the advertising industry.
About this same time, his wife, Dora Niehues, suggested they move to the Denver area, where he so happened to come across a map artist named Bill Brown. By the time they met, Brown was looking to pass his trade skill off and retire. He taught Niehues how to paint maps and got Niehues going on a different career path.
While he confesses he wasn't much of a skier, Niehues had a fascination with nature that gave him an extra incentive to enter the world of map painting.
"I've loved scenery ever since I was a kid. I painted oils and different landscapes, so I was excited about that fact — to illustrate the mountains," he said. "I've been just extremely lucky and it's taken a lot of hard work too, but I happened to be at the right spot at the right time."
Dora Niehues said she remembered watching her husband wake up early and go to bed late to continue improving his art skills while he worked another job at the time. However, not long after he started painting, he was approached by a new magazine that worked to feature resorts. Snow Country magazine's staff had initially sought to hire Brown for their debut issue, but Brown told them he had retired and he recommended Niehues instead.
---
I've been just extremely lucky and it's taken a lot of hard work too, but I happened to be at the right spot at the right time.
–James Niehues, on the origin of his career
---
His first map was published in 1988 and the rest was history. He worked at the magazine for about a decade until the magazine dissolved, but by then the right people knew his work and it kept him busy.
The process
From afar, Niehues' work may look like a run-of-the-mill roadside map of a mountain; the type of map a skier would glance at to locate a ski run. However, every painting has a surreal touch, detailed down to every tree. It's captivating to a point that one patron at Tuesday's event exclaimed "I could look at these for hours" while sifting through the various pieces.
The time it takes to complete the pieces of work varies, but it usually takes anywhere from two months to even years depending on when a resort needs the painting completed, Niehues said. He added the process has typically remained the same, but technology has simplified the process a bit over time.
When he's now given a proposal, he'll search the mountain on Google Earth to get a "good feel of the mountain" before requesting a quote for his work. However, the remaining steps haven't changed much. He'll hop on a plane and take aerial photos of the mountain to get the exact details needed to show the unique quirks of the mountain and its slopes.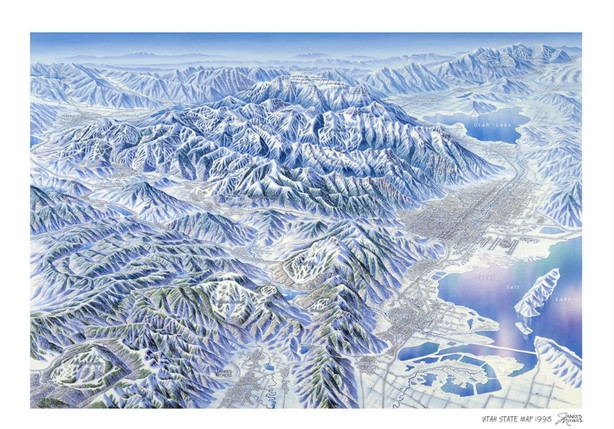 Dora Niehues, who has been there every step of her husband's career, said she's amazed by the angles he'll find while going through the photos and drawing up a sketch.
"I can't see it, but he can see the perspective. He can see where the skiers would come down and that type of thing," she said.
After those are compiled, he'll get to work on a sketch and then transfer the sketch onto an illustration board. That's when he turns the sketch into a detailed watercolor painting of the mountain by hand — never by computer.
A book culminating a career
Niehues first thought about a book to put all his paintings in one central place back in the 1990s, but the idea never materialized for one reason or another. It wasn't until a skier and a Niehues fan named Todd Bennett reached out in 2017, that a plan finalized. Aware they wouldn't get any outside money to fund the book if the campaign didn't reach its fundraising goal, Niehues and Bennett set a low goal of $8,000 when the idea was first announced last year.
The project ended up receiving $590,088 from more than 5,000 contributors with the average donor handing out nearly $115 apiece to help fund the book. Kickstarter's website touts it as the top art illustration campaign in its history.
"We expected it to go over ($8,000), but my gosh it just kept going and going," James Niehues said. "And then on the last day, I remember it just shot off. It was like everyone was getting in on it right on the last day. … It just blew everyone away."
"The Man Behind The Maps" was published earlier this year. It's a coffee table book filled with Niehues' life work to this point. Tuesday's stop in Salt Lake City was the first of a mini-book signing tour over the next few months that includes Boston, Los Angeles, the Outdoor Retailer winter show in Denver and Sun Valley, Idaho, where he'll be inducted into the U.S. Ski and Snowboard Hall of Fame.
It's also somewhat fitting that the tour began in Utah, given it's one of the states he's painted the most. At 19 paintings, his home state of Colorado and California are the only other states he's painted as many times. He's mostly enamored with the Cottonwood Canyons in the Wasatch Front but finds Utah overall to be "spectacular" to view.
"(The mountains) start right at your city limits and they just shoot up. They're really fun mountains to illustrate," he said. "But even in Park City, the community around there and the way that the mountains just wrap around."
As for looking back at his career, Niehues thanks his wife for wanting to move to Denver and being supportive of his endeavors. Without that move, he likely wouldn't have ever met Brown, wouldn't have compiled a book of paintings and wouldn't have become a legend in the outdoors community. That move started him on a path that led all the way to a bar in Salt Lake City surrounded by a large crowd of admirers.
Dora Niehues, who spent a good portion of the event handing out small cards that visitors could have signed, said watching James's success from the beginning to now has been a reward for herself. She smiles thinking about how far he's come on the career path he somehow ended up on.
"Not many people can say they do a job that doesn't feel like a job," she said.
×
Photos