Estimated read time: 3-4 minutes
This archived news story is available only for your personal, non-commercial use. Information in the story may be outdated or superseded by additional information. Reading or replaying the story in its archived form does not constitute a republication of the story.
SOUTH JORDAN — Citing a change in the global recycling market, five cities in southern Salt Lake County are telling residents that office paper, newspaper, junk mail, magazines, cereal boxes and other items that were previously recyclable items no longer belong in a recycling bin.
Instead, residents in Draper, Midvale, Murray, Riverton and South Jordan are being told to focus on three items to recycle: corrugated cardboard, plastic bottles/jugs with necks and metal food/beverage cans. Those are the changes Trans-Jordan Landfill, which is comprised of those seven cities, made during a board meeting earlier this month, Trans-Jordan executive director Jaren Scott said on Wednesday.
There are no changes yet for Sandy and West Jordan residents. Those cities also use the Trans-Jordan Landfill, but officials haven't opted into the recycling changes. West Jordan officials said they are weighing options before they decide.
Officials from the affected cities have since started publicizing the changes online and on social media to educate the public. For example, Midvale City devoted a page on its website to the changes Monday.
Scott explained most recyclable goods Trans-Jordan has accepted in the past were shipped overseas, where they were ultimately repurposed into other goods. However, when China — the world's largest recycling buyer — banned most scrap products from being imported last year, it created problems for the global market and concerns in Utah. It meant those who collect garbage and waste had to find somewhere else to sell to.
The Associated Press reported back in May that some recyclable item industries became a boon in the U.S., with American cities having very few options left to ship overseas. However, it still means landfills and recycling centers need to find markets to send trash.
"Now just a small amount is being shipped overseas," Scott said. "We're trying to find markets for those products here locally in the United States, and in the western United States, so that means streamlining the recycling that we're putting out at the curb at each home and each residence."
In this particular case, it meant Trans-Jordan officials decided to cut all sorts of paper and cardboard boxes. Wax paper, clear or Styrofoam boxes or electronics are other recyclable items that Trans-Jordan will no longer be accepted.
The seven cities are now promoting the "Big 3" to help educate residents on what they can recycle. Items like corrugated cardboard such packing boxes; plastic bottles and jugs with necks; and metal containers like soup cans and soda cans will still be accepted because there is still a market for those items. All boxes must be flattened and all containers must be emptied and rinsed.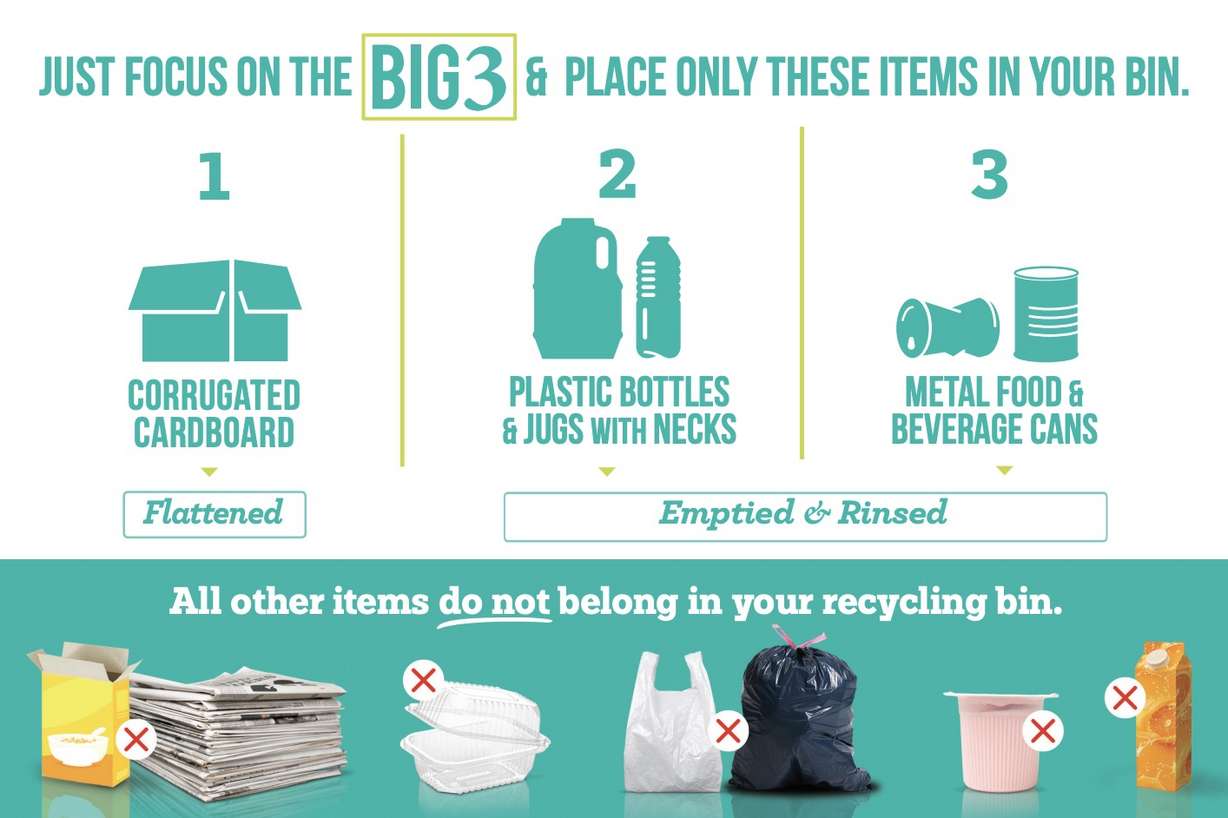 It also means newly banned recyclable items must go into the trash if it's being sent to Trans-Jordan. Scott said it will otherwise cause headaches for workers and other issues.
"That's costing the environment by having more fuel being burned to pick those up and handle them," Scott said. "If (the trash) is put in the right bin at the right time, it streamlines that and makes sure we're not burning extra fuel, having more trucks having to collect in the neighborhoods, and that material is not having to be sorted and back up in the landfill.
"We want to make sure there is less contamination and that all those things that are actually being recycled are actually getting put in the channels for recycling."
Anyone who has questions about the recycling changes is encouraged to call their city's officials. Residents can also visit transjordan.org for more information about the landfill's recycling policy.
×
Related stories
Most recent Utah stories