Estimated read time: 4-5 minutes
This archived news story is available only for your personal, non-commercial use. Information in the story may be outdated or superseded by additional information. Reading or replaying the story in its archived form does not constitute a republication of the story.
SALT LAKE CITY — Within a universe of 42,790 Utah 11th graders taking the ACT college entrance exam, it takes a lot to budge the averages.
Not a whole lot of students score a perfect 36. The same is true for students who post scores in the lower teens.
Given that, Utah's average score for 2019 dipped to 20.3, one-tenth of a percent lower than the previous year. Nationwide, public school composite scores fell from 20.8 in 2018 to 20.7 for 2019.
Among states that assess 100% of their graduating class with the ACT test, Utah students posted some of the highest average composite scores.
ACT officials recommend that states compare their scores to states with the same or similar percentages of graduates tested. In that group — states that test 100% of their students — Utah tied with Wisconsin. Both had higher scores than Alabama, Arkansas, Kentucky, Louisiana, Mississippi, Montana, Nebraska, Nevada, North Carolina, Ohio, Oklahoma and Tennessee.
Utah's average composite score was higher than North Dakota, which tests 96% of its students, but lower than Missouri and Minnesota, which test 95% and 82% of their students, respectively. Their state average scores were 21.4 and 20.8.
Still, Utah's scores indicate a trend that state education officials say is worrisome. Fewer Utah students are taking rigorous coursework: four or more years of English and three or more years each of math, social studies and science.
"In 2015, 56% of our students were taking a full slate of rigorous coursework. That number declined to 48% last year. There's a significant gap in the ACT performance of students who take challenging courses and those who don't. We will be working with educators, parents, and students to reverse our current trend," said State Superintendent of Public Instruction Sydnee Dickson.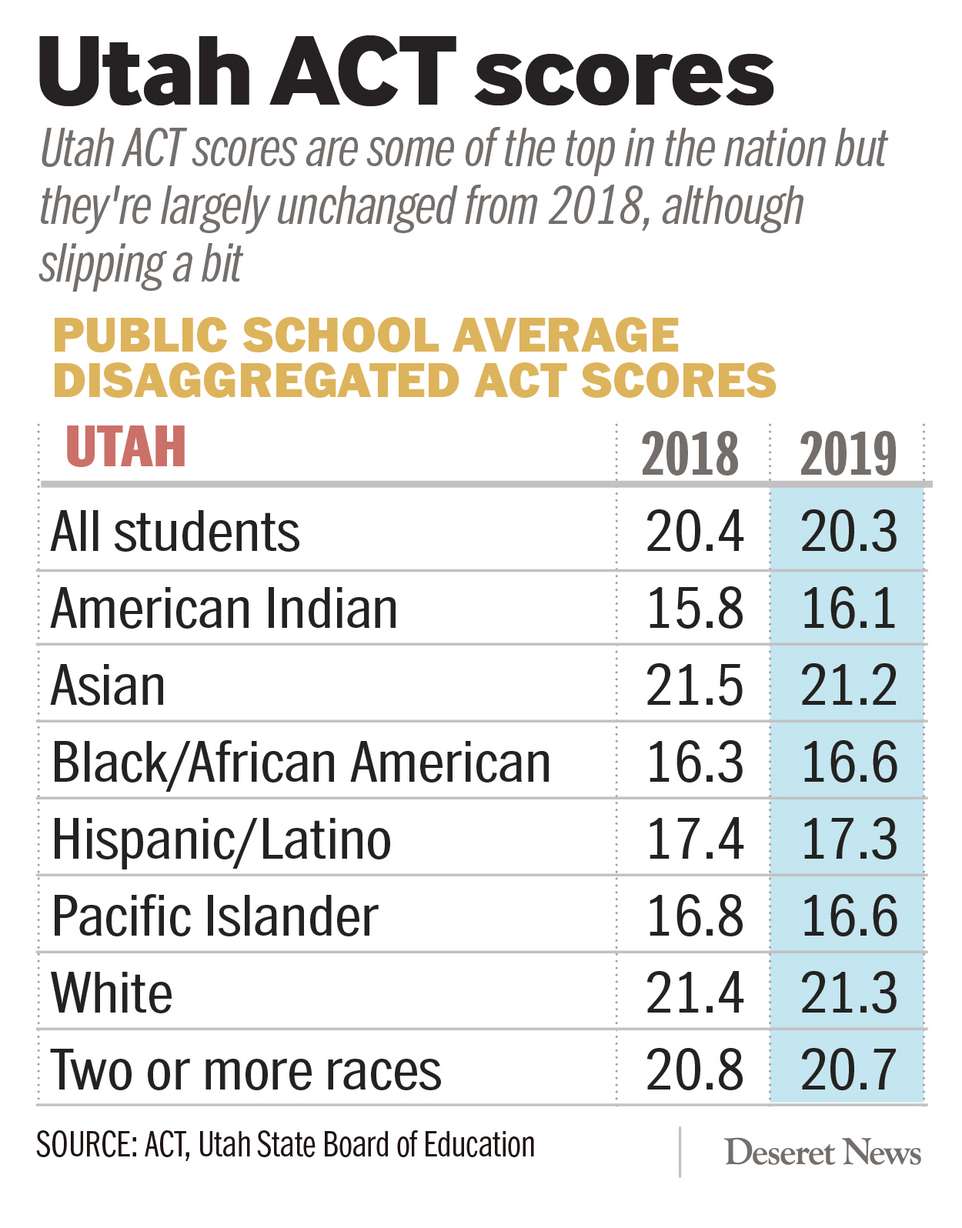 With the exception of Asian students, the average scores of ethnic minorities continue to lag behind white students' average scores, according to test results. There was slight improvement in some subgroups such as American Indian, black and Hispanic students. Average scores among Asian students dipped slightly, as did Pacific Islanders.
Darin Nielsen, assistant superintendent of student learning for the Utah State Board of Education, said other assessments indicate similar findings.
"There's other lines of evidence that point to additional (resources) that both the state, the districts and schools need to provide to make changes for those students," he said.
However, growing numbers of students in underrepresented student populations in Utah are taking AP courses (Advanced Placement) and "outcomes are improving in some of those leading indicators. An AP test is something that schools might feel they have more control over than an ACT test that's measuring multiple years of achievement," Nielsen said.
The ACT is a curriculum-based achievement test that measures the skills taught in schools and deemed important for success in first-year college courses.
The percentage of Utah students who met college readiness benchmarks dropped slightly in English, with 57% meeting that mark in 2019 compared to 58% the previous year. Math improved slightly from 36% in 2018 to 37% in 2019, and science remained the same over the two years at 34%. Meanwhile, the percentage of students who met college benchmarks in reading fell 1% to 42%.
2018:
In all subject areas for 2018 and 2019, a lower percentage of Utah students were college ready compared to national averages, according to test results.
Nationally, there has been ongoing slight decline in college readiness, "particularly longer-term downward trends in math and English which were identified last year. In fact, the percentages of graduates meeting the ACT College Readiness Benchmarks in math and English are the lowest they've been in 15 years," according to an ACT press release.
Nationally, 37 percent of ACT-tested graduates in the class of 2019 met at least three of the four ACT college readiness benchmarks, indicative of strong college readiness. This is down slightly from 38 percent last year and 39 percent in 2017, according to ACT.
Among Utah's class of 2019, 24% of graduates met all four benchmarks. This compares to 24% and 23% percent of 2018 and 2015 graduates, respectively.
Taking core classes in high school dramatically increases the likelihood of student success after high school graduation, said ACT CEO Marten Roorda in a prepared statement.
"That's why we need to ensure that all students of all backgrounds have access to rigorous courses and that we are supporting them not only academically, but socially and emotionally as well," Roorda said.
According to ACT research, even an increase of 0.1 in the state average ACT composite score for Utah's 2019 graduating class would produce big dividends: 108 more students enrolling in college and 120 more students persisting to year two. It also would mean 92 fewer students needing remedial English and 138 fewer students requiring remedial math.
Moreover, it points to 129 more students persisting to their senior year of college and 136 more students earning a postsecondary degree within six years.
Among Utah's 2019 graduates, the University of Utah, Utah Valley University, Utah State University, Weber State University and Dixie State University were the top five schools where students requested that ACT send their scores. The top three out-of-state schools sent scores were Brigham Young University-Idaho, BYU-Hawaii and Arizona State University.
×
Related stories
Most recent Utah stories